A record day, done very quietly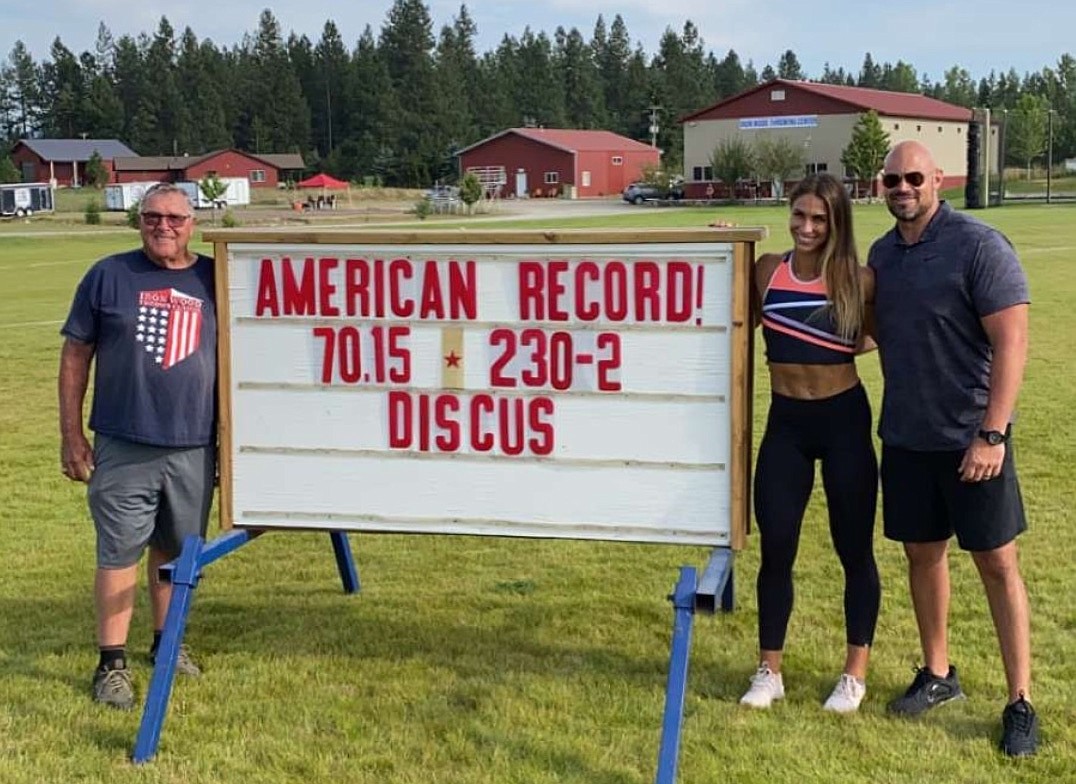 Valarie Allman, center, is pictured after setting U.S. record in the discus throw at 230 feet, 2 inches during a meet at the Ironwood Throws Center in Rathdrum on Saturday. Also pictured are Ironwood Throws guru Bart Templeman, left and Zeb Sion, Allman's throws coach.
Courtesy photo
by
JASON ELLIOTT
Sports Writer
|
August 3, 2020 1:16 AM
RATHDRUM — When a three-time Olympian calls, you listen.
When that same thrower tells you she needs a meet to see where she's at, you make it happen.
Bart Templeman — throws guru at the Ironwood Throws Center in Rathdrum — made it happen.
On Saturday, a group of throwers from around the nation competed at the Throws Center in a meet.
"Kara Winger (who qualified for the Olympics in 2008, 2012 and 2016 in the javelin) got ahold of us a few weeks ago," Templeman said. "A lot of them were working out on their own, and wanted to see how they were doing. With everything that's going on right now with the coronavirus, nobody was going to let them on a field anywhere."
Then again ...
"We're the only independent situation for a meet like this," Templeman said. "When we decided to do it, we wanted to keep it low key, with not many people here. We told some of the kids that come to the center to come out and watch, and bring their parents, and a few showed up."
Then history was made as Valarie Allman threw 70.15 meters (230 feet, 1.5 inches), breaking the previous record held by Gia Smallwood of 226 feet (68.88 meters).
"She blew the record away," Templeman said. "Four feet in the discus, that's a big deal and she might be the first woman to throw 70 meters in the United States."
Allman's mark is the second record broken at the facility in Rathdrum, joining Deanna Price (hammer throw), who broke the U.S. record with a throw of 254-9 at the 2018 Ironwood Throws Classic.
"Honestly, we didn't expect to have a record this weekend," Templeman said. "We've been hit and miss on records here, and there was no wind. We didn't have any wind to speak of. We were surprised, but she's been working hard and she was ready."
Officials from U.S. Track and Field were used to verify the record.
"With computers now, we have so many computers and hand-helds to measure," Templeman said. "But we knew what the record was. We had to bring a surveyor in, re-weigh her implement and have to jump through hoops."
No high school athletes competed in the event according to Templeman.
"It was kind of a last-minute deal," Templeman said. "We made some calls to some throwers in our area. Some kids could do it, and a few didn't feel comfortable."
Some competitors were already familiar with the area after competing in the Ironwood Throws Classic in Rathdrum, typically in June.
"Those that had been here before were excited to come back again," Templeman said. "We were kind of low key. Nobody really knows where Rathdrum is. It's an obscure place for track and field anyway."
---