Ready to roll, really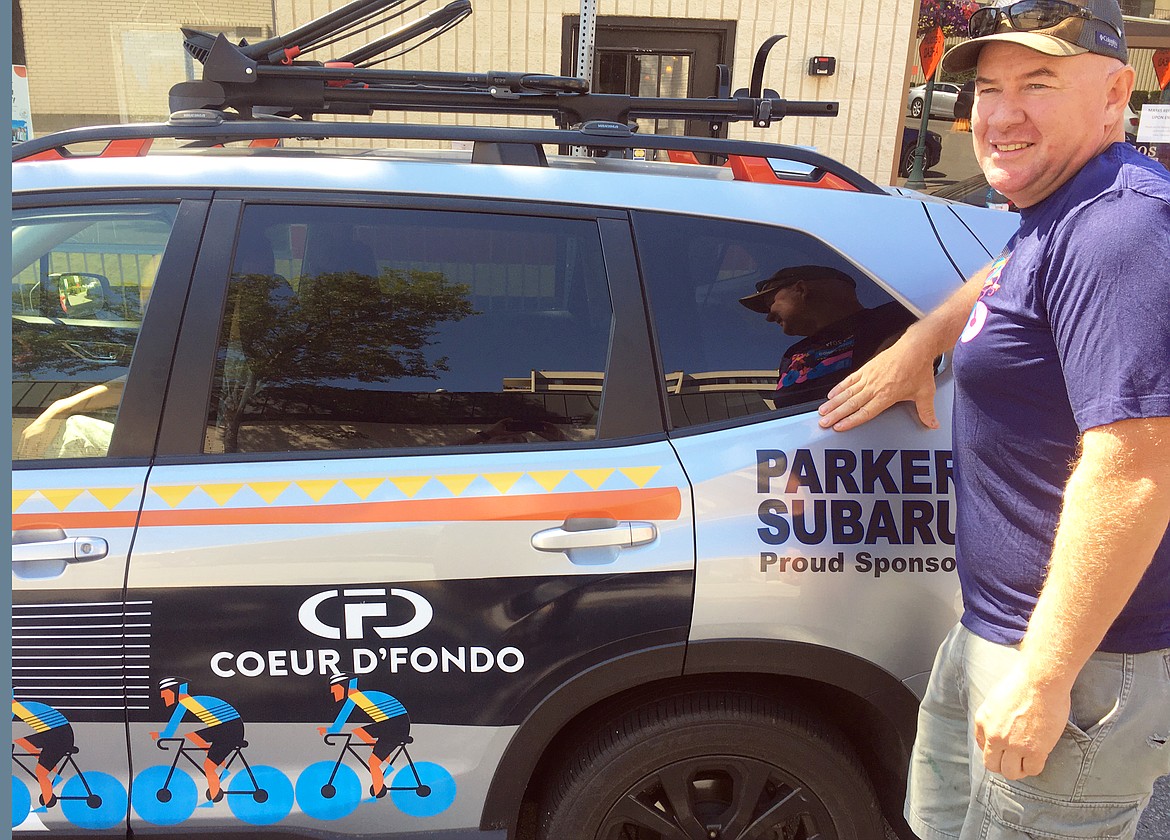 Isaac Mann, director of Coeur d'Fondo, said the bike ride event is on for Sept. 21.
BILL BULEY/Press
by
BILL BULEY
Staff Writer
|
August 1, 2020 1:07 AM
While many sporting events are canceled, Coeur d'Fondo is on for Sept. 19
COEUR d'ALENE — Isaac Mann, in a way, is the last man standing.
Triathlons and runs in the area have been postponed, canceled and turned into virtual races due to COVID-19.
But Mann, director of the annual Coeur d'Fondo, says wheels will roll for real on Sept. 19.
"We gotta have something for everybody to do this year," he said. "It's been disappointment after disappointment after disappointment and rightfully so, because you've got to be safe. This event is safe. In years past, everybody would complain biking is not a spectator sport. That's the virtue of it this year."
Coeur d'Alene Lake Fondo, in its ninth year, will have its usual five distances and routes ranging from the family fun ride of 15 miles to the Grand Fondo of 120 miles.
It usually attracts about 1,000 cyclists and while it won't approach that many this year, Mann believes it will do well. Already, 200 have registered with more signing on each day as word spreads the Fondo is on.
Mann laughed as he said the tagline for this year's event is "Coeur d'Alene Grand Fondo, the race that happened."
"Once we let people know registration was open, it's been coming in," he said.
A major change Mann made to accommodate health concerns was to move the mass downtown start to a wave start between 7 and 9 a.m. on Coeur d'Alene Lake Drive.
There won't a big post-race celebration, but cyclists will be able to visit some downtown pubs for a beer on Mann.
The competitive timing portion of the longer rides has been dropped, but there will be a podium and backdrop for "I survived 2020" pictures afterward.
Packet pick up, which will include a Fondo face mask, shirt and finisher's medal, will be done drive-thru style and course aid stations will be stretched out with prepackaged food and drink.
But the courses, the camaraderie, the challenges, will be the same.
Mann said the Piccolo Fondo, 40 miles to Harrison, is limited to 240 riders to allow for 120 people on each returning boat to maintain distancing.
The Centro Fondo, a boat ride to Harrison and bike 50 miles back to Coeur d'Alene, will be limited to 120 riders.
He expects a few hundred to try the longer distances, like the 90-mile Medio Fondo. The Gran Fondo includes 30 miles of the Trail of the Coeur d'Alenes.
"This is happening," Mann said. "We can keep everybody really, really spread out."
Alex Castagno of Coeur d'Alene has completed three Grand Fondos and this year, might try a shorter distance.
The owner of Coeur d'Alene Bike Co. called the CDA Fondo "a great cycling event in our hometown."
He's glad it's happening.
"I honestly think it's an opportunity to have a socially-distanced event and to be able to have something to look forward to," Castagno said. "It's good for us to be able to have something to look forward to."
Mann, director all nine years, didn't hesitate when asked why the Fondo is popular.
"Have you ever seen our lake?" he said.
An idea of the ride was to provide a safe course that showcases Lake Coeur d'Alene, and the Fondo does just that.
The weather is usually cool, the fall colors are spectacular and it gives riders a chance to see the area as never before.
"You even get some of the Palouse," he said. "It's awesome."
Mann admitted he was worried for a while the Fondo might have to be canceled, along with the triathlons and runs.
But cycling is different and maintaining distance is more easily done.
"I've never given up hope," he said. "We can do this."
He added that participants can wear masks — part of the Fondo swag — if they like, but it's not required. And they will need to use common sense.
"It's not going to be an opportunity to meet new people," he said.
Mann, an avid cyclist, has directed triathlons and runs and is a bike course captain with Ironman, so he's used to figuring things out and overcoming challenges.
He said he couldn't have done it without his primary sponsors, Idaho Central Credit Union and Parker Subaru, and said the Coeur d'Alene Casino stepped up to help, as well.
He is confident the event will go well — and is proud to put on a race that benefits the North Idaho Centennial Trail Foundation.
"We might just be able to have a good time this summer after all," Mann said.
Info: www.cdagranfondo.com
---