JoAnn Edith Lumberg-Dickinson (Claflin)
JoAnn Edith Lumberg-Dickinson (Claflin) left this world after a brief illness on July 1, 2020. She moved to Coeur d'Alene, Idaho, in 1951, and had seven children. Missing her family but loving the area, she made this her permanent home.
She began working as a waitress in the mid-1970s and switched to a career in the health industry in the 1980s, until her retirement. Her true happiness was spent entertaining her family in her home, dancing and wine Wednesdays with her friends. She was an independent soul and many were in awe of her energy.
JoAnn is survived by her five remaining children: Nancy Dickinson of Battleground, Wash., Connie Dickinson of Ecuador, Tom Dickinson of Olympia, Wash., Shari Dickinson-Crooks of Blanchard, Idaho, and Vicki Dickinson-Pennington of Spirit Lake, Idaho; 20 grandchildren and multiple great-grandchildren.
So many will miss her.
A celebration of her life was held at her home on Wednesday, July 8, 2020.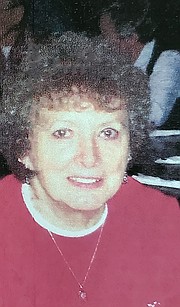 ---