Two Lakeland seniors appointed to U.S. Air Force Academy
by
DEVIN WEEKS
Staff Writer
|
April 30, 2020 1:00 AM
Two Lakeland seniors appointed to U.S. Air Force Academy
The United States Air Force Academy is about to get two gems from the north side of the Gem State.
Lakeland High School seniors Erika Gallus and Rhonin Edwards have received appointments to the prestigious academy in Colorado Springs, from which they will graduate in 2024. Both students have dreams of becoming pilots after their time in the academy.
Erika, 17, received a letter of assurance in November followed by her congressional nomination in January.
"I got the email pretty late at night so I was the only one awake in my house. I completely freaked out and went in and woke up my parents," Gallus, of Rathdrum, said Wednesday. "I couldn't stop smiling. I cried a little bit."
Rhonin, 18, said he was in class when an aide from Sen. Jim Risch's office called his school in early March.
"(I was) really excited actually," said Edwards, of Hayden. "The first thing I did was call my mom, but she was in a meeting at the time, so I called my dad. He was super excited. He was like, 'I knew you'd get in.'"
Gallus grew up in Shoreline, Wash., and moved to North Idaho when she was 10. The second-oldest of seven children, she was homeschooled until 10th grade, when she began attending Lakeland. She first set her sights on the Air Force Academy in seventh grade when her mom told her about it.
"Ever since then, I had this dream that I wanted to go, I wanted to be a pilot," Gallus said.
Gallus plans to major in mechanical engineering. She is a Civil Air Patrol cadet and has already experienced flying a plane with a pilot beside her.
"It's amazing, so amazing," she said. "I get a little air sickness, so that was hard at first, but I take a little Dramamine and I can focus on the thrill of it."
Edwards grew up in North Idaho and went to Garwood Elementary School as a youngster.
"Here he is a multi-sport athlete, he does a great job in the classroom, he's got his pilot's license, he's an entrepreneur," said Lakeland High Principal Trent Derrick. "Here he is, he's not even graduated from high school and he can fly."
Edwards said he's looking forward to learning and seeing the world through his academy experience. He plans to study aeronautical engineering and to continue as an Air Force officer after graduation.
"It gives you such a great education," he said. "I really like how it will prepare me for later on in life."
Derrick said both students bring great pride to Lakeland.
"Obviously, being appointed to a military academy speaks to their character and their capacity to perform well in the classroom, but also about their willingness to serve their country," he said.
Lakeland English teacher Shannon Hall has got to know both students through the years.
She said everyone who knows Gallus will speak of her drive, intelligence and academic, athletic, and musical achievements.
"What is so wonderful about Erika is that she is also kind, considerate, devoted, selfless and so much more," Hall said. "She always has a smile on her face and a determination within herself, and that is a winning combination. I feel honored to have met her and to have spent time with her at school and beyond, and I know she will make her family, friends, teachers and the whole nation proud during her time at the United States Air Force Academy and in her service with the United States Air Force."
This spring, Edwards has been a student in Hall's dual credit college English literature class.
"I, of course, knew of him prior to his presence in my class because of his athletic and academic renown at Lakeland," she said. "From what I learned from others and in my own experience with him in class, I can tell you that Rhonin is a young man of integrity with a strong work ethic. He is self-disciplined and focused as well. Beyond these traits, he is also calm, candid and sincere, and these qualities all together are what will make him such a great cadet at the USAFA."
She said both students are amazing young people who are great role models for their generation and beyond.
"I wish them all the best in their coming journey at the USAFA," Hall said. "I am so very proud of all that they have accomplished so far and all they will accomplish in the future."
Edwards and Gallus leave for Colorado Springs mid-June and are scheduled to start Basic Cadet Training on June 25.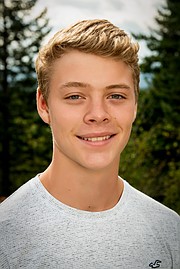 Recent Headlines
---