'Once you're a Zag, you're a Zag for life'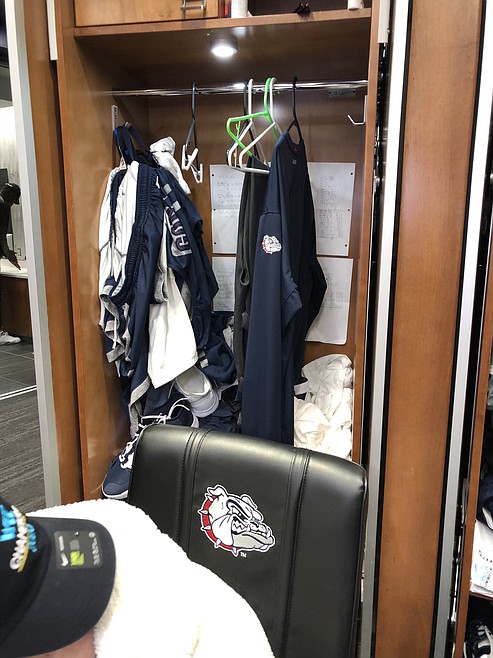 STEVE CAMERON / Press Statistics of former Gonzaga basketball players competing in professional leagues adorn the back of Corey Kispert's locker.
No surprises.
No real news.
And of course, no real idea whether Gonzaga will play a 2020-21 season.
The non-items this week included Filip Petrusev, Corey Kispert and Joel Ayayi each announcing formal entry into the NBA draft process, just prior to last Sunday's deadline for underclassmen.
All three were expected to declare and, likewise, all three may very well be back in Spokane when (and if) the Zags begin some sort of hoops season.
None of the three hired an agent.
Each mentioned, in prepared statements, that they would rely on Mark Few and his coaching staff for the information and guidance they need going forward.
IT WAS also stated more than once that the uncertainty of NCAA basketball this year was a good reason to have other options on the table.
Ayayi said plainly that he expected to come back, and his statement ended with the phrase: "Zag Up!"
Petrusev said something similar: "Love you, Zag Nation!"
Kispert, ironically, is probably the closest of the three to playing pro basketball — but the 6-foot-7 wing talks endlessly about how much he cares about Gonzaga, and the experience of both campus life and the basketball program.
After the final game of the regular season, a Senior Night victory over Saint Mary's, I happened to see all sorts of notebook paper with various numbers taped to the back of Kispert's locker.
"Here, look," he said. "I've got the stats and scores for all the Zags now playing in the pros."
IF THAT seems like an unusual hobby for a college junior — collecting box scores from around the world — Kispert made his motivation plain.
"Once you're a Zag, you're a Zag for life," he said. "So, I always want to know how my brothers are doing out there."
I asked: What exactly does being a Zag really mean?
"It's about being part of something that's bigger than yourself," Kispert said. "It's caring for the school, for your teammates, for what this program means.
"It humbles you to be part of the GU culture, and I think every Zag — from every year — would tell you the same thing."
Kispert's sentiments are reported here for a reason besides increasing his popularity even further.
Assuming there is some sort of college basketball season, Corey seems more likely to stay put at Gonzaga than, say, let some pro coaches develop his game in what almost certainly would be the G League.
THE OTHER two Zags who declared for the draft simply are not ready for the NBA.
Ayayi, who finished his sophomore year with a flourish (being named Most Valuable Player at the WCC tournament), needs to become just a bit more dangerous as an outside shooter and ballhandler to compete at the next level.
Joel still dribbles too high at times, and if college players can pick the ball from him, professionals could be brutal.
But Ayayi, who came to Gonzaga as a skinny 17-year-old kid from France, has developed his tools each year, and he now is getting close to having an NBA body.
He also has proven that he's an ice-cold winner at crunch time, having delivered several critical buckets throughout the season and then playing lights-out in the second half of those WCC games against San Francisco and Saint Mary's.
WHAT'S MORE, Ayayi's defense improved dramatically this past season — so there's no reason to suspect his high upside can't take him to the NBA.
Eventually.
The 6-11 Petrusev is the strangest case of the three.
The WCC Player of the Year averaged 17.5 points per game in Gonzaga's incredibly balanced offense, and added 7.9 rebounds.
The Zags pounded the ball inside to the big Serbian all year, and he drew what seemed like a million fouls.
In fact, that wasn't just our imagination. Petrusev shot 238 free throws, fourth-most in the nation.
The problem Filip faces is that there aren't many true centers dominating in the "new" NBA (although you could argue that former Zag Domantas Sabonis, a newly minted All-Star, might qualify).
Big men in the league these days are expected to offer rim protection (not one of Petrusev's strengths), along with stretching the floor with some outside shooting and being quick enough to handle switches outside.
Petrusev needs work in all those areas, and honestly, he's a player who might improve in the G League — where coaches are stressing development, as opposed to the desire for wins at the Zags' elite college level.
I'VE SAID this before (and could get burned by the statement), but Gonzaga actually COULD be better without Petrusev.
Few's teams will always score by the boatload, and next year should be no exception with the firepower available.
But to reach the Final Four, and perhaps win that first national championship, the Zags must be better defensively — especially inside.
They need to stop opposing bigs, and pose a problem for penetrating guards, both of which were lacking at times this year.
Freshman Drew Timme showed that he can also score, and he looks better on defense than Petrusev — assuming he'll learn to stay on his feet and blend into a team concept of defending with proper positioning.
The return of long-armed Anton Watson, and likely development from soph Pavel Zakharov and/or redshirt freshman Oumar Ballo would seem to give the Zags a platoon of potentially excellent defenders.
We'll have to wait and see.
Heck, we have to wait and see if there's even a season.
That would be a great place to start.
• • •
Steve Cameron's "Cheap Seats" columns appear in The Press on Wednesdays and Fridays. "Moments, Memories and Madness," his reminiscences from several decades as a sports journalist, runs each Sunday.
Steve also writes Zags Tracker, a commentary on Gonzaga basketball, once per month during the offseason.
Email: scameron@cdapress.com.
---