Petrusev declares for NBA draft, 'still considering' return to Zags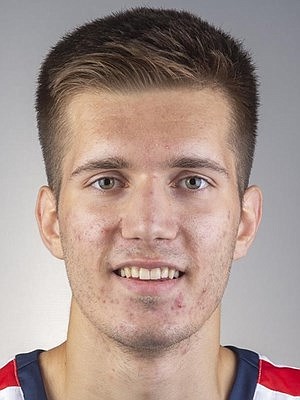 by
From news services
|
April 27, 2020 1:05 AM
Third Gonzaga player to test waters
Petrusev declares for NBA draft, 'still considering' return to Zags
SPOKANE — Gonzaga sophomore forward Filip Petrusev has submitted his papers for early entry to the 2020 NBA Draft, but said he will do so without the representation of an agent.
Under NCAA rules, Petrusev can enter the draft, receive feedback and still return to school.
Petrusev, who was named to the Wooden All-American team, averaged a team-high 17.8 points per game, which ranked third in the West Coast Conference. He topped the league shooting 56.5 percent from the field. Petrusev was second in the WCC grabbing 7.8 rebounds per game, 5.4 defensive boards per game (third in WCC) and 2.4 offensive rebounds per game (fourth in WCC). He was ninth blocking 0.8 shots each game.
"First and foremost, I would like to thank my family, friends, coaches and teammates for all their support," Petrusev said in a statement released by GU. "It is my dream to one day play at the highest level so, I am entering the 2020 NBA draft, but I am still considering a return to Gonzaga. There is still a lot of uncertainty with what might happen to next year's NCAA season, as well as the NBA draft, this gives me more time to evaluate that and leave all the options open. I am not hiring an agent and will work directly with Coach Few and Coach Lloyd to make the best decision for my future, staying eligible for the NCAA. Love you, Zag Nation."
Sunday was the final day for underclassmen to declare for the NBA draft.
By not signing with an agent, Petrusev can receive feedback in the process, retain his collegiate eligibility and have the option to return for his junior season at Gonzaga in 2020-21. The NCAA's deadline for players to withdraw from the draft is June 3.
Petrusev, who also declared for the draft last season, is the third member of this year's Zag team to declare for the draft, joining junior wing Corey Kispert and sophomore guard Joel Ayayi. None of the three say they plan to hire an agent.
The 6-foot-11 Petrusev, from Belgrade, Serbia, was named one of five finalists for the Kareem Abdul-Jabbar Center of the Year Award. He was tabbed second team All-American by the NABC and USA Today, and third team by the Associated Press and USBWA.
---