Rathdrum woman cited for violating stay-home order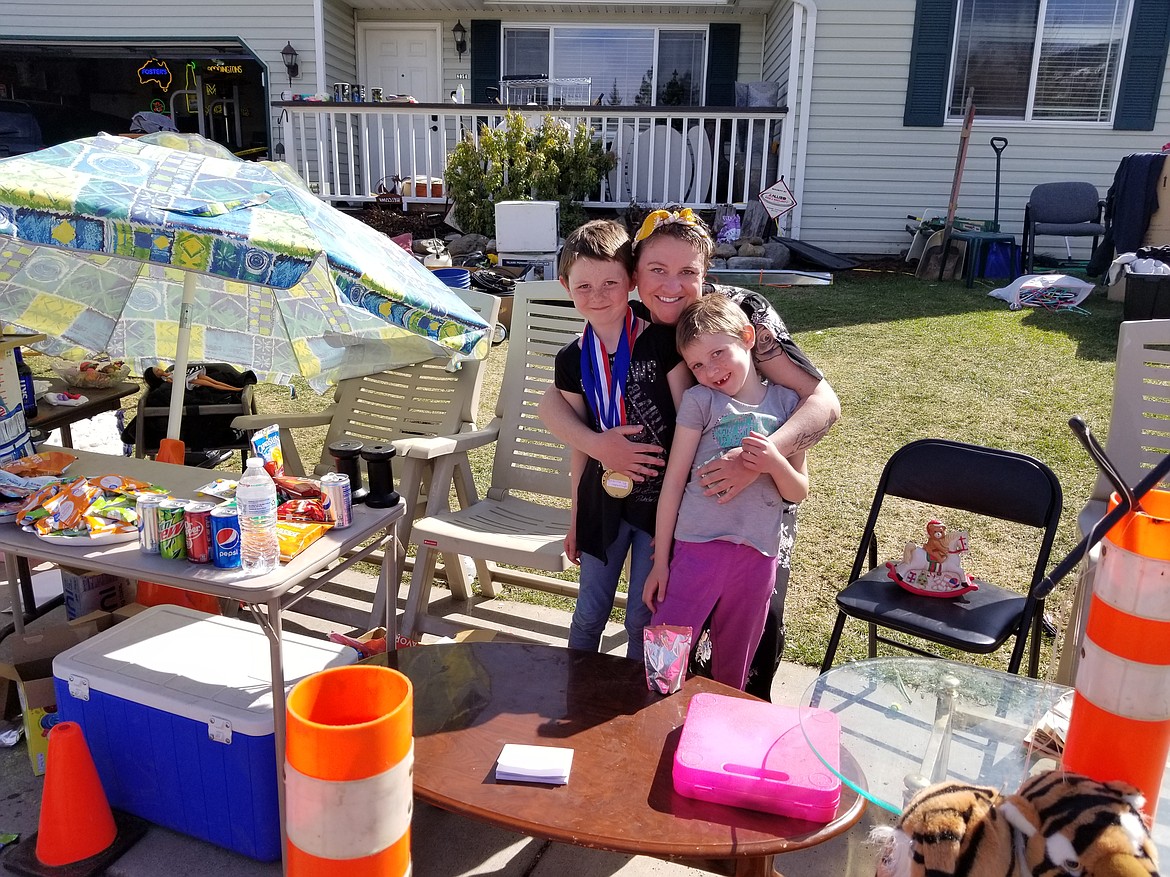 Christa Thompson with two of her children Friday afternoon at her yard sale. The Rathdrum woman was cited for violating Gov. Brad Little's stay-home order.
Image courtesy of Meagan Heyden
by
CRAIG NORTHRUP
Staff Writer
|
April 18, 2020 1:07 AM
A Rathdrum woman was cited Friday for violating Gov. Brad Little's stay-home order after allegedly holding a yard sale.
Christa Thompson was cited by the Rathdrum Police Department as it noted belongings on the yard of her late father's Colorado Street home. Her husband said the yard sale wasn't exactly a yard sale.
"[The police] stopped by last weekend," husband Peter Thompson said. "They told us we couldn't have a yard sale, that it violated the governor's order. I asked them if we could sort some things out on the lawn, and if it was OK to sell a few things to some people. They said, 'Sure, as long as there's no signs or advertising or anything like that. So we didn't.'"
Peter said the family was racking up bills from storage units filled with their late father's belongings, and that the family was selling some belongings to make ends meet.
"And we're trying to raise six kids, too," he added.
Rathdrum Police Chief Tomi McLean sent a press release detailing the department's account of the matter.
"Officers were on scene on April 9, 2020 when the owner asked if the yard sale was in violation of the Governor's orders," McLean said. "The officer educated the homeowner that the yard sale is in violation of the Governor's stay-at-home-order, and they were admonished not to have the yard sale. A copy of the Governor's order was given at this time."
McLean said Rathdrum PD then returned three more times to the home, the most recent Friday evening.
"On April 10, 2020," McLean continued, "a second officer reported that the homeowner will remove the yard sale signs and that they were sorting items in the yard and not having a yard sale. On April 13, 2020 a posting in Craigslist stated that the homeowners were having a yard sale at their residence. An officer approached the family and reminded them that they were in violation of the Governor's order. He then issued them a written warning."
After police officers arrived Friday, they issued Thompson a citation.
"I talked to my lawyer," Peter said. "He said we're not doing anything wrong. I don't consider this a business, you know? We're just sorting it and getting rid of it as we go."
"The Rathdrum Police Department attempted to educate and warn prior to issuing a citation," McLean said. "Rathdrum PD has also received several complaints from the public in regard to the yard sale. This was a large non-essential yard sale that filled the entire front yard and into the backyard, as well. Yard sale items could be seen from Highway 41."
"Our neighbors here," Peter observed, "they've been calling the cops about every other day complaining. They said … every time they walked outside, they'd catch the coronavirus, stuff like that. And our house is right out by [Highway] 41. It's not our fault people were seeing it. They were bound to see it."
Christa Thompson has been ordered to appear May 8 at the Kootenai County Courthouse in Coeur d'Alene.
Recent Headlines
---