DVM of a different breed: Pet dermatology
by
Keith Erickson For Coeur Voice
|
October 9, 2019 1:50 PM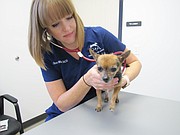 What's not to love about our pets? Cuddly. Soft. Furry. Their coziness is a big part of what makes pets so special.
Dr. Rose Miller loves pets every bit as much as the rest of us do… but she sees a different side.
A board-certified veterinary dermatologist, Miller specializes in what's beneath the warm and fuzzy surface to treat virtually every kind of pet suffering from skin issues, allergies, or ear afflictions.
A full-fledged doctor of veterinary medicine (DVM), Miller is a special breed of animal doctor that, while not widely known, is highly necessary and regarded.
"Our specialty care has been around for years, but it is emerging as a more well-known field in veterinary medicine," Miller said.
Working closely with a pet's primary DVM, Miller typically sees more complicated cases referred to her by general pet practitioners.
"I treat a lot of allergies, autoimmune issues, and ear diseases," says Miller, the only pet dermatologist in the greater Coeur d'Alene-Spokane area.
Miller recently opened her practice at 1336 W. Kathleen Ave. in a building which also houses Emergency Veterinary Hospital of Coeur d'Alene. The vet hospital is an after-hours clinic and Miller rents the space during business hours.
Pets are susceptible to hundreds of skin disorders throughout their lives, Miller said, and to get them the best dermatological care, they need a veterinarian with advanced training able to recognize these different dermatological conditions.
While she treats skin problems, Miller said about 80 percent of the pets she sees have medical issues stemming from allergies.
Those problems can be highly uncomfortable. That's why Miller said she offers progressive and extensive options to make pets comfortable and happy, working closely with the family veterinarian to determine the most appropriate dermatological care.
A 2001 graduate of Coeur d'Alene High School, Miller earned her DVM from Washington State University in 2008. Prior to earning that degree, she took her first class in animal dermatology and knew it would be her career path to follow.
"I just really love spending time with clients, discussing their pets' dermatology conditions and providing progressive, extensive options," Miller said.
Recent Headlines
---