Faithful Observations Living Passages brings Bible to life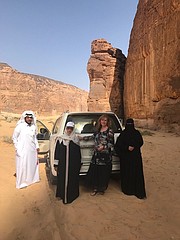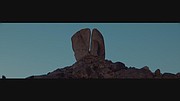 When I arrived at the Billy Graham Conference Center last month, I received an email from Mike Patrick, editor of The Press, about a travel agency in Coeur d'Alene that was featured on Fox News. Living Passages was the first to run tour groups from the west to biblical sites in Saudi Arabia. Mike wondered if that might be an interesting story.
A few days later at a book signing at The Cove, our speaker, Dr. Erwin Lutzer, said he had some postcards available about a trip to Europe he was leading next summer, a visit to key Reformation sites before ending at the Passion Play in Oberammergau, Germany. When I turned the card over, I saw the tour company behind it — Living Passages in Coeur d'Alene! We decided this would indeed be an interesting story and arranged a meeting with its founder and president, Rhonda Sand.
Q: Rhonda, tell us about yourself and your travel and tour agency. When did you begin this adventure, and what is your focus?
RS: I started in the business in 1981 with my first trip, which was to Egypt. In 1983, I took our first trip to Israel, plus the areas of the Apostle Paul's journeys. I began leading trips to Israel in 1998, and my focus for the past 10 years or so have been authoritative and authentic Biblical teaching journeys. When the ministries of Chuck and Nancy Missler were located in Coeur d'Alene, through our handling [of] Chuck's travel, we began our journey into leading and organizing archeological and scriptural rich tours. Chuck had a local ministry called Koinonia House, and we also handled his day-to-day arrangements. We have been fortunate to have had close relationships with many outstanding Christian leaders, and it has been a joy to be on these trips with them. We now have nine people on staff and are very busy with trips scheduled out over the next few years.
Q: Obviously the recent news of your trips to Saudi Arabia is fascinating. How many trips have you made, and what is the attraction for students of the Bible?
RS: There is the traditional location of Mount Sinai and the route the Israelites took during the Exodus from Egypt, but for decades scholars have doubted the genuine locations that are mentioned in the scriptures. The mountain Jabel Al Lawz in northwest Arabia is theorized to be the real Mount Sinai. There is overwhelming evidence that this is the mountain mentioned in the Bible. There are other locations such as the Oasis of Tayma, the split rock of Horeb that fit the narrative — and remember that this is the "land of Midian" and the Well of Moses, Jethro of Midian and many more locations as mentioned many times in scripture. We were privileged to be the first travel agency arranging tours to this area. We have tours going in February and October of next year and also in 2021. Some of our programs are on land tours and we have four cruises operating in 2021 through the Red Sea, Arabia and Jordan.
Q: Many people are wondering if they would really want to go to Saudi Arabia. Is it safe? What are the accommodations like? Tell us about the trips themselves.
RS: We stay in four- or five-star hotels: wonderful accommodations, and one night in a luxury camp near the sites. Mohammad bin Salman was named Crown Prince in 2018 and has brought significant change to Saudi Arabia and wants to "westernize" through investments in non-oil sectors, and a $500 billion economic/tourism zone on the Red Sea coast and very near these historical sites. Certainly he looks at Israel, where tourism revenue has nearly doubled in the last 10 years to over $7 billion in 2018. The accommodations, food and travel were first-rate, although you need to remember this is a different culture and environment. Islam is the state religion, and its laws require all citizens to be Muslims. We respect their laws. We had no issues in our travel and were given access to all the sites.
Q: The headline on your website says, "Inspirational Christian Travel for the Intrepid Berean." Explain what that means.
RS: Acts 17:11 says, "Now the Berean Jews were of more noble character than this in Thessalonica, for they received the message with great eagerness and examined the scriptures every day to see if what Paul said was true." We believe that as people travel to biblical sites in Israel, the Mediterranean and Europe they are able to see that the Bible is the true and inspired word of God. The Bible comes alive and has a deeper meaning as we see where it all happened.
Q: You have some great trips with outstanding leaders coming up. Give us a quick overview.
RS: We have tours to Israel [coming up]. Some of these focus on Biblical archaeology. Some combine a Mediterranean cruise to many New Testament cities. They are led by amazing people that not only have the background but can bring a spiritual application to where we are today. We have Reformation tours in Europe, such as the one with Dr. Erwin Lutzer, an expert in this area who has written many books about the Reformation and its effects today. We even have South African safari tours that are led by some fabulous Biblical Christian teachers. We also have tours to Egypt and Ethiopia planned that have some interesting connections to the Bible that will broaden your perspective.
Q: We don't have the space to do these trips justice, Rhonda, but if people want to learn more about Living Passages, where do they go? There might even be people thinking that a trip like one of these would be a once-in-a-lifetime Christmas gift!
They can go to our website, livingpassages.com, or call our office at 888-771-8717.
•••
Bob Shillingstad writes Faithful Observations for The Press every Saturday. Email Bob: bjshill@mac.com
Recent Headlines
---