A soldier's letters home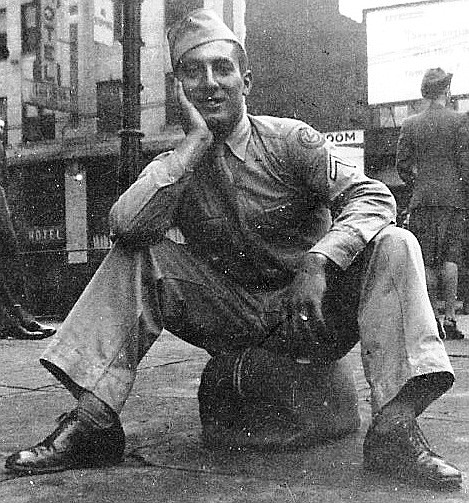 Photo courtesy of Teresa Irish A strapping young Bud Irish on furlough is seen here Aug. 23, 1943, at the Union Depot in Detroit. Bud's daughter discovered 1,000 letters and photos from Bud's time in the service and will be sharing stories from the letters during a presentation Thursday at Lake City Center. The event is free and open to all.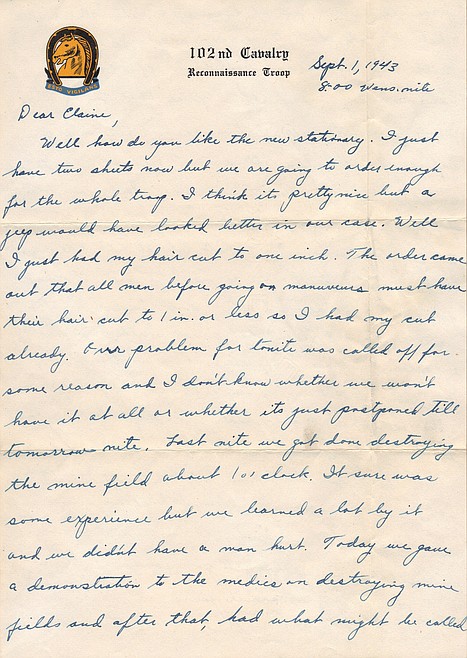 This original letter is one of 1,000 that were discovered in an old trunk by Teresa Irish after her dad died in 2006. This letter, penned by her dad, was written to her mom in 1943. (Photo courtesy of Teresa Irish)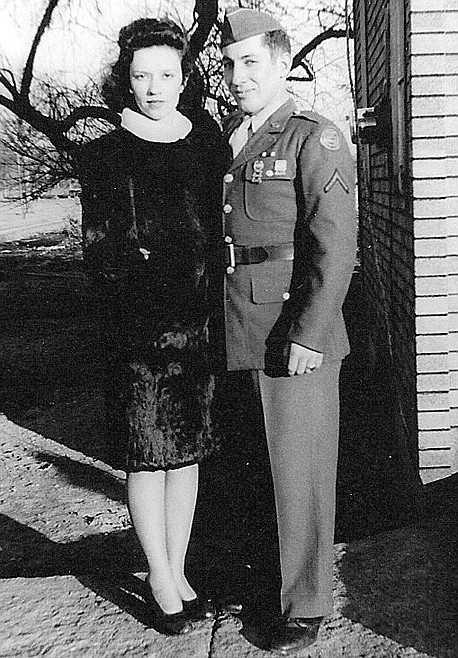 Bud Irish and his sweetheart Elaine Marie Corbat (his future bride) are seen here together when he was on furlough in March 1944. Their daughter, Teresa Irish, will present letters the two exchanged during an event Thursday in Lake City Center. (Photo courtesy of Teresa Irish)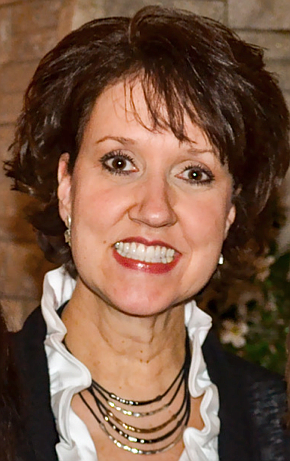 Previous
Next
by
Devin Weeks Staff Writer
|
November 13, 2019 12:00 AM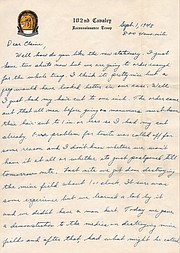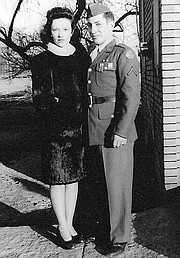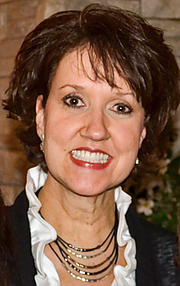 The value of the treasures Teresa Irish found in an old trunk belonging to her late father is something that can never be measured.
Letters. Photographs. Words from a young soldier fighting a war. Memories of a lifetime from a lifetime ago.
"I was all alone on a Friday night and I had no idea what to expect," Irish said Tuesday. "I never went to bed that night. I read all night."
It was Memorial Day weekend 2006, just after her dad, Aarol W. "Bud" Irish, had died. She was in her parents' Michigan home, seeking solace in her sadness as she remembered the man she cherished.
Teresa found the trunk on the back porch, untouched for some time. She recalled seeing the trunk earlier in her life and asking Bud about looking through it, but he always said "maybe someday."
When she opened it, she unlocked a window to the past. Inside were 1,000 letters, pictures and postcards her dad had written or received during his 38 months of service in World War II.
"The letters were so unique because they were first-hand, real-time accounts," Teresa said.
The letters were to Bud's family and to Teresa's mom, Elaine, to whom Bud became engaged just before he left for the service. Sometimes he wrote two letters a day, up to 12 sheets of paper in one envelope. All of the original envelopes are intact with postmarks.
Bud wrote from Camp Maxey and Camp Swift in Texas, Fort Dix in New Jersey and during his boat ride to Europe. He wrote home and to his sweetheart during 16 months on the front lines in France and Germany.
"Dear Elaine, Well how do you like the new stationary. I just have two sheets now but we are going to order enough for the whole troop," Bud wrote in his smooth cursive on Sept. 1, 1943.
"Last nite we got done destroying the mine field about 1 o'clock. It sure was some experience but we learned a lot by it and we didn't have a man hurt."
Men close to Bud eventually did die. and included in the trunk were letters from the mothers of soldiers who died by his side in Germany just one month before the war ended, Teresa said. Their deaths made him realize he had been given a gift of life, especially after surviving a reconnaissance mission that claimed three of his buddies' lives.
Through it all, Teresa said, he was reassuring and comforting for his loved ones. Bud even apologized for a delay in his correspondence because his hands were too cold to hold pen and paper while living in foxholes.
"He was very profoundly unwavering in his faith and his optimism that God would bring him home," she said.
Valentines, heartaches, well wishes, photos of men in uniform looking tough. After an entire night of examining every image and pen stroke, Teresa said she saw things about the war and her dad differently: "In one night I met this starry-eyed 20-year-old who had the rest of his life in front of him."
"As many times as I had gone to services on Memorial Day, I felt like I had never seen an American flag or a veteran in my life," she said. "It changed everything. I had a new appreciation for both."
Teresa has since shared this amazing discovery with people throughout the United States at more than 300 speaking events and in the book, "A Thousand Letters Home."
Now a North Idaho resident, she will be sharing the stories with Coeur d'Alene at 1 p.m. Thursday in Lake City Center, 1916 N. Lakewood Drive, Coeur d'Alene, during the Journey of the Letters event.
"It's my dad's story, but it's the history and the journey of those who served," Teresa said. "It's a love story, an incredible story of faith and a first-hand real history of a soldier's journey into World War II."
She said it's a privilege to share these letters with others and to listen to the stories they remember of their military experiences or of a loved one's service. Her dad especially would have loved to be a part of it.
"He would be honored that his words still resonate with people today," she said.
The Journey of the Letters is being presented by North Idaho Events. This free presentation is open to all, especially those who served or are serving in the military.
Info: www.athousandlettershome.com
Recent Headlines
---