Anti-hate rally planned opposite Pachyderm meeting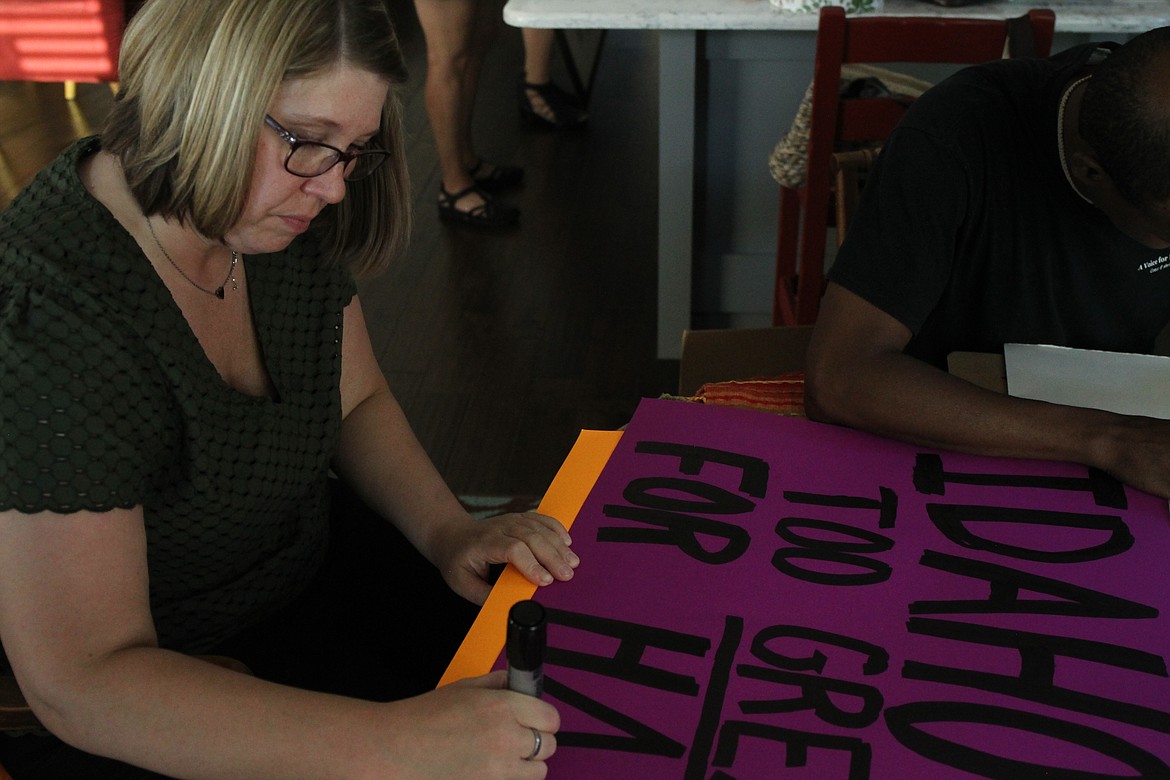 CRAIG NORTHRUP/Press Laura Tenneson helps create signs in preparation for Friday's anti-hate rally. The event will take place at 6:30 a.m. Friday morning along the sidewalk outside Coeur d'Alene's IHOP, while the North Idaho Pachyderm Club will host anti-Muslim YouTube activist Brittany Pettibone inside.
by
Craig Northrup Staff Writer
|
May 30, 2019 1:00 AM
COEUR d'ALENE — Activists are planning a rally denouncing hatred Friday morning in Coeur d'Alene.
Assembly organizers have pinpointed 6:30 a.m. Friday on the sidewalk outside the International House of Pancakes, 2301 N. Fourth St., as the rally point.
That coincides with the Pachyderm Club's monthly meeting.
The Pachyderm Club — a Republican civic group — is scheduled to host Brittany Pettibone at 7 a.m. Friday. Pettibone is a Post Falls resident and YouTube activist whose videos often promote anti-Muslim immigration policies. They've garnered more than 122,000 followers. Pettibone is the fiancée of Austrian activist Martin Sellner, a far-right organizer who champions an anti-Muslim, ethnopluralist Europe and who has been denied entry into the United States.
Pettibone has been the subject of regional and national headlines since April 25, when she petitioned the Kootenai County Republican Central Committee to support a resolution urging the Department of Homeland Security to reinstate Sellner's travel privileges.
"This is not a protest," rally organizer Laura Tenneson said Wednesday. "We won't be blocking anybody from attending [the Pachyderm Club meeting]. We simply want to let the community and this group know what our stance is and what our message is: We don't plan to stand idly by while hate lets itself back in."
Tenneson said the event is not sanctioned by the Kootenai County Democrat Central Committee, of which she is a member. Kootenai County Democrats Club President Shawn Keenan, who also plans to participate in the event, said his organization does not officially sanction the rally, either.
"This is something very close to my heart," Keenan said. "I personally have a strong resistance to this type of talk. It's not representative of Coeur d'Alene. This is an opportunity for our community to come out and show people what we believe in, that Idaho is too great for hate."
Pettibone did not respond to a Press request for comment.
Bob Brooke, president of the North Idaho Pachyderm Club, urged a peaceful morning out of respect to the host of the event.
"I hope [the protesters] are orderly and do not deny people the opportunity to come inside," Brooke said. "Our club is a small portion of IHOP's clientele."
Keenan said his personal experience with white nationalism in North Idaho drove him to activism. His aunt and cousin, Victoria and Jason Keenan, were the victims of an attack in Hayden that ultimately led to the downfall of the Aryan Nations in Hayden Lake.
"We worked really hard to rid ourselves of that stigma," Keenan said. "Despite all that hard work, we still have these remnants of this stigma. I've traveled around the country and around the world. When I mention where I'm from, they still recall us as a haven for white supremacists. That taste is still in people's mouths, and Republicans' invitation for Brittany Pettibone to speak does nothing to help us."
"We've worked really hard to restore our reputation," Tenneson said. "Actions like inviting [Pettibone] to speak at the Pachyderm Club: We feel actions like this move us two steps back instead of one step forward, and we don't plan to stand idly by while hate lets itself back in."
Recent Headlines
---