The sparkling, spunky spectacle of Mango and Dango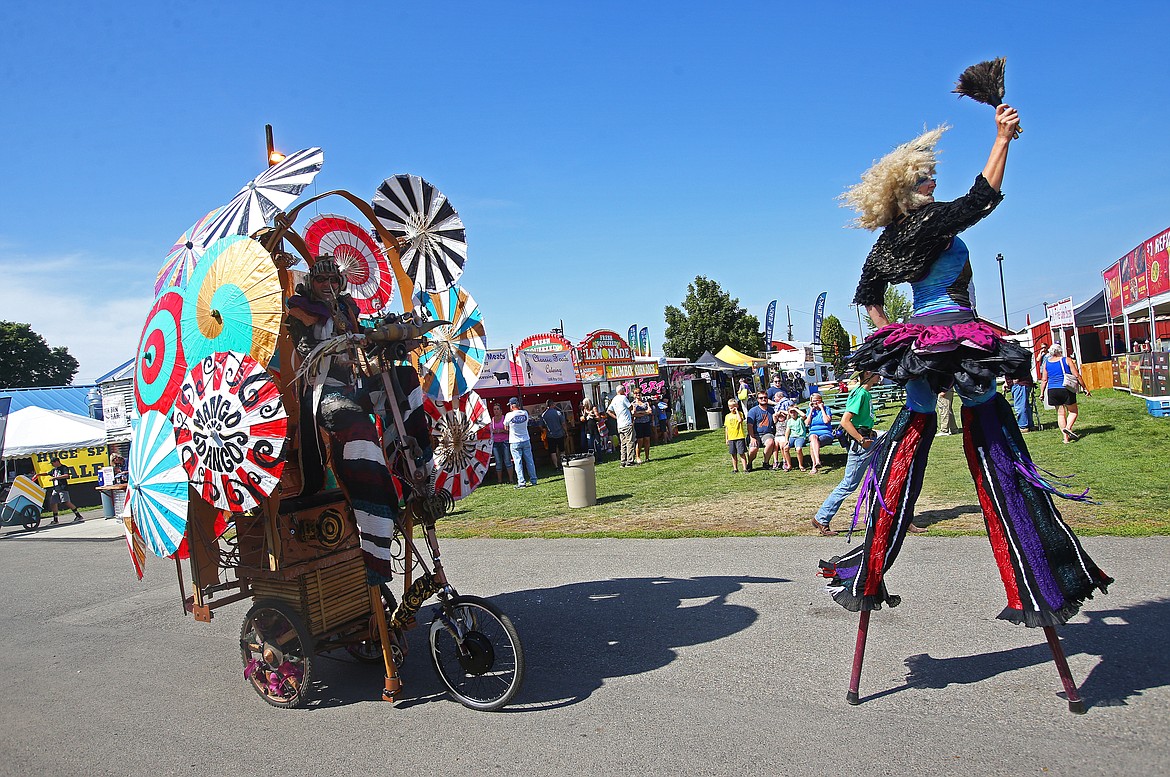 LOREN BENOIT/Press Mango, played by Portland performer Megan Fontaine, and Dango, portrayed by San Diego's Derrick Gilday, stroll through the North Idaho State Fair on stilts.
by
Devin Weeks Staff Writer
|
August 23, 2019 1:00 AM
People pop out of barns and exhibit halls, jaws drop and heads turn as the carnival music grows closer and the "Flying Umbrella Ship" comes into sight.
Phone cameras lock onto the joyful, sparkling, stilt-walking Mango as she high-kicks her way through the crowd. Dango's frequent laughter and honks from various horns can be heard over the calliope sounds while he, also in stilts, pedals a parasol-covered contraption over grassy places and through comically tight spaces.
"It's definitely an eye catcher," said Derek Labossiere, who watched the spectacle from a pathway intersection. "Everybody stops to watch them."
On the west side of the North Idaho State Fair, grandma Jodi Johnson and her grandkids Character Brinkmeyer, 9, and Peace Brinkmeyer, 10, of Coeur d'Alene, couldn't help but smile as Mango and Dango rolled and high-kicked past their picnic table.
"I think it was just fascinating," Johnson said. "I'm fascinated how they use those stilts. In comparison to myself, I'd be going to the hospital."
"I love colorful things," Peace said. "I was like, 'How does she do that?'"
Mango, played by Portland performer Megan Fontaine, and Dango, portrayed by San Diego's Derrick Gilday, are best friends and creative partners who have been bringing their theatrical circus, physical comedy and roving entertainment to cities around the world for nearly 15 years.
"One of her nicknames is 'Crazy Legs Megs,'" Gilday joked during a break after one of their roving performances.
The contraption he wheels around came from an "idea for this intergalactic vessel that travels around looking for the meaning of life."
A little steampunk, a little Mad Max, a little "Imaginarium of Doctor Parnassus," the Mango and Dango act can't really be easily compartmentalized. With extensive backgrounds in performance arts, gymnastics and street theater, Fontaine and Gilday are at home where they make people smile.
"Everyone likes it," Gilday said. "No matter where we are, everyone feels a little more light and fluttery."
"It's a vibe enhancer," Fontaine said. "It's a joy-bringing thing. It just raises the energy everywhere we go."
Catch Mango and Dango dazzling the crowds at 2, 4 and 6 p.m. today and Saturday.
Info: mangoanddango.com
---