Inland Northwest Opera to host Black Orchid Affair gala Aug. 18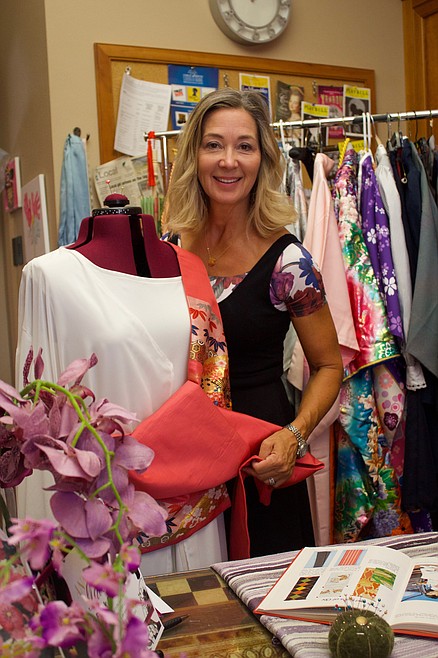 Courtesy photo Hayden Lake resident Denise Leonard poses with a costume. Leonard is organizing A Black Orchid Affair, a fundraiser for Inland Northwest Opera, on Aug. 18.
Behind the many theater productions enjoyed by Coeur d'Alene visitors and residents alike is Hayden Lake resident and costume designer Denise Leonard.
Leonard's costumes have graced the stage for Inland Northwest Opera's "La Boheme," "Tosca" and "Marriage of Figaro," along with Coeur d'Alene Summer Theatre's "My Fair Lady," "Mary Poppins" and "Little Mermaid," among others. She was also the co-producer and costumer for Laura Little Theatrical Productions' off-Broadway effort, "All is Calm" in New York.
The self-taught designer is now designing a production of her own on the banks of Hayden Lake for the annual Inland Northwest Opera fundraiser, A Black Orchid Affair, on Aug. 18. In honor of Inland Northwest Opera's upcoming production, Giacomo Puccini's "Madame Butterfly," which plays Sept. 20 and 22 at the Fox Theater in Spokane, Leonard is chairing an evening of East meets West with Asian-fusion fare from Hayden Lake Country Club's executive chef Brett Fontana. Leonard's daughter, acclaimed soprano Madison Leonard, and her husband, Shea Owens, baritone for works by Puccini and more, will perform.
Tickets for A Black Orchid Affair at the Hayden Lake Country Club are $110 per person or $750 for a table. Black ties are optional.
Info: www.inlandnwopera.com
Recent Headlines
---