Thrilling 'Black Panther' takes Marvel in bold direction
|
February 23, 2018 12:00 AM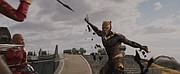 Rich with social commentary and a propulsive central conflict, Marvel's "Black Panther" jolts the superhero genre with a much-needed change of pace. Though it still deploys the requisite fight sequences and CGI spectacles, the film thrives in its quieter moments, leaning on a deep bench of well-defined characters.
While Spider-Man's brief debut in 2016's "Captain America: Civil War" stole the media attention, that film's introduction of T'Challa/Black Panther, played by Chadwick Boseman, lays the groundwork well for the character's first solo adventure. Rather than focusing on how T'Challa fits into the overall Marvel Cinematic Universe, "Black Panther" spends its time expanding the world of Wakanda, the home country T'Challa returns to in order to assume the throne after his father's assassination in "Civil War."
Wakanda masquerades as a third-world country on the global scene, but the country is lush with advanced technology thanks to its abundance of a rare metal (vibranium — it's super strong and stuff). This isolationist approach riles the mysterious baddie named Erik "Killmonger" Stevens, played by the always excellent Michael B. Jordan ("Creed"), who hatches a plan to overthrow T'Challa as king.
But forget about the bull-headed men for a second. The best thing about "Black Panther" is its lineup of charismatic women: Oscar winner Lupita Nyong'o as Wakandan spy Nakia, who has romantic history with T'Challa; Danai Gurira ("The Walking Dead") as Okoye, the Wakandan equivalent of the best bodyguard/secret service agent you've ever seen; and Letitia Wright as Shuri, T'Challa's younger sister and technology guru, who serves as a vibrant "Q" type during the film's satisfying, James Bond-inspired middle act.
All three bring so much life to their roles, to the point where Boseman, a terrific actor, gets overshadowed a bit in his own story. But the movie seems perfectly content with being more of a "Wakanda" movie than merely a "Black Panther" movie, and the storytelling benefits from this wider scope.
"Black Panther," as evidenced by its record-shattering opening weekend, is a cultural landmark, and the movie, written and directed by the talented Ryan Coogler ("Creed," "Fruitvale Station"), manages to be a celebration and extension of a culture too often underrepresented in major blockbusters.
But not content to be just that, "Black Panther" works on a narrative level too. Jordan's Killmonger is probably Marvel's most compelling and relatable villain to date. The character's worldview isn't necessarily wrong, and he's got a legitimate beef with T'Challa and Wakanda's diplomatic approach, and Jordan plays him believably as the "hero of his own story."
That conflict makes for some high tension, though some of that admittedly gets derailed in a too-reliant-on-questionable-CGI final battle. Yet even with the overabundance of spectacle, "Black Panther" stays small enough to feel personal and relevant in 2018, It serves as a way forward for Marvel Studios after their criss-crossing franchise comes to climax with "Avengers: Infinity War" later this year.
Forget the Infinity Stones and universe-destroying Thanos. The world needs a Coogler-directed "Black Panther" sequel ASAP.
•••
Tyler Wilson can be reached at twilson@cdapress.com
---