Spreading the gift of reading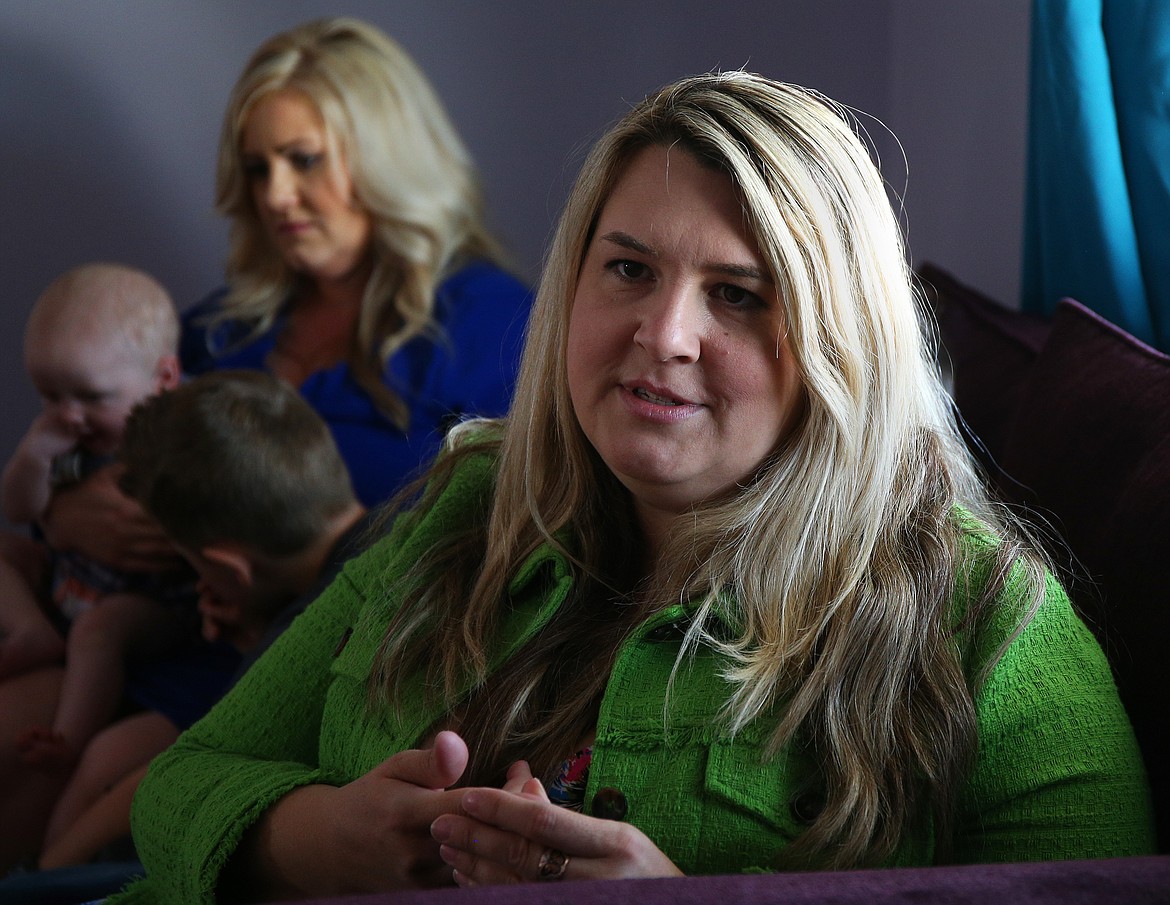 Melody Alderman, of Post Falls, is the founder of the MONARCH TRAIN, a new local nonprofit that sends books in the mail free of charge to little ones from the age of birth to 5-years-old.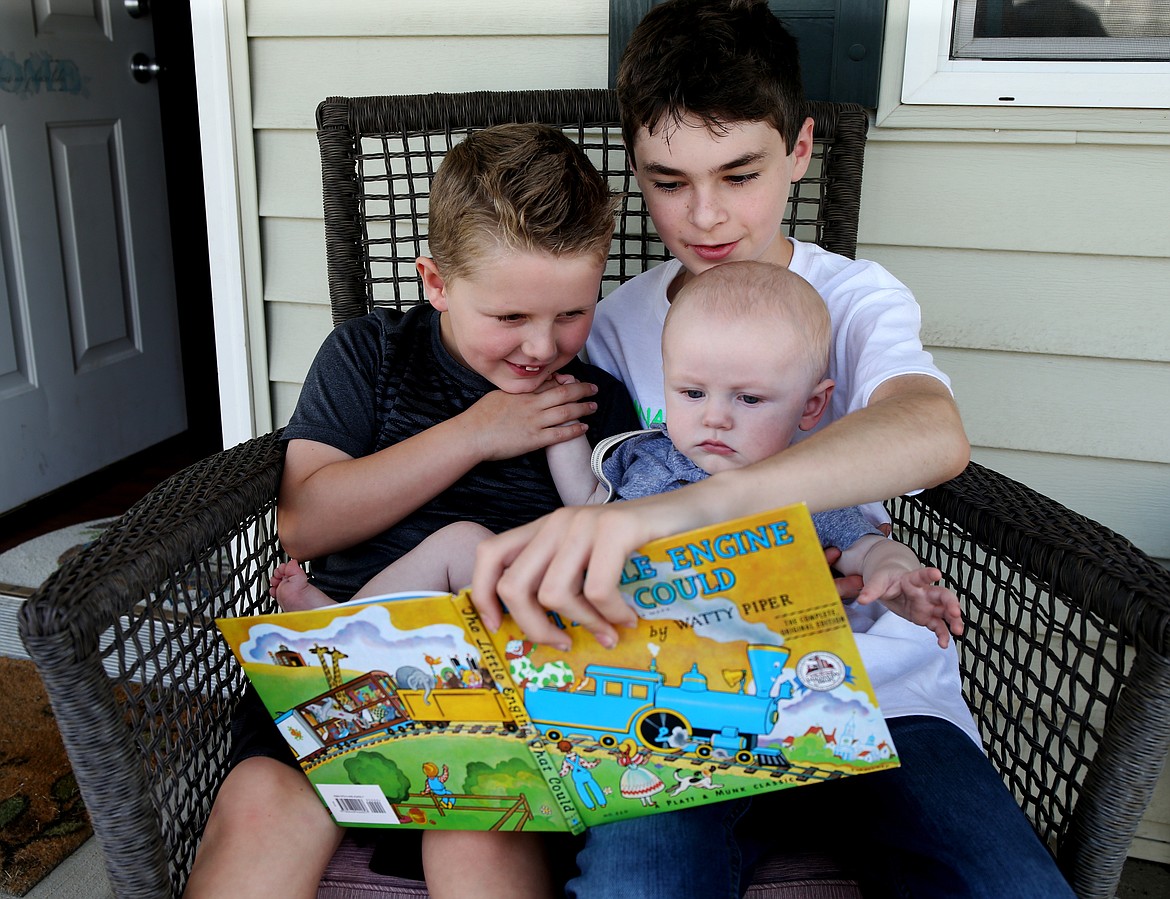 Photos: LOREN BENOIT/Press Breckin Willoughby, 7, left, Ayden Alderman, 11, and Hunter Willoughby, 7 months, read "The Little Engine That Could," the first book that is mailed to kids who take part in MONARCH TRAIN.
Previous
Next
by
Devin Weeks Staff Writer
|
August 10, 2018 1:00 AM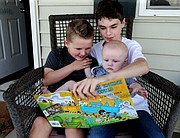 POST FALLS — The joy of receiving a gift in the mail is an experience Melody Alderman is working to keep alive for children of today's digital era.
When that gift is a surprise book, it makes the trip to the mailbox that much more exciting for kids who are just beginning their adventures in reading.
"I just think there's something about a child feeling seen," Alderman said, seated on a couch with her son, Ayden, and nephew, Breckin. "I know they're younger, but I think a 4-year-old getting piece of mail, it makes you feel like you matter and you exist."
Alderman, of Post Falls, is the founder of the MONARCH TRAIN, a new local nonprofit that sends books in the mail free of charge to little ones age birth to 5. This program boosts children's familiarity with books and interest in reading as they get ready to become lifelong learners.
Alderman, who grew up in Wallace, struggled with literacy when she was young. She said her hard-working mom just didn't have the time to invest in anything other than supporting their family, so she was behind when she started kindergarten.
"Reading isn't something that we did a lot," Alderman said. "I truly think that if something like this would have been available, I would have started kindergarten ready to go. Then once I did start reading, it became such a passion... I think I really could have benefited from it, so I'm sure there are other kids that are like me that could benefit from it."
Alderman is now a freelance writer. While working on a column for a website, she interviewed Dolly Parton over the phone, leading her to establish the MONARCH TRAIN, which is a branch of Parton's Imagination Library.
"I grew up on Dolly with my grandma playing her and I just loved her," Alderman said. "She was exactly who you'd think she is. She was just super friendly and warm and hilarious. The woman is so witty."
Parton first started the Imagination Library in 1995 — in Tennessee where she grew up — to ensure kids of all income levels could have access to books. She created it as a tribute to her dad, who was the "smartest man I have ever known but I know in my heart his inability to read probably kept him from fulfilling all of his dreams," reads a letter from Parton on the Imagination Library website, www.imaginationlibrary.com.
The MONARCH TRAIN is also a tribute. It's an acronym: The Mission of Nicholas and Ayden: Reaching Children's Hearts Through Reading, Art, Imagination and Nature.
Alderman's high school sweetheart, Nicholas Struckman, died tragically at the young age of 19 in 1997. Her work with MONARCH TRAIN is to keep his memory alive.
"I've always wanted to do something to give back to the community," Alderman said. "After my first love died, that became even stronger of a passion to do something that would help his name live on so he's not forgotten because he didn't have a long time here."
It's also for Ayden, 11, who loves reading and designed the train logo.
"It was a really big honor for me to help," he said. "I really think it was an honor to help as an assistant to my mom."
Ayden said he feels this book-in-the-mail program will help kids "improve their knowledge."
"It's like school at home," he said. "They can practice reading, their parents can help them read a little bit and they can move on from that."
MONARCH TRAIN started signing up kids in June and already has at least 200 participants in Kootenai and Shoshone counties. Alderman plans to add journals to the items supplied to kids at no charge, as well as musical instruments in the near future.
"The program is becoming so popular," Alderman said. "I think we're going to have double the sign-ups in Idaho by the end of September. Our community is really responding to it."
A launch event for the MONARCH TRAIN will be Wednesday, Sept. 26 at 5 p.m. at the Coeur d'Alene Public Library. Sponsors and participants will be able to donate or sign up at the event.
Info: www.themonarchtrain.com, contact@themonarchtrain.com or 208-718-2758
Recent Headlines
---