Taylor named county's public defender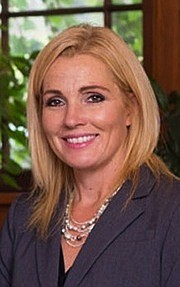 By BRIAN WALKER
Staff Writer
COEUR d'ALENE — Ever since Anne Taylor went to work for the Kootenai County Public Defender's Office in 2004, she thought it would be great to lead that department.
"I always thought that was the job I'd want some day," she told The Press.
Friday was that day.
Taylor, who has specialized in criminal defense in private practice for the firm of Palmer, George and Taylor for the past five years, was hired as the new Kootenai County public defender.
Prior to her private practice, she worked for the Public Defender's Office from 2004 to 2012.
"It's such necessary work," Taylor said, referring to what interested her in the public defender position. "It's important to make sure Constitutional rights apply to everybody. You help people who are facing horrible times. I love the work."
Taylor takes over for John Adams, who retired in March after nearly 21 years as the chief public defender.
Christopher Schwartz has served as the interim defender since then.
An Idaho native, Taylor is a graduate of Idaho State University, where she earned a bachelor's degree in political science and a master's degree in public administration. She earned her doctorate degree from the University of Idaho in 1998.
Since then, she has practiced law at the federal, state and local levels. Taylor also worked for five years in the Kootenai County Prosecutor's Office.
She serves on the board of the Idaho Association of Criminal Defense Lawyers and is death penalty certified in Idaho.
"As I begin this journey, I am excited to do my very best," she said. "And, most of all, I have gratitude for all of the members of the Public Defender's Office. I am grateful to be welcomed by an outstanding office and I am looking forward to us standing together to advocate for citizens in Kootenai County."
Kootenai County Commission Chairman Marc Eberlein said the county is excited to have Taylor return.
"She is well-respected in the community and brings a wealth of knowledge and experience to this position," he said. "We have every confidence that she and her staff will continue the tradition of providing an excellent level of service to the community and to their clients."
The Public Defender's Office provides legal representation as court-appointed attorneys for indigent clients in criminal cases, including felony, misdemeanor and civil cases as well as for juveniles in criminal cases and for children and their families in child protective hearings.
Recent Headlines
---