A deer-rear fence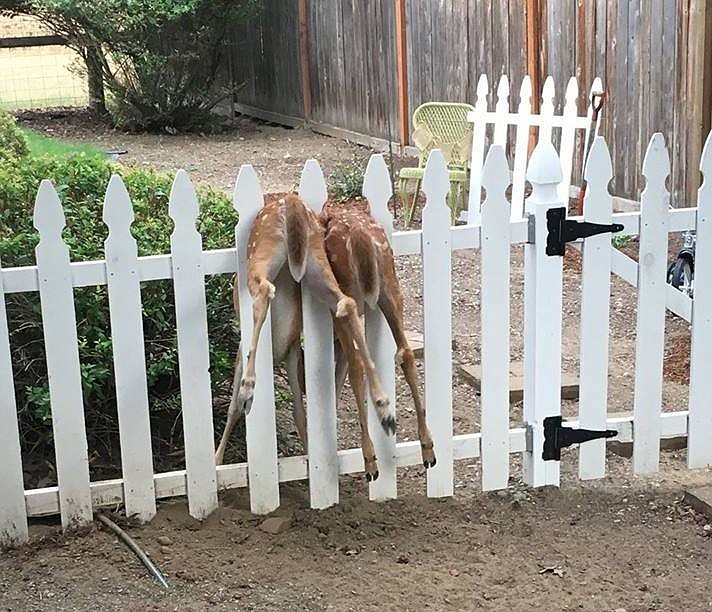 Courtesy photo A pair of fawns got themselves lodged last weekend in Laura Narolski's white picket fence in Coeur d'Alene. The city's animal control officers were able to safely remove the baby deer that then scampered off with their mother, a doe that , throughout the fawns' ordeal, paced and hissed nearby.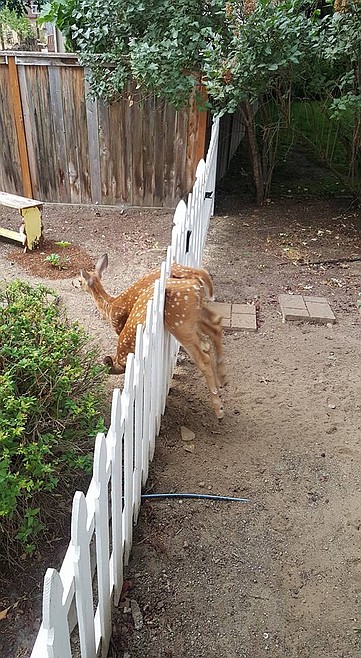 Courtesy photo Theses fawns were panicked and bleating as they remained stuck Sunday in a white picket fence. In one of the more unusual calls they've received, Coeur d'Alene animal control officers were able to dislodge the baby deer who were not injured.
Previous
Next
by
Folks & Don'T Try This at Home Ralph Bartholdt Staff Writer
|
August 15, 2017 6:38 PM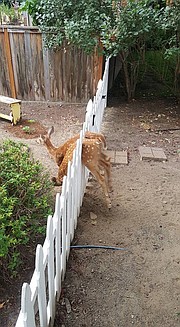 COEUR d'ALENE — Laura Narolski is having some landscaping done, but the refurbishing isn't meant to make her property near Canfield Mountain deer-proof.
It isn't meant to make it more attractive to the crepuscular critters, either.
Whitetail deer seem to seek out her yard with its white picket fence and dearth of garden vegetables.
"I already have tons of deer in my yard," the long-time Coeur d'Alene resident and marathoner said. "I can't even grow anything."
Last Sunday morning however, when she looked out over the dirt that landscapers left, she noticed what appeared to be a pair of quaint garden ornaments hanging from between pickets of her 3 1/2-foot-high fence.
When she got closer, she realized the deer butts and their fluffy white tails were attached to real deer.
Fawns.
With all the spots.
Stuck side-by-side over the top rail, and between the pointed pickets.
And they were bleating for their momma.
"It looked just like they were hanging out," Narolski said. "But when you got closer they started bucking and crying and panicking."
The baby whitetail deer had gotten stuck as they attempted to hop over the pickets. Their front ends made it, but their hind ends did not.
"Their front hooves were touching the ground," Narolski said. "But their narrowest part right at the waist was pinned. They were rib-cage-to-rib-cage."
And their rumps pointed at passers-by.
Narolski called a neighbor who threw up his hands. He didn't know how to remove the deer as their mother huffed and hissed and paced nearby. Narolski called Idaho Fish and Game and the fire department, but must have dialed the wrong number. She reached dispatchers who called Jon Beamesderfer, the Coeur d'Alene Police Department animal control officer.
It was his first call of the day.
"I told them I would take it," Beamesderfer said.
He is accustomed to deer calls but he had not encountered one like this.
When Beamesderfer arrived, he immediately spotted the fawns' conundrum. And his own. He called for assistance.
Sunday mornings are often quiet in the world of animal control. Officer No. 2, John Moore, was available to help out and the men calmed the fawns as best they could, lifting each from between the pickets and carrying them, one at a time, to their mother.
The deers' hind quarters didn't work for a spell from being stuck, but after a few minutes the fawns quit crawling and stood on all fours. Then they bounded away with the doe.
"I wasn't expecting to see two fawns (stuck) right next to each other," Beamesderfer said. "I had never had that before."
Narolski is glad for the happy ending.
"They could have impaled themselves," she said.
She has a lot of deer stories, including the one about an adult whitetail she found dead in her yard.
This story, however, has a happier rear. Er, end.
"I don't know if they were like synchronize-jumping," she said.
But it's worth contemplating.
"This is North Idaho living," Narolski said. "We freed them, and they got to be back with their mom."
Recent Headlines
---