A scary good time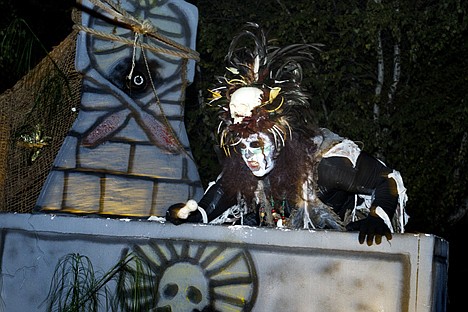 <p>An actor at the Ancient Ruins attraction at Scarywood jumps out of the darkness Friday.</p>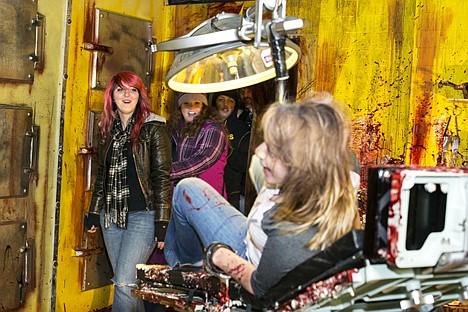 <p>Patrons walk in on a gory scene Friday night at the Blood Bayou attraction at Scarywood.</p>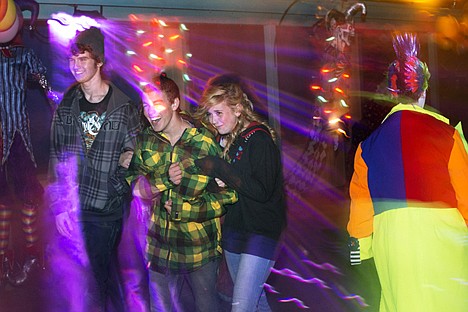 <p>Parker Jones, 15, left, Daniel Shober, 15, and Aurora Parris, 15, run through clown town at Scarrywood Friday night.</p>
Previous
Next
by
Devin Heilman
|
October 5, 2013 9:00 PM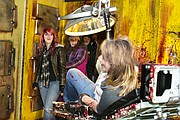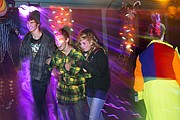 ATHOL - Silverwood looks a little different this time of year.
A thick fog has settled throughout the park, and the usual pleasant banjo music has been replaced by the shrill sounds of screams, bangs and evil laughter. The usually mild-mannered theme park has gone to the dark side.
Scarywood Haunted Nights, Silverwood's Halloween alter-ego, opened its gates Friday night.
In its fifth year, Scarywood features some new scares as well as some old haunts.
The Ancient Ruins have taken over the drained Thunder Canyon. It's an archaeological dig gone wrong, with the voice of a desperate explorer sounding through the tunnels along with the menacing chants of ghouls in exotic headdresses and tribal wear.
Total Darkness, a maze that leaves guests in pitch black, is also new.
"It is entirely dark, you can't see a thing," said Silverwood's communications manager Mark Robitaille. "There are creepy crawlies around, things hanging, air coming at you and noises, you're just freaking out because you can't see."
Ezra Dowling, 13, and Jimmy Little, 13, both from Sandpoint, were buzzing with excitement as they described the experience.
"You run into everything," Jimmy said.
"At some point we got shocked by something, I don't know what it was," Ezra added.
The nightmarish Blood Bayou has returned, with thrills that keep people peeking around corners. The Deep South theme accompanied by the other intense theatrics kept the blood flowing as people wandered through during opening night.
"My heart is pounding," said Alexandra Flowerdew of Coeur d'Alene as she walked out of the attraction. Flowerdew, 24, and Travis Derrick, 32, also of Coeur d'Alene, laughed as they shook off the adrenaline.
"I thought it was awesome," Derrick said. "I thought the props were really awesome."
Other Scarywood thrills include the eye-popping 3Dementia, a funhouse experience in neon and 3D visuals that require special glasses. Clown Town is alive with energetic and creepy clowns who dance and stalk people while throwing in maniacal laughter.
Cameron Dietz, 26, of Hayden Lake, plays Sparky, a ragtag clown in a long overcoat and oversized bow tie. He explained his appreciation for the art of scaring people, and his smile showed some blacked-out teeth that extrapolated his creepy clown persona.
"My favorite scare is whenever you get the big guy of a group that's like the protector, and you get him on the ground, and everyone else feels helpless and run and scatter," he said.
The Zombiewood Express, graveyard scenes, creeping ghouls and more are all a part of the Halloween fun. Scarywood is open until Nov. 2. For times and ticket prices, visit www.scarywoodhaunt.com.
Prices: Thursdays will be $25.99, Fridays will be $30.99 and Saturdays $39.99. Opening times are 6:30 p.m. Thursdays and 7 p.m. Fridays and Saturdays. The park will close at 11 Thursdays, 1 a.m. Fridays and Saturdays and at midnight Nov. 1 and 2.
Recent Headlines
---