Lottery winner emerges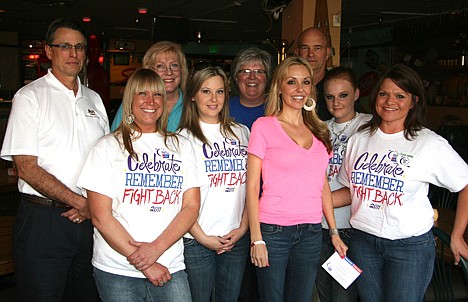 <p>Holly Lahti, front and fourth person from the right, this week made her first appearance at a public event as the co-winner of the second-largest cash payout jackpot in U.S. lottery history on Jan. 4, 2011. Lahti participated in a Relay for Life fundraiser at Cricket's Downtown Bar and Grill for Inland Northwest Bank. Lahti will match the proceeds in an amount to be determined. Back row from left are Don Maryon, Kerry Roberts, Suzanna Spencer, Ron Jacobson and Linsey Bettis. Front Row from left are Carmen Jacobs, Leslie Jacobs, Lahti and Kelly Hagen.</p>
by
Brian Walker
|
May 12, 2012 9:00 PM
COEUR d'ALENE - Holly Lahti, one of the country's luckiest and most invisible lottery winners, went back to work this week.
For a cause and for her former co-workers at Inland Northwest Bank, that is.
In what is believed to be Lahti's first public appearance as the co-winner of the second-largest cash payout jackpot in U.S. lottery history in January 2011, she participated in a Relay for Life fundraiser at Cricket's Downtown Bar and Grill on Tuesday night with her former co-workers at Inland Northwest Bank.
"It was nice to have Holly here to support our Relay for Life fundraiser," said Lahti's friend and former co-worker Kelly Hagen. "She always enjoyed being part of our team."
The 30-year-old and now-single mother of two school-aged daughters sold bottled beer at the Tips for a Cure fundraiser benefitting the American Cancer Society, mingled with friends and former co-workers and agreed to match proceeds in an amount to be determined.
"She's still very nice and friendly," said Suzanna Spencer, branch manager in Post Falls, where Lahti worked. "It's nice to see that she hasn't changed that way.
"She used to be a waitress at O'Malleys (in Rathdrum where she lived when she won the lottery) and I think she really enjoyed the fundraiser. At the end, she was even helping bus tables."
Lahti, who split the $380 million Mega Millions jackpot with Jim McCullar of Ephrata, Wash., declined to be interviewed by The Press, citing privacy reasons, but was receptive to a group photo with her former co-workers.
Spencer said Lahti was fun to work with, was previously on the bank's Relay for Life team and other outreach efforts and enjoyed jokes with her co-workers around the water cooler.
"She is an avid dog lover and adopted a wonderful lab mix that is now one of the loves of her life," Spencer said. "Her goal has been to get settled down before her girls' high school years. She has a good head on her shoulders and has gotten things lined up in her life.
"We greatly appreciate Holly taking time to step back into the public eye to help us raise money for this great cause. She's very private, but still down-home."
After the lottery win, Lahti quit her job as a new accounts representative at INB and went into hiding with her two daughters. However, she has since stopped by the bank during her visits with relatives in the area.
Lahti's former co-workers and friends at the fundraiser respected her privacy, offering few details of what they learned about what she has been up to, where she moved to and how she has spent her lottery money.
Friends say she moved to the West Coast, but declined to say a city or state. Public records revealed she grew up in California and moved with her parents to Rathdrum, where she graduated from high school.
"Privacy is still her big concern and, as a result, I don't ask any questions that would violate that privacy," said Ron Jacobson of INB, adding that Lahti hasn't volunteered much personal information to acquaintances. "I did tell her that she looked and sounded happier and less stressed than the last time we spoke."
Lahti elected to take the one-time cash option of $120 million with her split winning. The amount after taxes was nearly $80.7 million.
Clouding the winnings was that Lahti was separated but still married to Josh Lahti at the time she won. Whether a settlement was reached between the two with the winnings remains unclear.
INB customers were notified of Lahti's appearance in advance of this week's event, and only the fundraiser itself was advertised elsewhere. The majority who attended were INB customers.
"It was like old-home week and nice having Holly," Spencer said. "She's the same great Holly. She's as personable, loving and caring as she ever was."
Recent Headlines
---