Investigators search for signs of arson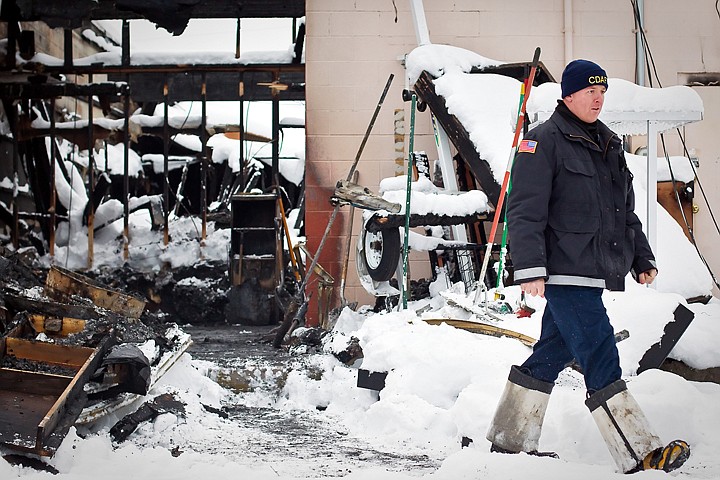 <p>Brian Halvorson, a fire inspector with the Coeur d'Alene Fire Department, exits a building Monday that was being examined following a fire that affected three business at the site at 2928 Government Way.</p>
by
Nick Rotunno
|
November 30, 2010 8:00 PM
COEUR d'ALENE - Firefighters, police and a trained black Labrador investigated the charred remnants of Performance R/C Hobbies and RG3 Suspension-Motion Sports on Monday.
The businesses at 2928 N. Government Way were severely damaged in an evening fire on Nov. 20.
"We're looking for the origin and cause of the fire," said Coeur d'Alene Fire Department Deputy Chief Glenn Lauper. "What we have is a collapse of the roof, which makes it a little more difficult for us to work."
Personnel from the Coeur d'Alene fire and police departments, Alcohol, Tobacco and Firearms, Deputy State Fire Marshal Mark Aamodt and insurance investigators arrived on-scene about 8 a.m. Monday, Lauper said.
Moving from areas of least damage to the most wrecked parts of the building, they studied the depth of the char, burn patterns, burn indicators, wiring and heating systems - anything that might offer a clue.
Material of interest was documented, photographed and sketched.
"We were looking for and found a surveillance computer, a surveillance system," Lauper said.
Investigators will determine whether the film can be salvaged.
Firefighters planned to remove a wall on the north end of the building, but then decided against the demolition, Lauper said. It would have been too risky.
"If we take down a wall, then all the beams come down," he said.
A black lab named Mako, handled by Spokane Valley Fire Department personnel, was also on-scene, Lauper said. It was trying to sniff out gasoline, kerosene and other flammable fluids that could indicate arson.
Performance R/C Hobbies and RG3 Suspension-Motion Sports sustained a total loss of their contents, Lauper said. The fire began at R/C Hobbies and spread through the building. Next door, Accent Floors & Design was damaged by water and smoke.
The cause of the fire remains under investigation.
Recent Headlines
---