Under the glow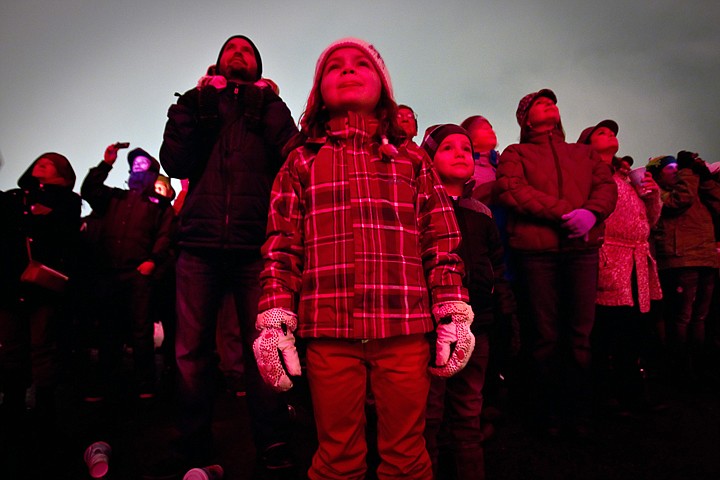 <p>Georgia May, 7, enjoys the glow of the fireworks display Friday with her brother, Lachlan, 4, right, and father Mike May, left, during the 24th annual Holiday Lights Show in downtown Coeur d'Alene.</p>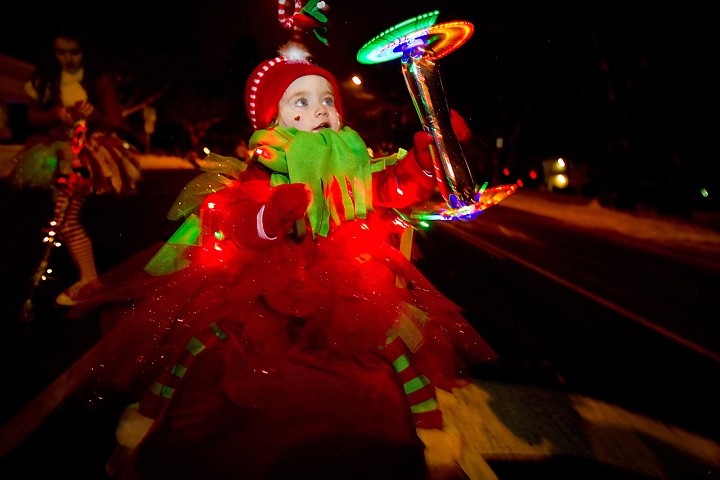 <p>Ruby Krajic, 2, shows off her light display as she is pulled along the parade route on a sled secured to a wagon.</p>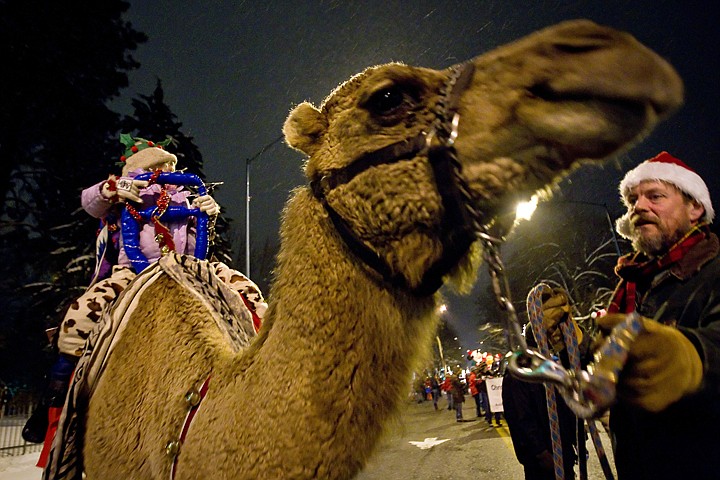 <p>Kevin Hecket positions Dino the camel as Miranda Hoekstra, 4, and her sister Brianna, 8, ride on top with the Mountain View Veterinary Clinic's parade entry.</p>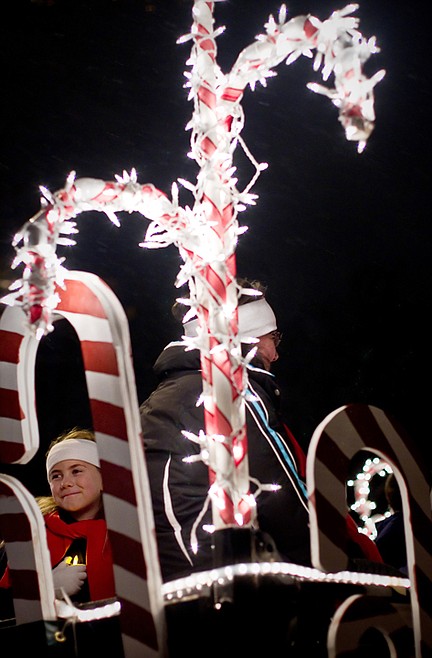 <p>Emma James waits for the parade to start as she peeks through the candy canes on the Lutheran Academy of the Master float.</p>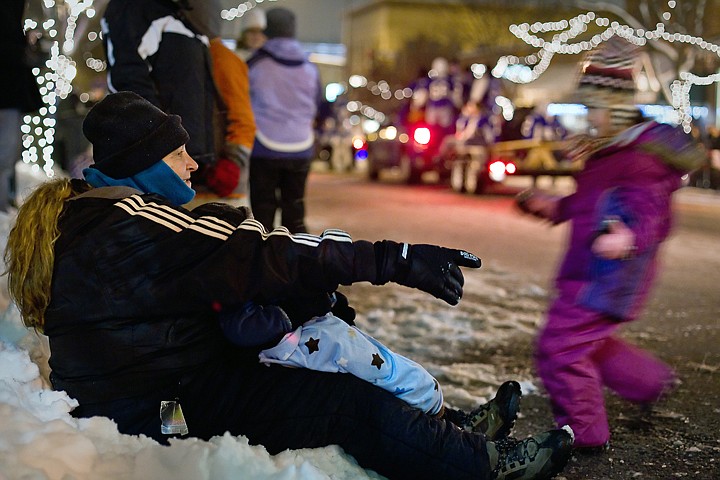 <p>Sue Taxter points out candy on the parade route to her granddaughter, Rachel Taxter, 5, as she relaxes on her snow couch crafted on the curb.</p>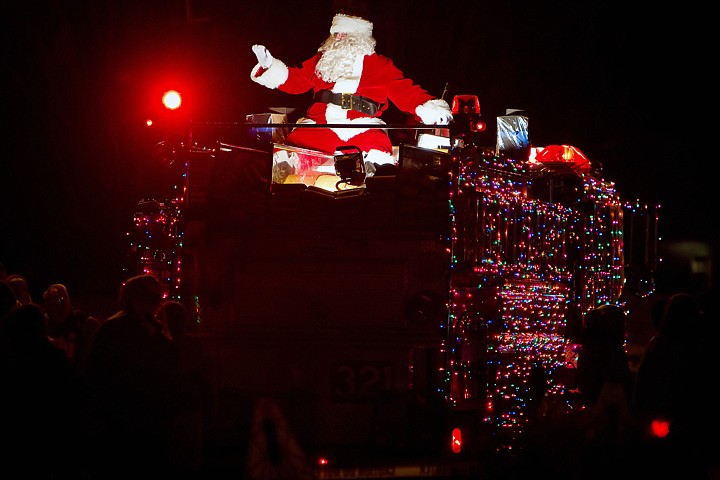 <p>Santa Claus waves to the crowd as he rides atop a Coeur d'Alene Fire engine.</p>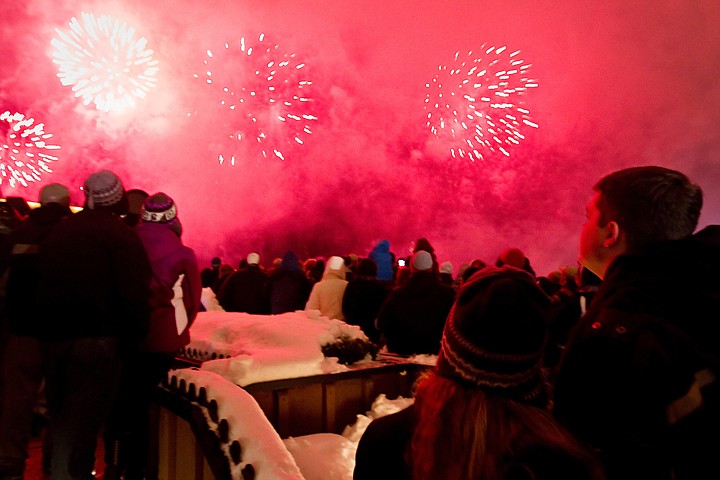 <p>Spectators watch the fireworks display over the water of Lake Coeur d'Alene.</p>
Previous
Next
by
Tom Hasslinger
|
November 27, 2010 8:00 PM
COEUR d'ALENE - Nothing like the holidays to uphold tradition, forget you're cold, or cheer you up after an accident.
Adding light snow flurries to this year's show, the atmosphere at the downtown parade and lighting ceremony helped put even the slightest worry on the back burner for a while.
Like frozen fingers.
That didn't stop Hannah Mathews, 12, and her 7-year-old sister, Avvey, from taking in the parade while sitting on a giant snow bank on Sherman Avenue.
"My hands are cold, but it's still fun," Hannah said, having made the trip over for the first time from Spokane with her parents. "I liked it, it was really, really fun. I liked the bands the best."
The marching bands made it. Whispers that sub freezing temps might be too harmful for the instruments were put to rest when the marching musicals blasted away Friday evening.
"We live an hour away and we never miss it," said Shawna Smolenski, who staked out her spot for her family with chairs and blankets on Sherman Avenue an hour before the 5 p.m. start. "Coeur d'Alene is a very unique town, there's a lot of hometown spirit that you don't find anywhere else. I lived in Tacoma (Wash.,) for 20 years and you don't find stuff like this there."
While bands provided the music, around 50 other entries including camels, dogs, elaborately lighted floats and costume-clad marchers and dancers filled the street during this year's procession, themed "Believe in the Magic."
Coeur d'Alene's Black Friday tradition is its annual kickoff to the holiday season, a staple for families near and far. Around 30,000 people were expected, and the streets were filled as if they all made it - snow and all.
"It's the holiday atmosphere," said Kelly Brownsberger, who has met up with his friends and family for around 20 years at the same spot on Fourth and Sherman Avenue to take in the spectacle. He counted the fireworks show as his favorite part, which is what the thousands of parade revelers watched at The Coeur d'Alene Resort lawn after Santa Claus, cruising on a lighted truck, ended the parade.
"I can see him," 4-year-old Amelia Hadley said, following Santa down to The Resort atop her father's shoulders. "Get closer so I can see him."
After getting a better peek at St. Nick, Amelia got to watch 2,300 shells explode for the fireworks show. Then the lights were flipped on, and 1.5 million bulbs glowed - a peaceful holiday scene if there ever was one, featured on the television show "Good Morning America" in 2007.
"I think they do a terrific job," said Valerie Hannon, who caught the tail end of the parade for the first time. "Everybody's so friendly, everyone has a holiday, festive-like attitude, so it's good.
Valerie and her family were running tardy due to an accident. Kevin Hall, driving downtown had a fender bender with his garage before heading out that caused the family to miss some of the show. Snow can be slippery, but good cheer is contagious.
"I had to change my attitude," said Hall, who forgot about the mishap after taking in the show. "But I changed it pretty quick."
Recent Headlines
---