It's tree time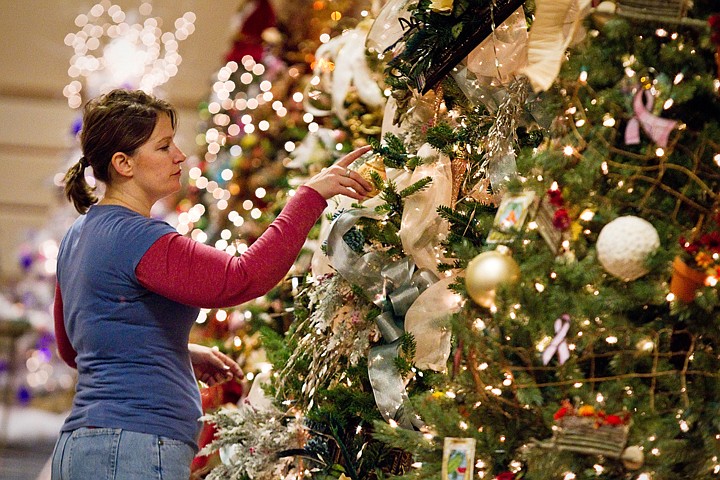 <p>Pamela Christensen, owner of PJ Designs, puts the finishing touches on a tree sponsored by Washington Trust Bank Friday at the Coeur d'Alene Resort during preparations for the Festival of Trees.</p>
by
Alecia Warren
|
November 27, 2010 8:00 PM
COEUR d'ALENE - The group emitted exclamations of joy when the tree switched on, lights blazing over the abundance of toys, the base rotating to show off the phalanx of nutcrackers.
"The nutcrackers. That's the big bang," said Mary Marshall, who concocted the theme of the tree her friends and coworkers decorated by her side.
A Coeur d'Alene Resort ballroom was aglow on Friday after businesses and individuals festooned 35 trees with toys, bears, trains and more for the 22nd annual Festival of Trees, hosted by the Kootenai Health Foundation.
"When you think about Thanksgiving, it means a lot more," Marshall said of why she and her cohorts were among the dozens whipping up a tree display on Friday morning, their own creation the result of 500 hours of preparation.
"It beats standing in line at Best Buy," added Mary's sister-in-law, Susan Marshall.
Helping this year means a lot to them personally, said group member Brenda Wild.
All proceeds from the tree auction tonight will go toward emergency services at Kootenai Medical Center - good news to Wild and Marshall, who have worked at Kootenai Cancer Center for more than two decades.
"We all know these are hard times for a lot of people," Wild said, studying the tree. "But there are a lot of people who need to be helped, and they show up at our door, the Kootenai ER door. And they don't turn anyone away."
Robin Bass' tree was a daunting barrage of syringa blooms, swooping raptors, bear sculptures and a giant moose head. She casually pointed out the $1,500 fly fishing trip included for the tree's buyer.
After participating in the Festival of Trees for two decades straight, she knows how to bring it, the 68-year-old said.
"When it comes to the bidding, people want a tree that makes them think of Christmas," Bass said.
She is particularly motivated to help the Kootenai Health Foundation, she added. Once a scrub nurse at Kootenai Memorial Hospital, the Twin Lakes woman has seen family members treated in Kootenai wards for cancer and other emergencies.
"The hospital is a network of my family," she said. "We've all been affected by it."
The 2010 Festival of Trees is shooting to bring in around the $358,000 raised last year, said Teri Farr, Kootenai Health Foundation executive director. The funds will go toward special services and equipment the hospital doesn't provide on its own, she said.
"We're the busiest ER in the state of Idaho," Farr said. "It's important to deliver the highest quality service for our area."
That's one reason the 3Cs, Cancer and Community Charities, participated this year, said member Lucille Smith.
"The majority of our members are in the senior category," she said. "We need the hospital."
The nonprofit has participated in the Festival of Trees for more than a decade, Smith added. She pointed out the hand-made decorations on the group's tree, titled Christmas Crazy Critters.
"Three Cs," she explained. "We had to do it."
At noon, Deana Killingsworth was putting the final tufts of snow around the Polar Express tree decorated by her coworkers from Kootenai Urgent Care.
"Being in health care, we see the other side of this," Killingsworth said. "We know it (the ER fundraising) is necessary for our community."
With this, their first Festival of Trees, Lena Meier admitted the group relied on a mock run last week to perfect their speed decorating.
"We didn't really know what we were getting into," she said with a laugh, surveying the glittering display of lanterns, conductors' hats and golden tickets. "Would we do it again? Yes. In a heartbeat."
The trees will be on display all weekend at The Resort. They will be auctioned at the festival gala tonight from 5 p.m. to midnight.
Reservations are required for the gala, and tickets are $200. For tickets, call: 666-2345.
Recent Headlines
---