Saints rally past Cowboys in thriller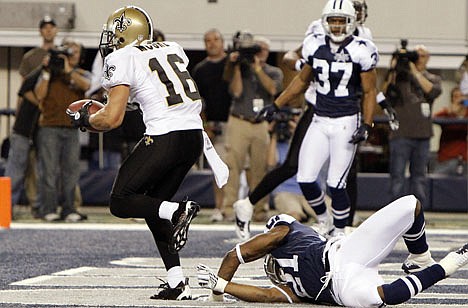 <p>Saints wide receiver Lance Moore (16) scores the game-winning touchdown after beating the coverage of Dallas' Mike Jenkins (21) in the fourth quarter Thursday at Arlington, Texas.</p>
|
November 26, 2010 8:00 PM
As Roy Williams ran toward the end zone, he realized the importance of his breakaway catch-and-run. Just hold onto it, he thought, and the Dallas Cowboys would pull off one of their greatest Thanksgiving comebacks. He even switched the ball from one hand to another to make sure he kept it from the defender in front of him.
The guy behind him changed everything.
Malcolm Jenkins snatched the ball from Williams at the 11, ripping it out so forcefully that it wound up against his own stomach. Drew Brees then quickly drove 89 yards for the touchdown that put New Orleans back ahead with 1:55 left Thursday at Arlington, Texas.
But the drama wasn't done yet in the Saints' 30-27 victory.
Having already overcome a pair of 17-point deficits, the Cowboys moved close enough for David Buehler to try a 59-yard field goal that would've tied it. His kick had plenty of leg, but fluttered just wide to the left with 25 seconds left. New Orleans (8-3) coach Sean Payton started to call a timeout, which would've given Buehler another chance, but either Payton didn't finish the gesture or the officials didn't see it, so the play stood, and this wild, wacky, thriller was finished.
"The play that Malcolm Jenkins makes late is an effort play, a heart play and it's one of those plays that really inspires everyone on the team," Payton said. "It was a gut-check win."
And a gut-wrenching loss for Dallas (3-8).
The Cowboys came in 2-0 under interim coach Jason Garrett, playing like the Super Bowl contenders they were supposed to be instead of the 1-7 cupcakes they turned into under coach Wade Phillips. They made plenty of Phillips-era mistakes to fall behind 17-0 in the first quarter and 20-3 before halftime, then showed the poise and toughness Garrett has instilled by fighting back.
Buehler kicked a 53-yard field goal as the first half ended, Miles Austin went 60 yards on an end around on the second play of the second half and Dallas was back in the game. The Cowboys went ahead 27-23 on Tashard Choice's 1-yard touchdown run with 5:51 left, then Williams caught a short pass and took it 47 yards, following a block from Miles Austin as he approached the end zone.
Williams switched the ball from one hand to another to avoid cornerback Tracy Porter, knowing the Cowboys could stretch the lead, kill some clock or both as long as he didn't fumble. Then, Jenkins grabbed it.
"I lost the ball game," Williams said. "I let my teammates down. I need to fall down. We run the clock down and win the game. I was trying to make a play and they did a good job. It's late in the game. That's the nail in the coffin. We had the momentum going our way. We were there. That was a W. I get tackled, we get in the end zone and we win. I fall down and we win."
Patriots 45, Lions 24: Tom Brady threw a season-high four touchdown passes, all in the second half, and New England won at Detroit (2-9).
He was 21 of 27 for 341 yards with no interceptions, giving him a perfect quarterback rating of 158.3. Brady became the first to have a perfect passer rating this season with a minimum of five attempts, according to STATS, LLC.
It was Brady's second perfect QB rating. His first was Oct. 21, 2007, when he threw a career-high six TDs in a win over the Miami Dolphins.
Brady threw a go-ahead touchdown to Deion Branch early in the fourth quarter after connecting with him on a 79-yard pass to tie the game at 24-all. Wes Welker's second TD reception sealed the victory with 6:42 left, putting the Patriots (9-2) ahead 38-24.
Jets 26, Bengals 10: At East Rutherford, N.J., Brad Smith's two long touchdown plays lifted New York (9-2) past Cincinnati.
Smith scored on a 53-yard run two plays into the third quarter, and on an 89-yard kickoff return in the final period. Smith lost a shoe midway through that return, which clinched an eighth straight loss for Cincinnati (2-9).
Santonio Holmes scored on a 13-yard reception from Mark Sanchez after Cincinnati's Andre Caldwell had a punt deflect off him while he was blocking.
Recent Headlines
---