'Brave' enough to Trot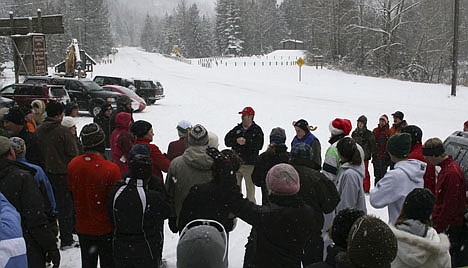 <p>What began as a running club between three friends has grown over the decades to become an annual event attended by all, come sun, rain, or in this case, snow. Joe Peak, center, speaks to a crowd of approximately 50 Turkey Trot participants Thursday morning.</p>
by
Nicole Nolan
|
November 26, 2010 8:00 PM
ENAVILLE - A Silver Valley Thanksgiving tradition, residents and visitors alike donned warm clothing and took on cold, snowy conditions for the annual Turkey Trot.
Participants gathered at the Enaville Resort, known as the Snake Pit, seeking shelter from the snow until the fun run started at 8:30 a.m.
"Are you gonna brave it?" asked Ben Castro, Kellogg track coach, as he knocked the snow off his shoes upon entering the resort.
About 50 people turned out for the trot, which Enaville Resort owner Joe Peak estimates has been going on for 33 years.
What originated as a running club in the 1970s with Terry "Doc" Spohr, Chris Wellman and Marthanne Worley evolved into an annual tradition when they asked Peak to host a Turkey Day trot.
"When we were a running club, we used to do fun runs in the community," Worley said. "This community is really close - this entire valley."
She continues to take part in the event as it brings her closer to friends she may not otherwise see throughout the year. The Turkey Trot is not just a fun run, it is yet another gathering place as people return home for the holidays.
Spohr, considered one of the originating founders of the Turkey Trot, has not missed a single year of the event.
"Time flies when you're having fun," Spohr said.
The Turkey Trot has grown over the decades to nearly 100 participants in past years, but the heavy snow and cold conditions kept some at home.
Those who ran or walked took to the Trail of the Coeur d'Alenes following a brief introduction by Peak.
He explained the route could be made as long - "If you come to the Coeur d'Alene Casino you've gone too far" - or as short - "To the bridge and back is about a mile,"- as the people wanted.
Some really did run five miles, others jogged and enjoyed the spectacular scenery, while others walked a few hundred yards before returning to the Enaville Resort, where hot chocolate, cinnamon buns and juice waited.
Prizes, brought in by the participants themselves, were given out following the casual morning exercise and ranged from Christmas decorations, holiday treats and bottles of wine.
Recent Headlines
---