A meal with friends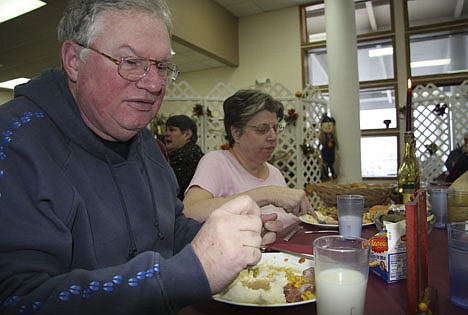 <p>Annette and Bruce Phillips eat at the free Thanksgiving meal at Lake City Senior Center. They prefer a community meal as an opportunity to socialize.</p>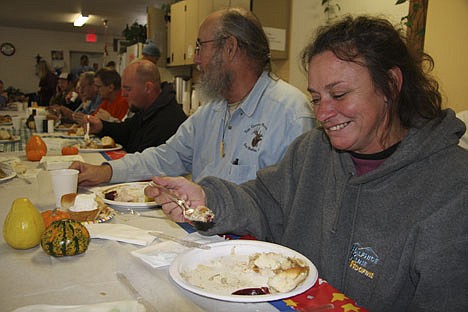 <p>Monique Jenkins digs into the free Thanksgiving meal provided on Thursday at Fresh Start. Jenkins, currently living in an encampment, was happy to share a holiday meal with her Fresh Start friends.</p>
Previous
Next
by
Alecia Warren
|
November 26, 2010 8:00 PM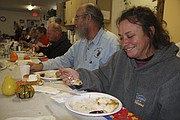 Dianna Szuch had a simple critique of the heaping plate of turkey, mashed potatoes and gravy.
"It's hot," she said with a smile. "A hot meal is always good when you're camping out."
The 51-year-old and her husband, Alec Szuch, hadn't even known a free Thanksgiving meal was available when they popped into Fresh Start drop-in center on Thursday for their usual shower, something the homeless couple doesn't have available at their encampment.
The meal, including all the usual Thanksgiving fixings and a long dining table, enhanced the holiday for all the Fresh Start regulars, she said.
"Apparently is must be nice. Look at everybody here," Dianna said, glancing at all the smiling faces as folks chatted and gulped down food.
Teresa Martinson, volunteer coordinator for Fresh Start, said most folks grabbing plates were homeless individuals she sees there everyday.
"We're kind of their gathering point. They look at everyone here as family," Teresa said, adding that about 60 guests were expected. "We wanted them seated for a meal, to have an atmosphere where it's family."
She added that the free dinner, Fresh Start's first, was possible because of so many food donations, many courses brought by the volunteers themselves.
"That's what we do here. We believe in helping others not as fortunate as us," Martinson said.
Monique Jenkins was eager to dive into some mashed potatoes after using Fresh Start's free long distance to call her children in Memphis, Tenn.
Calling a tent home these days, the 46-year-old was excited to share a holiday with those she often sees doing laundry and grabbing food at the drop-in center.
"You know, a lot of these people would rather be here, because we're all friends. We all know each other," Jenkins said. "And the donations are wonderful. There are piles and piles and piles of food."
Several community Thanksgiving meals were held in Kootenai County on Thursday, and gratitude was prevalent.
More than 90 volunteers pitched in at the 12th annual community dinner at the Lake City Senior Center, some seating folks at the packed tables, others prepping the multitude of donated food.
Guests chowed down to candlelight, with Mo Oliver and Melody Draves performing on the fiddle and flute for mood music.
"We really try to present this as if we had our friends and family to our homes. That's what we're providing," said Vickie Hillicoss, who organizes the event with her husband, Michael Hillicoss.
Hank Lofstrom, 78, said it was a relief to indulge in a warm meal surrounded by friendly chatter.
"I live up at Hauser in a big empty house," Lofstrom said. "I'm glad we are able to put this on. It's a nice place to come to."
Roughly 600 meals were served at the event, with guests encouraged to grab a take-home sampling. Volunteers estimated about 100 Thanksgiving Meals on Wheels were also provided.
Annette and Bruce Phillips preferred the communal meal, they said, as this was the first year Annette couldn't visit her large family out of state.
"We just enjoy the company, instead of sitting at home, feeling sorry for yourself," the Coeur d'Alene woman said. "It's really nice to put this on for people who don't have a place to go."
Folks were greeted with Pastor Michael Murray playing guitar at the dinner at ONE ministries.
Sarah Murray, Michael's wife, said most of the guests attend the church's Sunday soup kitchen.
"I'm getting teary eyed. These people have become our family," Sarah said.
The church's Thanksgiving dinner, its third, was intended to reinforce that feeling, she said.
"It's community. It's not just a place to get fed," she said, pointing out the folks chatting and looking over the newspaper together.
After eating, Karen Lindbergh, director of the St. Vincent De Paul HELP Center, played Spades with her daughter, Autumn Weppner, and Coeur d'Alene resident Robert Campbell.
Most partaking in the meal were HELP Center clients, Lindbergh said, and she was relieved they had a place to go.
"I can't spend Thanksgiving worried about where they are. Now I know they're safe, I know they're warm, I know they're fed," she said.
Guests were invited to the microphone to describe what they were grateful for.
After a few words from Patty McGruder, homeless outreach coordinator for the Dirne Health Center, Frankie Kolesinski hopped up with a smile.
"I've lived here for 16 years, and a few of my years have been really hard," said Kolesinski, who has been homeless a few years. "There have been people like Patty who have always backed me up, always wanted to help me. When you need help, please try to get it. As I found out later in life, when you really need help, you can't do it by yourself."
The Szuchs also made an appearance at the ONE ministries dinner, but not for food.
It was to volunteer, Alec said, and show their gratitude for the meals given to them.
"We may be homeless, but we still volunteer," Alec said.
"We give back what we get," Dianna said.
Recent Headlines
---