Christmas on stage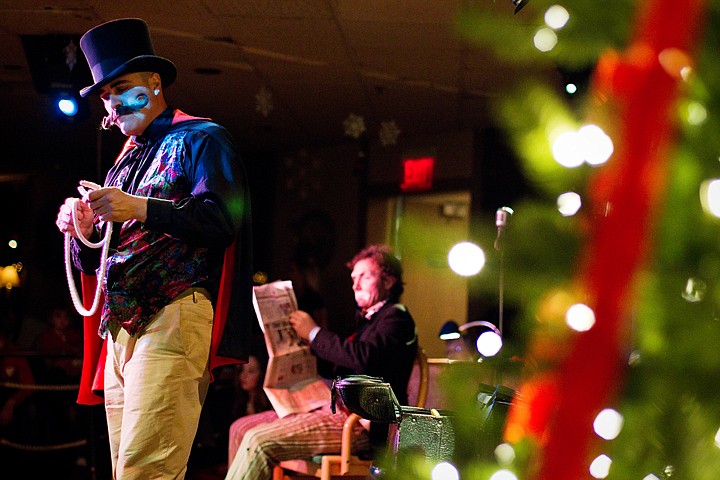 <p>Andrew Kerfoot performs magic tricks as Leeja Junker, background, plays "The Clown" during an act Tuesday at the inaugural "A Coeur d'Alene Christmas" holiday variety show at the Shore Lounge.</p>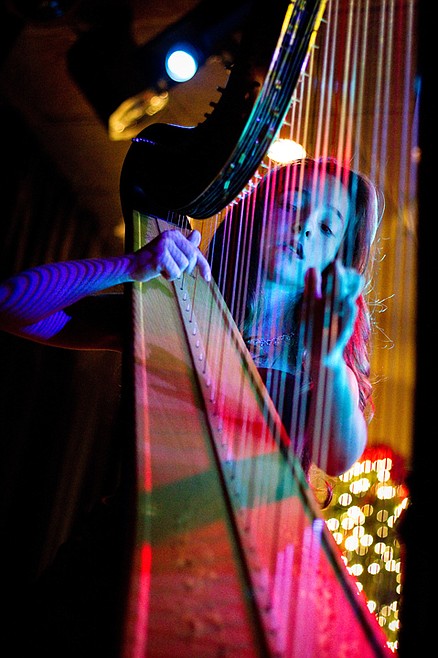 <p>11-year-old Chanel Grutta plays the harp prior to the start of the Coeur d'Alene Resort's holiday variety show.</p>
Previous
Next
by
MAUREEN DOLAN
Staff Writer
|
November 24, 2010 8:00 PM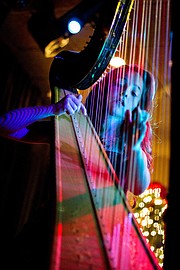 COEUR d'ALENE - The newest holiday attraction at The Coeur d'Alene Resort got a big thumbs up Tuesday from Geoff Sutich.
Sutich and his family, in town from Chicago to visit relatives for Thanksgiving, attended a preview performance of "A Coeur d'Alene Christmas: A Variety Show for the Whole Family" on stage at The Resort's Shore Lounge.
"We've been married for 11 years," Sutich said, as he nodded at his wife, Lauren. "She loves the song 'Oh Holy Night,' the a capella, harmonized version. I've been trying to find it for her for years. I've looked everywhere, even on iTunes. They performed it better tonight than we've ever heard it."
Geared for all ages, the 45-minute show's stream of acts - singers, jugglers, musicians, dancers and comedians - had the adults in Tuesday's audience smiling and chuckling, while the kids paid rapt attention.
Reminiscent of "The Bugs Bunny show," the vaudeville-style show opened with cast members mucking it up as they danced and sang a Coeur d'Alene Christmas version of "This is it."
A British-accented master of ceremonies, tuxedoed and charmingly snarky, kept things moving with fast-paced, often tongue-in-cheek banter.
Following a song-and-dance routine by a pair of spoiled little girls with huge lists of holiday demands for Santa, the emcee said his children would be getting, "a big box of batteries that says, 'Toys not included.'"
When the audience didn't laugh as hard as he would have liked: "That one killed in the Catskills."
One of the show's highlights was a comedic abbreviated version of "A Christmas Carol." The ghosts of Christmas past ribbed Scrooge for his choice of sleeping attire as they showed him the errors of his previous, greedy ways.
Interspersed among the humorous bits were live musical pieces. A soaring, live instrumental rendition of "Silent Night" featuring a soprano saxophone, trumpet and violin was another of the performance's highlights.
The performers were chosen through an audition process held at The Resort in October.
"They came from near and far," said David Kilmer, spokesman for the holiday spectacular. "It's the best of the region's talent."
"A Coeur d'Alene Christmas: A Variety Show for the Whole Family" opens to the public this weekend, and runs Fridays and Saturdays through Dec. 18, and then nightly from Dec. 19 through Dec. 30, except Mondays.
Adult variety show tickets are $10, kids $5 and ages 5 and younger free.
Information: 664-7268, or www.cdachristmas.com
The variety shows are scheduled following the Journey to the North Pole cruises that depart nightly from The Resort docks.
Recent Headlines
---