Chilly conditions good for business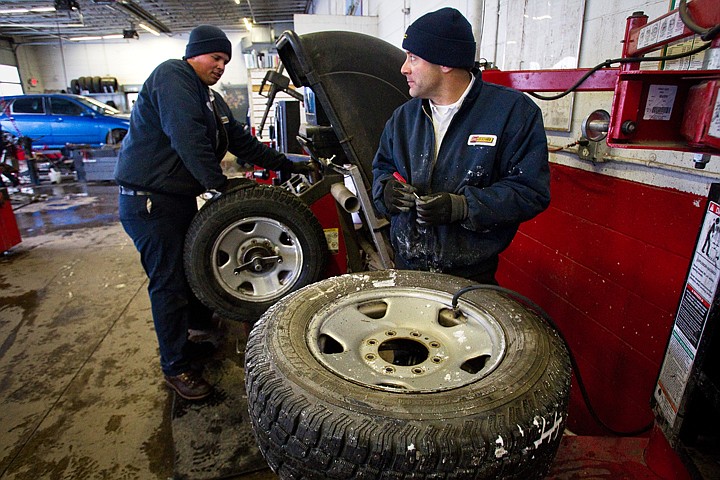 <p>Dave Ammirata prepares inflates a studded snow tire Tuesday during his shift at Les Schwab as Jeremy Kellogg works on balancing another recently mounted wheel.</p>
by
David Cole
|
November 24, 2010 8:00 PM
Whether it was snow tires, ice melt, snow blowers, or fender-bender repair, sales heated up for some businesses as deep cold and snow froze North Idaho Monday and Tuesday.
Mark Goldsmith, store manager at Lowe's Home Improvement in Coeur d'Alene, said business has been steady for snow- and cold-related items the last two days.
Goldsmith said the store only had two snow blowers left in stock Tuesday afternoon, though more are being rushed in. The store has sold thousands of pounds of both tube sand and ice melt, plenty of snow shovels, windshield ice scrapers, portable heaters, and weatherization-related products to keep the heat in and cold out.
Most of the customer traffic has been people hunting for products to deal with the weather, he said.
"Because of last year (when there wasn't much snow), people were a little complacent this year and got caught off guard," he said.
Before they even opened the doors at the Les Schwab Tire Center in Coeur d'Alene Tuesday morning there were 75 vehicles sitting and waiting to have snow tires installed. The owners of the vehicles dropped them off on Monday, when blizzard conditions sent drivers into emergency preparedness mode.
"It's absolutely insane," said Jim Chandler, the manager of the tire center at 2818 N. Government Way. "We're physically only able to do so many cars in a day."
His employees all worked 15 hours and stayed until 10:30 p.m. Monday. The tire center closes at 6 p.m., but he said they stayed late and tried to finish the work.
Along with cars waiting, an additional 15 to 20 people were waiting at the front door Tuesday morning before the center even started business.
"It has a huge business impact," he said. "It's a lot of work, and a lot of hours, but it's also fun."
There are no days off, but everyone's paid overtime, meaning extra Christmas money, he said. The employees love it. He loves it too, because a lot of tires are sold.
On really snowy days like Monday and Tuesday, the tire center does an additional 30 percent to 40 percent of business on top of an already busy day.
"It's called snow rush," he said. "It happens like clockwork."
Bruce Schuh, one of the owners at Coeur d'Alene Tractor Co., at 1112 W. Appleway Ave., knows a little bit about snow rush, too.
His shop is working on repairing about 70 snow blowers, demand that has sprung up in the last couple days. And snow blowers are blowing out the door.
He's selling "everything I can get my hands on," Schuh said. "I've reordered (snow blowers) twice already. We've basically been overrun. It's great for business."
He, too, said the early snow has caught everybody off guard.
The jump in snow blower repairs is in part due to the area not having much snow last year. He has seen a lot of the machines come in with old gas.
At the Coeur d'Alene Collision Center, at 1770 W. Hayden Ave., in Hayden Lake, business was brisk Tuesday after the snowstorm hit and drivers started hitting each other with far greater regularity.
Brian Allen, the owner of the collision center, said a couple of days of snow like Monday and Tuesday can produce two or three weeks' worth of business.
"This is our bread and butter time of year," Allen said. "This is when we make it for the year."
His collision center, like others, does nearly all of its business between now and April each year. With no winter to speak of last year, body shops suffered, he said.
"The summer is really lean," he said.
He said business has spiked in the last couple of days with all the fender-benders, many of them involving younger drivers. "They're the ones rear-ending people."
Many of the others are people that didn't take the time to put on their snow tires.
The phone calls are coming in quick. "We're getting a lot of inquiries."
But, he said, the business hasn't seen the brunt of it yet. The majority of people involved in accidents will be in with their cars next week, he said.
Recent Headlines
---