Jimmie takes the 5th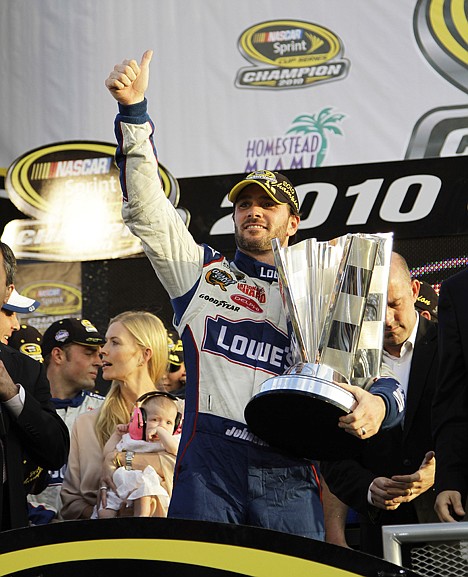 <p>NASCAR driver Jimmie Johnson celebrates after winning his fifth Sprint Cup Series championship on Sunday in Homestead, Fla.</p>
|
November 22, 2010 8:00 PM
HOMESTEAD, Fla. (AP) - Jimmie Johnson wasn't the best all year. Not even close.
When it mattered, though, he couldn't be beat.
For the fifth consecutive year.
Denny Hamlin and Kevin Harvick took the champion all the way to the edge this season, waging the most serious threats yet to Johnson's reign atop NASCAR. Only the outcome didn't change, and Johnson maintained his ironclad hold on the Sprint Cup.
Johnson became the first driver in the seven-year history of the Chase for the Sprint Cup championship to overcome a points deficit in the season finale, finishing second Sunday to race winner Carl Edwards while winning his record fifth consecutive title.
He became only the third driver to overcome a points deficit in the season's final race and win the championship since 1975. The final margin was 39 points over Hamlin, and 41 over Harvick, who finished third in the race.
So despite all the wins - 53 of them over nine seasons - and all the celebrations, this one at Homestead-Miami Speedway was obviously very different. Usually so calm and workmanlike behind the wheel, Johnson was exuberant as he crossed the finish line, pumping his fists in the car while screaming "this is unbelievable!" over and over.
"I've always told you the first championship, the first win, that stuff has meant the most to me. This one, I think this takes the lead," Johnson said. "It's not that the other Chases weren't competitive. We were stronger in the previous two Chases, at least, but this one, I am just so proud."
Hamlin carried a 15-point lead into the finale, but struggled the entire race and finished 14th.
Recent Headlines
---