Vandals deliver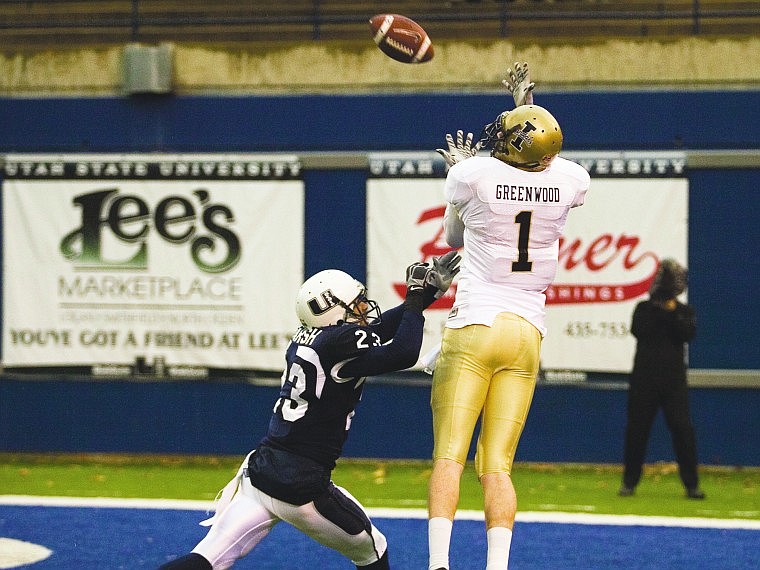 <p>Idaho's Eric Greenwood soars to catch a touchdown pass against Curtis Marsh of Utah State on Saturday in the Vandals' win in Logan, Utah.</p>
by
From wire and news services
|
November 21, 2010 8:00 PM
LOGAN, Utah - Neither rain, nor sleet, nor gusting winds, nor snow, nor the Utah State Aggies could stop the Idaho Vandals on Saturday afternoon at Romney Stadium.
By the end of the game that began in howling wind and sideways rain and ended with the field growing whiter and whiter with the falling snow, Idaho kept its bowl hopes alive with the 28-6 victory before a small but hardy crowd of 14,072.
In it, the Vandals did things that have been missing of late. They forced turnovers. The running game was solid, the passing game was sound and the defense put forth a stalwart effort.
"That was one of the better defensive performances we've had," said Idaho senior defensive end Aaron Lavarias of an effort that limited Utah State to 242 yards total offense. "We executed our game plan really well."
The offense, too, had a plan that worked.
Senior receiver Eric Greenwood led the way with four catches for 114 yards - and the two TDs the Vandals scored in the first half for their 14-6 halftime lead.
In the second half, it was the ground game the coaching staff opted to put to work - and work it did. Senior Deonte Jackson carried the ball 18 times for 62 yards - a majority of it on a key drive that gobbled more than eight minutes off the clock.
Jackson scored on that drive for a 21-6 lead with 8:50 left in the game and added another insurance TD when he hauled in a 10-yard pass from Nate Enderle with 5:20 to go and the final margin.
"We have a football team that had a lot of fun playing again," said coach Robb Akey, whose team is 5-6 and 2-4 in the Western Athletic Conference headed into next Saturday's key game at Fresno State (6-4, 4-3).
The consistency throughout the game gave him plenty of avenues to praise the Vandals.
"It was a good performance for this football team," he said.
Utah State (4-7, 2-5) moved the ball on its first possession but ultimately was forced to punt. Bailey fielded the ball deep in Idaho territory but the Vandals, too, were forced to punt. The Aggies scored on their next chance when Peter Caldwell connected on a 44-yard field goal with 5:15 left in the first.
Bailey, with some help from Trey Williams, gave the Vandals good field position when they combined to return the kick to the Utah State 43. Bailey had crossed midfield on the return but fumbled forward where Williams grabbed it out of the air and carried it to the 43. Greenwood capped the scoring drive when he hauled in a 10-yard pass from Enderle with 8 seconds remaining in the first.
The Aggies scored on another Caldwell field goal — this one a 24-yarder — with 12:52 to go in the first half to close to within 7-6.
Idaho benefited from a 33-yard Enderle-to-Armauni Johnson hookup, which initially had been ruled out of bounds but was reversed upon review. But on first down at the Aggie 13, Enderle was picked off by Curtis Marsh, who won a jump ball over Maurice Shaw in the end zone.
The next jump ball went to the Vandals when Greenwood out-jumped his Aggie defender to pull in a 28-yard scoring pass from Enderle for a 14-6 Idaho lead with 1:18 left in the half. The TD capped a 10-play, 74-yard drive that consumed 5:21 off the clock.
Enderle completed 20 passes on 31 attempts for 243 yards and three scores.
Utah State quarterback Diondre Borel was only 14 of 35 for 103 yards, though several passes were dropped in the second half as rain turned to snow and covered the field.
If Idaho can beat Fresno State, the Vandals can become bowl eligible by beating San Jose State at home in their regular season finale Dec. 4.
Idaho 7 7 0 14—28
Utah St. 3 3 0 0— 6
First Quarter
USU_FG Caldwell 44, 4:29.
Id_Greenwood 10 pass from Enderle (Farquhar kick), :08.
Second Quarter
USU_FG Caldwell 24, 12:52.
Id_Greenwood 28 pass from Enderle (Farquhar kick), 1:18.
Fourth Quarter
Id_Jackson 4 run (Farquhar kick), 8:50.
Id_Jackson 10 pass from Enderle (Farquhar kick), 5:20.
A_14,072.
Id USU
First downs 15 16
Rushes-yards 37-112 37-139
Passing 243 103
Comp-Att-Int 20-32-1 14-35-2
Return Yards 7 4
Punts-Avg. 6-47.8 7-39.0
Fumbles-Lost 3-0 1-0
Penalties-Yards 4-53 4-27
Time of Possession 33:28 26:32
INDIVIDUAL STATISTICS
RUSHING_Idaho, Jackson 18-62, Veltung 3-24, McCarty 8-17, Bailey 3-14, Enderle 2-(minus 2), Team 3-(minus 3). Utah St., Speight 17-80, Marshall 7-27, Borel 7-19, K.Williams 4-17, Team 1-(minus 1), DeMartino 1-(minus 3).
PASSING_Idaho, Enderle 20-31-1-243, Reader 0-1-0-0. Utah St., Borel 14-35-2-103.
RECEIVING_Idaho, Greenwood 4-114, Roberson 4-25, Jackson 4-16, Shaw 2-22, Veltung 2-10, A.Johnson 1-33, Bailey 1-10, Elmo 1-7, LaGrone 1-6. Utah St., Watkins 4-32, K.Williams 3-8, Alder 1-15, Speight 1-11, Wagner 1-11, Moats 1-8, Marshall 1-7, M.Morgan 1-7, Van Leeuwen 1-4.
Recent Headlines
---