Harrah's folds hand on planned stock offering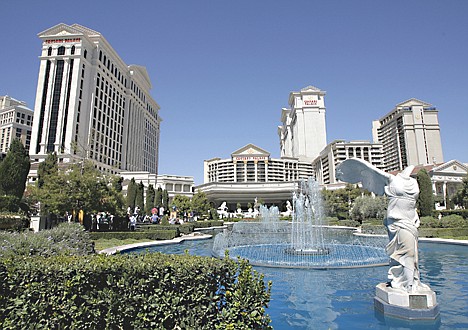 <p>The Caesars Palace hotel-casino is shown in this July 19, 2007, file photo in Las Vegas. Harrah's Entertainment Inc., Caesars parent company, cancelled its planned initial public offering Friday, folding its hand for now on what was already a money-losing bet on returning to the stock market just three years after the casino giant went private.</p>
by
Barbara Ortutay & Ellen Gibson
|
November 21, 2010 8:00 PM
LAS VEGAS - Harrah's Entertainment Inc. canceled its planned initial public offering Friday, folding its hand for now on what was already a money-losing bet on returning to the stock market just three years after the casino giant went private.
It's a big setback for the investors who paid top dollar for the largest American casino company right before the economy tanked and took the gambling industry with it. The cancellation is also a sign that an improving market for stock offerings, highlighted by General Motors Co.'s successful return to the New York Stock Exchange on Thursday, isn't ready for debt-laden companies in industries that are still near the bottom.
Apollo Management Group, led by buyout titan Leon Black, and Texas Pacific Group paid $17.1 billion and took on $12.4 billion in debt in 2007 to take Harrah's private in one of the biggest leveraged buyouts ever. At the time, private money was on a shopping spree for casino operators, considered hot targets for their cash-generating ability and real estate holdings. Then the financial crisis hit, taking with it many of the dollars that kept slot machines spinning and blackjack tables full.
It also took a toll on the investors' bet. Had the stock offering gone through at the maximum expected price, it would have valued the company at only about $6 billion - about a third the amount the two private-equity firms paid to pick it up just three years ago.
Harrah's, whose properties include the Flamingo, Caesars Palace and Bally's, saw its revenue fall from a peak of $10.8 billion in 2007 to $8.9 billion last year - an 18 percent decline. Total gambling revenue for U.S. commercial casinos tumbled 10 percent over that period, as people opted to save their money instead.
Harrah's, based in Las Vegas, reported a loss of $634.4 million during the nine months that ended Sept. 30, but recently its business, along with the broader casino industry, has shown signs of stabilization.
"Certainly conditions for a potential IPO were worse six months or a year ago," said Matt Jacob, an analyst with Majestic Research. But while things have stabilized in most markets where Harrah's has casinos, they "haven't truly improved yet," he added.
In a recent note to investors, Jefferies analyst David Katz said that with casino sentiment at a "historical low," new property openings and the improving economy should accelerate earnings growth for casinos and gaming companies. According to the Nevada Gaming Control Board, the number of people visiting Las Vegas was up 2 percent in September from a year earlier. Gambling revenue on the Strip, 29 percent of which comes from Harrah's properties, grew 2.8 percent.
"Potential investors need to be willing to bet on the recovery of the gaming industry beyond what we have seen so far," Katz said. That means betting on broader economic recovery in the U.S., because hotels and casinos are beholden to consumer sentiment and discretionary spending. And people who don't have jobs don't have a lot to spare for gambling.
Harrah's had been expected to price the offering Thursday and begin trading on the Nasdaq this week. The IPO, which Harrah's had said would raise as much as $531 million, would have helped ease the company's heavy debt load. Harrah's has nearly $20 billion in debt, and Francis Gaskins, president of IPOdesktop, estimates the company is spending as much as 22 percent of its revenue on interest payments. This would put interest payments at about $1.47 billion for the first nine months of the year.
Harrah's, which plans to change its name to Caesars Entertainment Corp., owns or manages more than 50 casinos in 12 states and six countries. But it lacks a gambling presence in Asia, where casino operators are seeing strong growth, helped by resilient regional economies with an expanding middle class.
"Macau is a bright spot for the industry and Singapore is off-the-charts robust, but it doesn't do Harrah's any good," said Eugene Martin Christiansen, CEO of consulting firm Christiansen Capital Advisors LLC.
Meanwhile, Atlantic City, where the company operates four casinos, has not yet shown signs of recovery. The expansion of gambling in the New York tri-state area and Philadelphia has increased the pressure on the New Jersey resort city, where Harrah's is the dominant player, said Chris Jones, an analyst with Telsey Advisory Group.
And because of its strong presence in regional markets like St. Louis, Kansas City, Chicago and Mississippi, Harrah's needs "middle-America, salt-of-the-earth customers to start spending more - a large question mark in terms of the pace of the U.S. recovery," Jones said.
Recent Headlines
---