Gillett sued over Liverpool soccer loan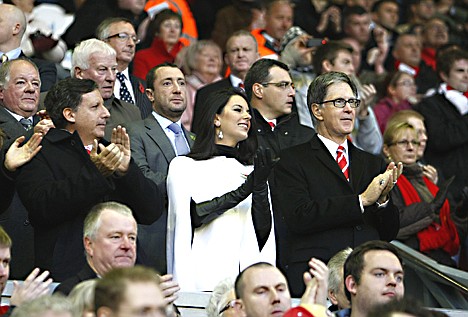 <p>Liverpool co-owner John W Henry, right, stands alongside his partner Linda Pizzuti, center, and the club's Chairman Tom Werner, left, before the team's English Premier League soccer match against Chelsea on Nov. 7 at Anfield Stadium, Liverpool.</p>
by
Jennifer Peltz
|
November 21, 2010 8:00 PM
NEW YORK - A U.S. hedge fund is suing former Liverpool co-owner George Gillett Jr. over what the firm says is more than $117 million in debt he racked up investing in the Premier League soccer club.
Gillett didn't immediately return a call Friday to his Vail, Colo., office about Mill Financial LLC's lawsuit.
Through one of his companies, Gillett borrowed $70 million from Mill Financial in 2008 and agreed to pay 19-percent-a-year interest, according to documents filed with the lawsuit. Gillett later agreed to pay millions of dollars in fees to extend the repayment date, documents show.
Gillett and his companies have failed "to honor their obligations," Mill Financial says in the lawsuit, filed Thursday in New York.
The Springfield, Va.-based firm says Gillett has repaid only about $430,000. The lawsuit seeks $117.2 million in alleged debt, plus legal fees.
Boston Red Sox owners John Henry and Tom Werner bought Liverpool in October through their New England Sports Ventures. The Royal Bank of Scotland engineered the $476-million deal after Gillett and co-owner Tom Hicks couldn't make debt payments.
Gillett and Hicks called the sale an "extraordinary swindle." They said the price vastly undervalued the team, and the bank had rebuffed their efforts to repay Liverpool's debts and stop the sale.
Hicks wasn't involved in the Mill Financial loan and isn't named in the lawsuit.
Gillett, a former owner of the NHL's Montreal Canadiens, and Hicks, a Dallas businessman, took over Liverpool in a 2007 deal that valued the club and its debt at 218.9 million pounds (then $431 million).
They financed their purchase by borrowing, with the team as collateral.
One of England's most famous soccer clubs, Liverpool has struggled in recent years. The last of the Reds' record-tying 18 English league titles came in 1990.
Recent Headlines
---