A life well-lived until the end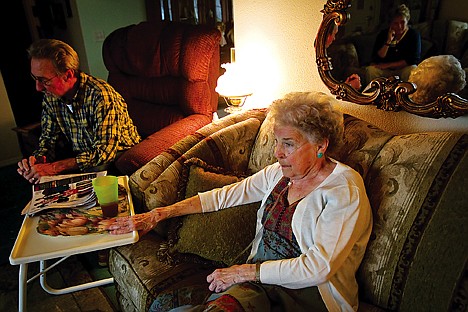 <p>Gerry Mahoney and her son Bill Mahoney talk to a nurse from Hospice of North Idaho during a home visit Monday to the 75-year-old woman's home.</p>
HAYDEN - Gerry Mahoney smiles as she lifts a finger and points out the window of her Hayden home.
A new wood pole structure, with two birdhouses on it, towers over a section of her front lawn. Gerry's son Mike built it for her, and the 75-year-old is grateful she is able to be there at home to appreciate how it fills the empty space where a tree once stood.
It is an attitude Gerry has cultivated in herself and others for more than half a century, and it is serving her well as she goes through the final chapters of her life.
"I take it a day at a time. I make a gratitude list. Every day there is something to be grateful for," she said, seated on her living room couch.
For Gerry, finding something to be thankful for is as simple as walking into her kitchen, looking out the window and seeing five pheasants sitting on a fence.
"It keeps you positive," she said.
It wasn't that long ago that Gerry told her physician to "put the cards on the table," and he did. The doctor told her she had incurable lung cancer.
"He was crying. He said the last patient he had with this lasted six months, that it was fast-moving, aggressive, progressive, and that it went to the brain," Gerry said.
She placed a call to Paul Weil, the executive director of Hospice of North Idaho, and told him to sign her up for the full program. Weil told her to slow down, that she probably wasn't ready for that yet. But there were things Hospice of North Idaho, a nonprofit that has been providing end-of-life care in Kootenai County for nearly 30 years, could begin doing for her.
They started providing pre-hospice palliative care, supporting Gerry, helping her make tough medical decisions, while hospice doctors worked with her own physicians to determine the best course of outpatient treatment.
Palliative care is part of hospice care, but palliative care on its own can help people with life-limiting illnesses long before they need hospice care.
It is a team approach to complex symptom management that addresses the medical, emotional and social needs of patients.
The treatment focus is no longer curative, but rather on providing comfort from pain, guidance and support with the goal of maximizing the quality of life for patients with changing needs that often become increasingly complicated.
"It's been a wonderful experience," Gerry said. "I've had quality days, almost every one, just maybe a couple of bad ones when I overdid."
She said she has been able to tell the people she loves how much they mean to her.
"My boys take such loving, beautiful care of me," she said.
Getting Hospice of North Idaho involved in their mother's care has been a blessing for Gerry's sons, too.
"They have so much to offer at an earlier stage," said her son, Bill.
When he and his brothers were given the news about their mother's illness, they didn't know what to do.
"Our whole objective was to keep mom comfortable and make the most of everything. Because of hospice, that's happening," Bill said.
There are doctors who are ready, he said, to keep using a lot of radiation, chemotherapy, and surgery.
"If we went that route, well, it just runs your spirits into the ground," Bill said.
While some of those things are used in pre-hospice palliative care, the focus is different, Weil explained. Instead of using curative amounts of radiation, they might use some radiation in order to shrink a tumor and alleviate some symptoms.
What Gerry herself brings to what they do at Hospice of North Idaho is what is making this work so well for her, Weil said.
"When you can take life on life's terms and do it with the openness that she has - how much living you can do," Weil said. "She is a wise person. She is savoring this time, making the most of it, making connections with the people in her life."
Gerry says she is able to do that because she has been "surrounded by angels" for many years.
"I'm in recovery, have been for 52 years," Gerry said. "I have nothing but blessings and love all around me. I know it's all spiritual."
In those decades of practicing a 12-step program, Gerry has helped legions of people struggling with the disease of addiction by sharing her own experiences, so much so, that she's known to many as "Mama Gerry."
She's still helping them in that way.
Every day, she receives at least one phone call, a card or note from someone whose life she has touched, and who has touched hers. People come and go. Flowers are delivered.
"I have no fear of dying," Gerry said. "I know that everything is going to be the way it's supposed to be. A spiritual life is not a theory. I give it away by giving to others the same blessings and gifts that have been given to me."
Gerry's experience highlights what palliative and hospice care is all about, Weil said.
"It is not about finding a place to die, but it's about finding a place to live," he said. It is also about making sure that patients' goals and values are recognized, and that patients and their families are truly informed about the benefits and risks of treatments.
Even a strong person, like Gerry, sometimes needs help at this time in life, he said.
"I think with Gerry, she made it easy, because she knew her values and goals," Weil said. "That's a big part of palliative care, helping people figure that out."
Recent Headlines
---