King Felix finally gets his Cy Young crown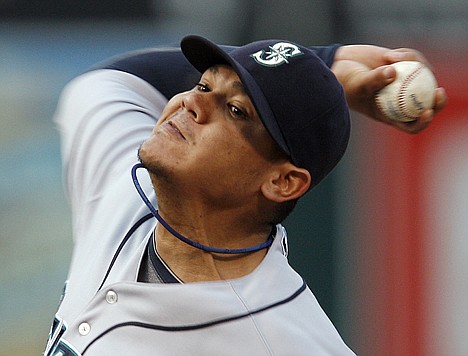 <p>Seattle Mariners ace Felix Hernandez beat out New York's CC Sabathia and Tampa Bay's David Price for the AL Cy Young Award.</p>
|
November 19, 2010 8:00 PM
NEW YORK (AP) - For once, Felix Hernandez got all the support he needed for a big win.
The Seattle ace earned the AL Cy Young Award on Thursday despite a modest 13-12 record. His major league-leading 2.27 ERA and superior stats put him far ahead of Tampa Bay's David Price and the Yankees' CC Sabathia and their impressive win-loss numbers.
Victimized by the Mariners' poor hitting all season, Hernandez found ample backing with the voters in this pitchers' duel. They clearly recognized how little the last-place Mariners helped him - in 10 starts, they were either shut out or held to one run.
"This confirms the Cy Young is an award not only for the pitcher with the most wins, but the most dominant," a teary-eyed Hernandez said while celebrating with relatives at the family home in Valencia, Venezuela.
King Felix got 21 of the 28 first-place votes and 167 points in balloting by the Baseball Writers' Association of America. The 24-year-old right-hander led the league in innings (249 2-3), was second in strikeouts (232) and held AL opponents to the lowest batting average (.212).
Price, who went 19-6 with a 2.72 ERA, was second with four first-place votes and 111 points. Sabathia, who was 21-7 with a 3.18 ERA, drew the other three first-place votes and finished third at 102.
"I feel like they got it right," Price said on a conference call from Nashville, Tenn. "Felix, I thought he deserved it, even though he didn't have a lot of wins. You can't really control all that. You can't control the offense, and the hitters and stuff like that."
"The numbers he put up - those were pretty ridiculous numbers outside of the won-loss column," he said. "I feel as if Felix was on a different team - if he was on the Yankees or something like that - he's going to win quite a few ballgames."
The 13 wins by Hernandez marked the fewest for a Cy Young starter in a full season - Tim Lincecum set the record last year with 15 victories for San Francisco.
Fernando Valenzuela won the NL award in strike-shortened 1981 after going 13-7. His mark of six games over .500 had been the lowest for any Cy starter until Hernandez.
"It's not only the wins, it's the whole stats," Hernandez said.
A month after the All-Star break, Hernandez appeared to be a long shot for the award.
He was 8-10 on Aug. 15 after 26 starts, but a debate had already begun to brew about his Cy Young candidacy. Many fans who rely more traditional numbers - win-loss record for pitchers - didn't think he rated at the top of the list.
Others who count on baseball's newer math pointed at how well Hernandez had done on the things he could fully command. He led AL pitchers in a stat that matters a lot to the sabermetricians of the sport - Wins Above Replacement.
Hernandez beat Texas in his last start. Even with fewer voters focusing less on win-loss records, no telling how they would've treated him if he'd finished below .500.
Once the season ended, Hernandez started hoping.
"I didn't have the wins," he said. "But if you look at all the numbers ... wow!'"
Hernandez thought he would get the Cy last year, too, after winning 19 games but finished second, beaten out by Zack Greinke's 16 victories and better showing with other numerology.
But no more sighs for Hernandez now. In the Year of the Pitcher, and in the voting for the 100th overall Cy Young Award, he came out No. 1.
"This is the first of many," he said. "Now I have to work even harder because I'm the best pitcher in the American League."
Hernandez said he started crying when he got the award and his family began jumping around.
"It was a great, great, great, amazing feeling," he said.
The Mariners finished with an AL-worst 61-101 record and their 513 runs were by far the fewest in the majors. They gave him barely more than three runs to work with each game and weren't too sharp in the field, either - in his 34 starts, he got saddled with 17 unearned runs.
"They tried to do too much for me. I love my teammates," he said. "They would tell me, 'You did your job.'"
Hernandez might've ranked even higher overall had the Mariners decided not to skip his regular start on the final day of the regular season. He needed one more inning to match NL Cy Young winner Roy Halladay for most in the majors, and he finished one strikeout behind AL leader Jered Weaver of the Angels.
Halladay unanimously won his award in a year he led the NL with 21 wins, pitched a perfect game and a no-hitter, and topped the majors in shutouts and complete games.
"Obviously, Felix's numbers are very, very impressive," Halladay said earlier this week when asked about the AL Cy Young vote. "Ultimately, you look at how guys are able to win games. Sometimes, you find a way to win games," he said.
Hernandez said he felt vindicated that wins are only part of the equation.
"This is the proof," he said.
Hernandez went 7-4 against playoff teams and was at his best against the high-scoring Yankees, going 3-0 while holding New York to one run in 26 innings with 31 strikeouts.
Sabathia and Price each led strong staffs that pitched their teams into the playoffs. Both aces went 3-2 against teams that reached the postseason. Sabathia was listed on all 28 ballots, Price on 27.
Sabathia won the 2007 Cy with Cleveland. The big lefty went 10-1 this season against Seattle, Baltimore and Kansas City, the three last-place teams in the AL.
Hernandez became the second Seattle pitcher to win the Cy Young, joining Randy Johnson in 1995. This was the third time the award went to a Venezuelan pitcher, with Johan Santana having won twice.
As for next year, "I don't have to change anything," he said.
By winning, Hernandez received an automatic $1 million raise in salary next year to $11 million. He also earned annual $500,000 raises after that to $19 million in 2012, $20 million in 2013 and $20.5 million in 2014.
Price received $80,000 for finishing second. He was 12-4 when he started the All-Star game; Sabathia also made the AL team, but Hernandez did not.
"If I'm going to lose to somebody, it might as well be Felix. He's pretty good," Price said. "He was first in a lot of categories. You've got to look at everything."
"Obviously, I wanted to win. But if I didn't win I wanted to come in second. That's what happened," Price said. "I'm not mad by any means or let down. I just got beat."
Boston's Jon Lester came in fourth. Weaver got a $50,000 bonus for finishing fifth.
The next BBWAA award will be the NL Most Valuable Player, to be announced Monday. The AL MVP will be Tuesday.
Recent Headlines
---