Beutler and Associates brings home the hardware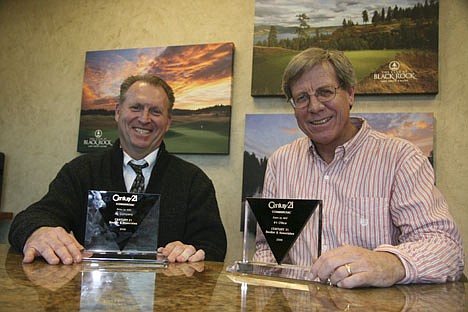 <p>John Beutler, left, and Jim Koon pose with their awards for top commission dollars on commercial transactions in 2009.</p>
by
David Cole
|
November 19, 2010 8:00 PM
COEUR d'ALENE - The Coeur d'Alene office of Century 21 Beutler and Associates was tops in 2009 in commission dollars from commercial transactions compared with the other offices in the worldwide Century 21 real estate organization.
The office, at 1836 Northwest Blvd., had $1.2 million in gross commission dollars for last year, John Beutler, company owner and broker, said Thursday. He said the office has about 10 agents that focus on commercial real estate.
Century 21 has about 7,700 independently owned and operated franchised broker offices worldwide.
Beutler said positive residential real estate activity in the Coeur d'Alene area gave the office a boost in commercial activity in 2009.
"Commercial follows a strong residential market," Beutler said.
In addition to the Coeur d'Alene office receiving No. 1 status, the company here - which includes the Coeur d'Alene, Liberty Lake and Spokane offices - also came in at No. 1 for commission dollars from commercial transactions, he said.
The three offices have 16 agents dedicated to commercial transactions, he said.
The office and company were honored earlier this month in Las Vegas, he said.
Also, Jim Koon was tops in the Century 21 organization for commission dollars from commercial transactions in 2009.
He has been in commercial real estate for 23 years, including 19 years in Coeur d'Alene.
In the soft market for commercial property in the down economy, Koon said the key for him was making a lot of smaller deals.
"I didn't forget about the small companies," Koon said.
He also had built up a solid "pipeline" of sales and leases by staying in touch with customers.
He said 2010 will end up being a good year, too. Next year, though, will probably be a different story, he said.
Recent Headlines
---