Dancing duo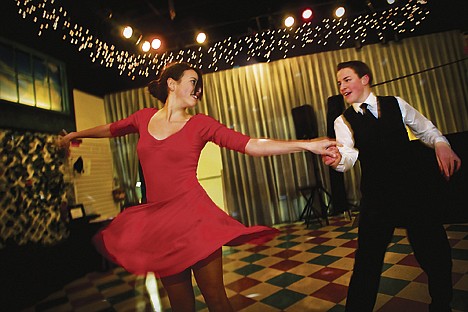 <p>Adriana Oliveira, 14, and Nicholas Kane, 15, earned four first place awards, one second and one fifth at the Northwest DanceSport Championship in Seattle held in October.</p>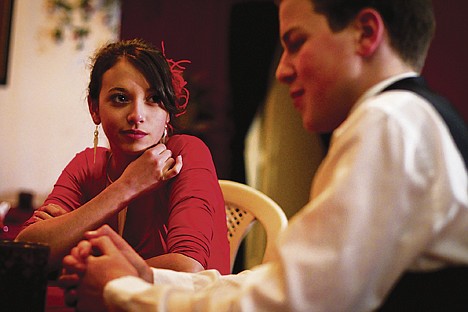 <p>Adriana Oliveira, 14, and Nicholas Kane, 15, first met during dance classes at Dance Me Cassini where their interest in dance led them to competing locally, regionally and have now earned a spot at a national competition.</p>
Previous
Next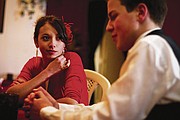 POST FALLS - Nicholas Kane and Adriana Oliveira look like typical teenagers when they take the dance floor.
Adriana, 14, swishes her dress so it tickles her knees. Nicholas presses his hands together and swallows nervously.
"If I mess up, just ignore it," the 15-year-old quietly requests.
But suddenly the music starts, and they come together. Their hands press, locking their arms parallel. They move as if by instinct, his back straight like a soldier's, her lithe frame swaying breezily. Her head slants to the side, like she's lost in a daydream as they glide across the room.
The dance pair acts anything but their age when they practice at Dance Me Cassini dance studio in Post Falls.
Apparently, they brought some of that maturity with them last month to the 2010 Northwest DanceSport Championships in Seattle.
Of the seven dances they competed in, the dance pair took home four first-place ribbons, plus a second place and fifth place title. Their wins qualified them for the 2011 National DanceSport Championships next April in Baltimore.
"That was our first real competition," Nicholas said.
Not bad, considering they walked into their first dance lesson ever at Dance Me Cassini a year and a half ago. Not to mention they had to distinguish themselves among 16 other couples in their age category, making for a pretty crowded dance floor.
"With 16 couples, it's almost impossible to get a judge's attention," said Rick "Cassini" Frangione, the dance pair's instructor and owner of Dance Me Cassini. "They had to have presented themselves really well to get that kind of attention. What did that, other than the fact that they both make a beautiful pair?"
Maybe the fact that the two have worked nonstop since they started, he acknowledged.
If they continue training, he added, they could make it to the international dance competition level.
"Just their dedication. These kids, they just love it," he said. "They just go at it and they stay with it."
It was like fate how they became a dance pair, said Adriana, sitting with Nick in the dance studio lounge on a Friday evening.
Both of them happened to wander into Dance Me Cassini on the same week last June, she said.
It was hard to hide the awkwardness, she admitted.
"It was weird even to hold each others' hands," laughed Adriana, who lives in Post Falls. "Rick asked us to look into each others' eyes, and we were like, 'No!' I'd look at the button on his shirt."
But she was determined. The Coeur d'Alene Charter Academy student has always wanted to learn to dance, she said, and couldn't resist the $5 beginner lessons.
For Nicholas, who lives in Newport, Wash., but attends the Immaculate Conception Academy in Post Falls, it was a little more complicated.
He was partly inspired by an older brother who teaches at Dance Me Cassini, he said. On top of that, Nicholas has Osgood-Schlatter Disease, causing him knee pain that forced him to give up sports like basketball.
What was left? Dancing.
"It's not near as hard on my knees to do, because dance isn't jumping or running," Nicholas said. "My brothers convinced me to come, and when I first tried dancing, I enjoyed it."
Dancing came easily to both beginners.
They picked up the steps for salsa quickly on Friday nights. Nicholas mustered the courage to call Adriana and ask if she wanted to come more nights to learn more dances.
"And I came," she said with a smile. "It was the first phone call I ever got from a boy."
It didn't take them long to master the rest, from rumba to waltz to salsa. Their smiles don't falter when Nicholas flips Adriana around his back during swing dance practice.
All it took was constant practice and building muscle memory, Adriana said.
"He (Nicholas) actually inspired me to go home and practice," she said. "I was like, 'I'm not going to let a boy do better than me.'"
Such dedication in dancers so young is rare, Frangione said. Especially for Nick, as teenage male dancers are an anomaly.
"He just had this desire. We went with that, and once we did, he just took it over," Frangione said. "Now it's almost like he has greater motivation than anybody in the studio."
Seeing their progress, Frangione encouraged them to compete at the regional championships, even though it required relearning steps to fit dance competition style.
The dance competition lasted all day, the pair remembered.
"I was definitely nervous," Adriana admitted.
"I think I was more nervous than you were," Nicholas said.
But Nick's father, Dennis Kane, said the kids conquered the dance floor. In their fervor they almost ran over some shorter couples, he remembered with a laugh.
"One thing the judges look for is chemistry. That's huge," Dennis said. "They definitely have that. They look great together."
Dennis is mostly impressed by how his son has grown from dancing, he added.
The pair has demonstrated dance moves at events like the North Idaho Fair and Art on the Green - public appearances Nicholas might have shirked from before.
"Nick was extremely shy and reserved before dancing," Dennis said. "We've seen a huge change in him."
Adriana's mother, Kathy Oliveira, said she endorses dancing lessons for any kid.
"It helps with homework," she said. "If they don't get their homework done, they can't dance."
The pair hopes to find sponsors to send them to Baltimore, as the cost will far exceed the $800 spent traveling to the Seattle competition.
They were grateful to have sponsorship then from Elemental Research in Post Falls, Adriana said.
Anyone interested in sponsorship can call Dennis at (509) 362-2774.
No matter what, Frangione prays that his star couple sticks with dancing.
"Right now, Nick is staying very humble, very gracious - both of them are. That's the best thing, the cuteness of them together," he said. "I hope it goes on for a long time."
Recent Headlines
---