Raw or cooked, a cranberry sauce to tart things up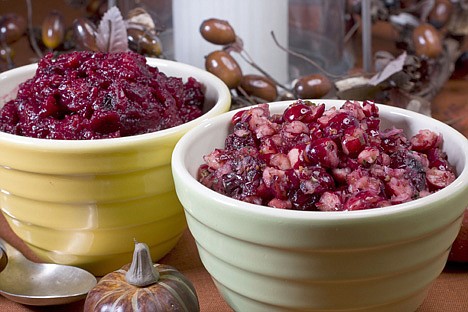 <p>This Oct. 24, 2010 photo shows spicy cranberry salsa, right, and sauce. Cranberry salsa is perfect with tortilla chips before the big Thanksgiving meal, while cranberry sauce is a staple with the main course.</p>
by
J.M. Hirsch
|
November 17, 2010 8:00 PM
Until last year, I was a firm believer that Thanksgiving dinner wasn't worth giving thanks over without a massive bowl of cooked cranberry sauce on the table.
Then I sampled a fresh cranberry salsa, which is a fancy way of saying somebody chopped up most of the classic cranberry sauce ingredients and dumped them in a bowl without bothering to cook them. I was apprehensive; this was a long way from the canned stuff.
But it was delicious, especially when scooped up with tortilla chips. I ate the better part of a large bowl of it as an appetizer.
Still, when dinner rolled around, I had a hankering for the old school cooked sauce.
So this year I decided to have it both ways. I created a fresh cranberry salsa that is wonderful as an uncooked starter, but equally good alongside turkey following a brief stint on the stovetop. Depending on how much you plan to eat, you can divide the recipe in half (serving half raw and half cooked), or double it and make full batches each way.
Spicy cranberry salsa or sauce
Start to finish: 15 to 45 minutes
Servings: 8
1 small red onion, quartered
1 tablespoon jarred jalapeno pepper slices
2 tablespoons chopped fresh cilantro
12-ounce bag fresh cranberries
1 cup whole dried cranberries
2 tablespoons lime juice
1/4 cup agave syrup or honey
1/4 teaspoon ground cardamom
1/4 teaspoon cinnamon
1 teaspoon salt
1/4 teaspoon ground black pepper
In a food processor, combine the red onion, jalapeno peppers and cilantro. Pulse until finely chopped. Add the fresh and dried cranberries, then pulse again until coarsely chopped. Set aside.
In a large bowl, whisk together the lime juice, agave syrup or honey, salt and black pepper. Add the cranberry mixture, then toss well. If serving as a salsa, the mixture can be served immediately or refrigerated until needed. If refrigerated, let stand at room temperature for 30 minutes before serving.
If serving as a sauce, transfer the entire mixture to a large saucepan over medium-high. Bring to a boil, then reduce to a simmer and cook until the fresh cranberries have broken down, about 10 minutes. Transfer to a bowl and cool, then refrigerate until ready to serve.
Nutrition information per serving (values are rounded to the nearest whole number): 104 calories; 1 calories from fat (1 percent of total calories); 0 g fat (0 g saturated; 0 g trans fats); 0 mg cholesterol; 27 g carbohydrate; 0 g protein; 3 g fiber; 254 mg sodium.
Recent Headlines
---