New building tops Post Falls Chamber of Commerce's year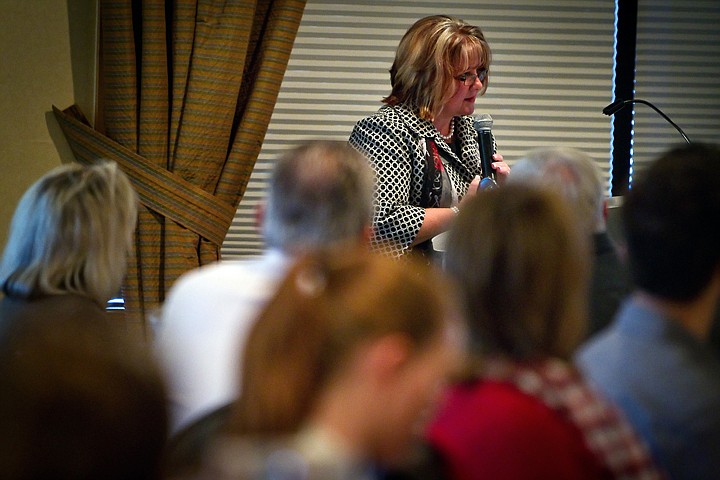 <p>Pam Houser, president and CEO of the Post Falls Chamber of Commerce, discusses the new benefits and programs planned for 2011 and successes of 2010 during the chamber's "Takin' Care of Business" luncheon held Tuesday.</p>
by
David Cole
|
November 17, 2010 8:00 PM
POST FALLS - Post Falls Chamber of Commerce President Pam Houser on Tuesday shared programs planned for 2011, and successes from this year, during the Takin' Care of Business luncheon.
The luncheon was at the Red Lion Templin's Hotel on the River.
"It has been a great year, in this economy," Houser said.
She said there have been 14 ribbon-cutting ceremonies and three groundbreakings.
"As we talk about our accomplishments, our greatest one of course is our building," Houser said.
The 6,000-square-foot building at 201 E. Fourth Ave. next to Post Falls City Hall was opened in May. It has three tenants with a little space available, she said.
"We have a wonderful conference room, a gathering place being used by nonprofits as well as our business community," she said. "It's being booked quite a bit, so we're really excited about that, because that's what we built it for."
Houser also touted successful fundraisers, programs and events. She pointed to the new "Biz Bucks" program, which encourages people to shop in the city, and the success of trips to China. The Biz Bucks program will continue through 2011 and beyond, and more trips to China are scheduled for next year, she said.
She highlighted two events from this year that also are planned for next year.
She said the Commerce and Community Fair at the Greyhound Park and Event Center had 90 businesses participate and more than 800 people come through the event's doors this year. The event is a fundraiser for the chamber, which netted more than $10,000.
"One of the most successful programs I think that our chamber runs is our Reverse Job Fair," Houser said. "I think what makes it really cool is it takes a lot of hours, and the chamber doesn't make any money on it. We don't do it for the money, we do it for the kids."
The event is designed to help students collect information to identify the careers they wish to pursue following graduation from high school.
She said the chamber gave out more than $3,000 in scholarships at the fair this year. More than 230 students participated, along with more than 140 professionals. Each professional sits down with multiple students.
"We're engaged with our youth, and get them excited about their possible careers," Houser said. "They are our future."
Recent Headlines
---