Digging her goals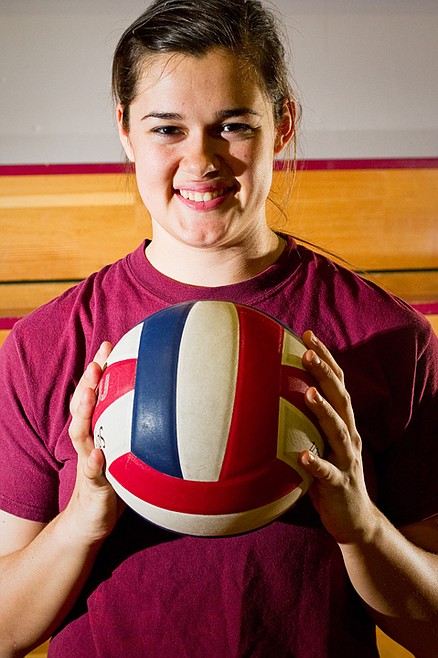 <p>Tina Strahinic, outside hitter for the North Idaho College volleyball squad, came to America from Metlika, Slovenia with every intention to play volleyball.</p>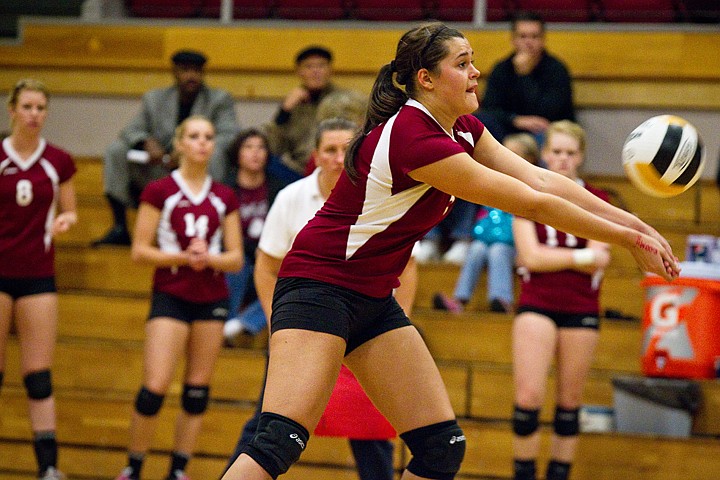 <p>Tina Strahinic returns the ball against Snow College earlier this month.</p>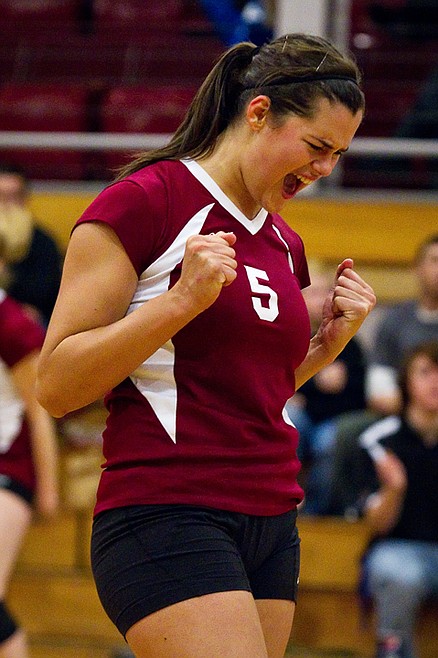 <p>Tina Strahinic has plenty to cheer about. The opportunity to play volleyball for a college scholarship in America has led her to a chance to play with the North Idaho College team for the NJCAA championship this week.</p>
Previous
Next
by
JASON ELLIOTT
Sports Writer
|
November 16, 2010 8:00 PM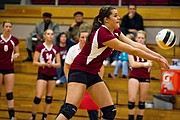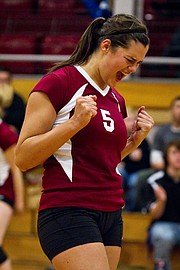 When she first came to America, the thought of playing volleyball for a college scholarship wasn't something that had crossed Tina Strahinic's mind.
With a little luck this week, the 6-foot-1 sophomore right side hitter at North Idaho College could also get a chance to experience another first - winning an NJCAA volleyball championship as the sixth-ranked Cardinals prepare to open the national tournament Thursday in West Plains, Mo.
"I was traveling with a Slovenian junior national team," Strahinic said. "We were in San Francisco and after they saw me play, the University of San Francisco offered me a scholarship when I was still a junior in high school. When I came here, I didn't think there was a chance that could happen. I wasn't eligible to go straight there (to USF), so they sent me to NIC to get my AA degree. My main goal in my life was to come to America to play volleyball."
Since making the trip in her junior year of high school, things have changed.
"Now that I'm here, I've gotten a lot of different offers," Strahinic said. "There has been some really good teams in really good conferences that have began to offer me some deals."
Arizona State and Florida are among the schools recruiting her, and Strahinic is still considering San Francisco - the school which placed her at NIC.
"There's a lot of different schools looking at her right now," Frohlich said. "When you're the Player of the Year in a conference like this, you'll draw a lot of attention."
Strahinic, who began playing volleyball for her hometown elementary school in Metlika, Slovenia, transferred from her hometown to begin playing club volleyball.
"The team I played for was 30 miles from my hometown," Strahinic said. "It made the decision easier to leave my home country because I was used to not living at home. So to come to America didn't bother me to be away from my family."
Adjusting to the surroundings of Coeur d'Alene was a challenge at first.
"It's been an amazing year and a half," Strahinic said. "Everyone within the community has been so nice to me. My coaches have been great. Right now, I know I made the right decision by coming here. Everyone takes care of each other."
School was a little different.
"It was a big adjustment," Strahinic said. "My English wasn't that good. At first, I didn't know where I was because it was my first experience by myself. When I'd came here before, I had my teammates with me, but this time I was alone.
Strahinic joined the NIC squad, coached last year by Chris Kosty, after the first two weeks of the season in 2009 after clearing all the proper hurdles to attend school in America.
"I had to get my eligibility and visa before I came here," Strahinic said. "To come to America, it was really hard for me. Volleyball isn't that big of a sport in my home country. It's an OK level of play, but once players are good enough, they usually go to Italy or come to America to play."
At first, Strahinic was a bit nervous about coming to NIC, not knowing anyone on the team, but since has formed a bond with sophomores Fei Gao and Esther Timofeyev, who share an apartment.
"It's been amazing," Strahinic said. "When I came here, that was the first thing I was afraid of was not knowing anybody on the team. Esther has helped me so much. She's kind of like my mom. Fei is just like me. Esther has really been there for both of us. She's always on me about my schoolwork. We're always together and really enjoy being around each other."
Strahinic was named the Scenic West Conference Player of the Year, as well as Region 18 tournament Most Valuable Player on Nov. 6, and is ranked fifth in the nation in kills per set with 4.1 and is fourth in the Scenic West Athletic Conference in hitting percentage at .310.
"When I got Player of the Year, I was excited," Strahinic said. "But I'm happier we're going as a team. I know that individual awards matter, but as long as we're going to nationals, it didn't matter if someone from here, Salt Lake or CSI would have won it."
Both Timofeyev and Gao were so proud of Strahinic's awards, they encouraged her to keep them out around the apartment.
"I was happy to win those awards," Strahinic said. "But they wanted me to keep them out around the house so that visitors could see what I've done."
"Tina is very relaxed and determined when she's playing volleyball," Timofeyev said. "She is very supportive of the rest of the team and is a great player. Off the court, she's a great, loyal friend and roommate. Everyone gets along with her because of her simple lighthearted nature."
During the Region 18 tournament, the Cardinals were taken to five games in matches against Snow College and Salt Lake, with the win against the Badgers clinching a spot at nationals.
"Tina's a competitor," first-year NIC coach Colleen Frohlich said. "She has kept us in matches with her play all season. Tina has been a leader for us on and off the floor all season."
"It's just different this season," Strahinic said of Frohlich. "With a new coach came new energy. Practices are much different than last year. We enjoy playing and winning for her. She's kind of a mother-type for us. Being an international player, it's really nice to have."
NIC (26-6) enters the NJCAA tournament as the sixth seed and face 11th seed Iowa Western (42-6) on Thursday in the opening round.
"I want to have the chance to get everyone on our team recruited and get into a good school," Strahinic said. "I've heard stories of some players being recruited off what they can do in the hit line at nationals. It's a good thing for everyone on our team. I want to leave NIC like I left a mark on the program."
Starting on Thursday, the Cardinals begin work on their final set of goals for the season.
"The biggest thing is that we've been through so much," Strahinic said. "We can't let anything come in the way of our goals. Each of us has more confidence in the other to play well and win. If something happens, we'll encourage each other. If we follow our gameplan, we can beat anybody."
Recent Headlines
---