Micron hopes diversification short-circuits losses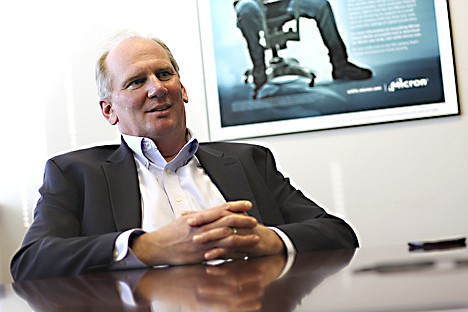 <p>In this Nov. 3 photo Mark Durcan, chief operating officer of chipmaker Micron Technology Inc., answers questions in an interview at the Micron campus in Boise.</p>
by
John Miller
|
November 14, 2010 8:00 PM
BOISE - Chipmaker Micron Technology Inc. vowed to shareholders for a decade to broaden products to boost its share price and avoid those stomach-churning profit-to-loss swings that have dominated its 32-year history.
After reporting its first profit in four years, Chief Operating Officer Mark Durcan now must prove Micron's diversification spree - away from memory chips for personal computers and into products for cell phones, cars, security systems, iPods and even solar energy - will keep the company from crashing just as swiftly back into the red.
Boise-based Micron has made money just four of the last 10 years. Its shares trade around $8, down 30 percent this year even after earning $1.9 billion, its best year ever.
In other words, Durcan, a chemical engineer who arrived in Boise in 1984 and became president in 2007, still has his work cut out for him before investors really believe this isn't the old Micron.
"We have a really great product portfolio, diversified across a lot of markets, that's going to give us a lot of room to outperform, going forward," Durcan told The Associated Press. "We are the only surviving memory manufacturer in the western world. I feel pretty good about that."
A decade ago, virtually all of Micron's sales were to PC makers like Compaq and Gateway.
Today, just a quarter of its sales of dynamic random access memory, or DRAM, are to PC makers.
In 2006, half of Micron's 23,000 employees were at facilities in the desert outside Boise.
It now makes virtually nothing in Idaho's capital, where the 5,000 local workers whose jobs survived the restructuring of the last five years now focus on corporate activities and research. They represent just a quarter of Micron's more than 20,000 workers worldwide, in Virginia and Utah as well as Italy, Israel, Singapore, China and Malaysia.
Its NAND flash memory chips, made with Intel Corp., make up the electronic guts of digital cameras and consumer electronics like Apple's iPad and iPhone. Micron microdisplays now go into camera viewfinders and miniature projectors for cell phones and handheld computing devices.
Micron also sells USB flash drives under its Lexar brand, as well as memory upgrades for Apple and Dell computers.
And it just wrapped up a $1.2 billion purchase of Switzerland's Numonyx BV, which makes a different kind of flash memory than Micron previously produced.
Micron also has cash reserves of about $3 billion.
The company is clearly in no danger of soon joining the debris of former rivals like Quimonda AG, the German DRAM maker with 13,000 employees that went bankrupt in 2009. But with Micron's shares still languishing at half their 2006 levels, investors remain wary the company is still too entrenched in personal computers.
Kevin Vassily, an analyst at Portland, Ore.-based Pacific Crest Securities, said such fears are no longer founded.
"The reaction of investors has been, 'Micron's business gets good, then it gets really bad, really quickly,' and they don't want to be around when that happens," Vassily said. "Now, (Micron) has an opportunity to do something they don't do all that often: Weather a weak period and still be profitable."
Betsy Van Hees, analyst at San Francisco's Wedbush, said Micron will also benefit from a new, post-recession attitude that's gripped even industry leader Samsung: Survivors are focusing on profitability, not churning out as many chips as possible to crush the competition and win market share at any cost.
"There would have to be some really significant negative changes to the economy for Micron to lose money" through 2012, Van Hees said.
Durcan concedes he can't divorce Micron completely from the feast-and-famine cycles that grip the memory industry.
But to smooth things out, he and Chief Executive Officer Steve Appleton aim to deliver Micron's products that work in tandem, rather than by themselves. For instance, the company might sell memory chips for smart phones paired with specialized programs that tell the devices what to do.
Durcan said this approach will become increasingly important, with the memory-chip industry approaching an era where producers no longer can compete simply by doubling the number of transistors they put on their chips every two years.
"Getting access to all those Numonyx products and resources puts the company in a better position to deal with what I think we will be an important transition for us over the next number of years," Durcan said.
Micron's evolution continues.
It has invested $110 million in energy-efficient LED lights and thin, flexible solar cells it hopes will eventually be installed atop warehouses or homes. Both ventures are in their infancies, with trials in Idaho supermarkets for the lights and a few solar panels undergoing internal testing.
Durcan is cautious about making projections about these prospective ventures.
"These are tough, tough businesses that are very global and very competitive, highly subsidized by foreign governments," Durcan said.
It sounds a bit like DRAM all over again.
"Maybe worse," Durcan concedes. "But big markets are like that. If you want to have a big successful company that generates big returns, you have to take big risks. You don't get to make $2 billion a year like Micron almost just did because it's easy."
Recent Headlines
---