Bobbi's Bar serves history with drinks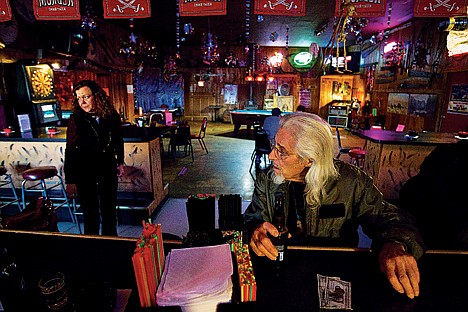 <p>Art Tatro, of Parkline, takes in some conversation between sips of beer this week at Bobbi's Bar in Plummer. Owner Bobbi Doupe stands behind him.</p>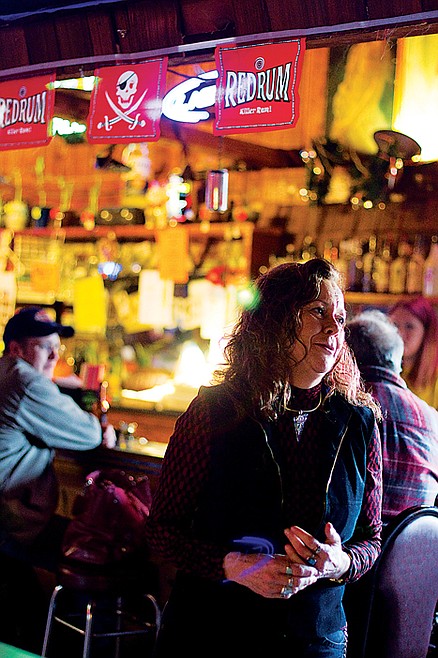 <p>Bobbi Doupe stops to share the story of the bar she's owned for 20 years with visitors this week. Doupe is equal parts bartender, bookkeeper and bouncer at the bar.</p>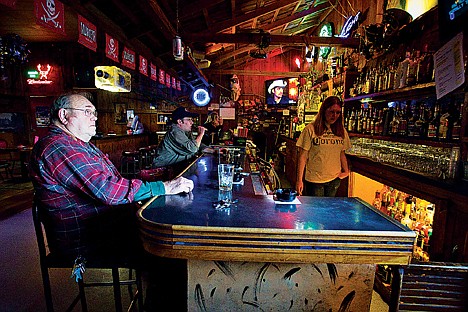 <p>Dick "Harpoon" Gilbert passes the afternoon at Bobbi's Bar in Plummer, with Tim McDaniel at his left. J'nene Murray, right, tends bar. Gilbert is the husband of Bobbi's Bar owner Bobbi Doupe.</p>
Previous
Next
by
David Cole
|
November 14, 2010 8:00 PM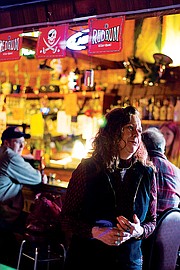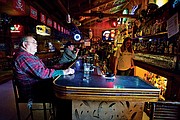 PLUMMER - The nearly 100-year-old oak dance floor is dark with filth despite every effort to protect it and make it shine.
"If you walk into a bar in North Idaho, and the floors are clean, you know it's not a good bar," said Roberta "Bobbi" Doupe, owner of Bobbi's Bar here on the Coeur d'Alene Tribe's Reservation.
The watering hole is a historic place. Proudly, it also is both famous and notorious around these parts. And those who spend a great deal of time there say it's a place to forget about problems, not dwell on them.
Twenty years can be a long time to run a bar, and so far, the 60-year-old Doupe has survived longer than the previous owners.
Doupe said "Rez bars" are notorious for getting a bit rough at times, and she has seen her share of "drama." The diminutive local Irish girl who grew up on the reservation near the Jesuit mission at DeSmet knows it comes with the territory. She has a 44-year-old daughter and 35-year-old son, and spent time as a bookkeeper and administrative assistant before buying the bar.
"She's a hell of a gal, and this is a hell of a friendly bar," said patron Art Tatro, 78, of Parkline. "I've been coming here for years - at least the ones I remember."
At her bar, Doupe is equal parts bartender, bookkeeper and bouncer.
"Other bars in Worley are rough and tough," said patron Tim McDaniel, 35, as he threw back shots of a brown liquor and drank beers one afternoon. "This place is down home. I try and give my business to somebody worth giving my business to."
He said Doupe is that somebody.
"She's sweet, honest and business savvy," he said. "And she gives me a ride home if I need one. She takes care of us."
Her customers are loyal, and so is she.
She dedicated an entire section of the bar to the names and photographs of regular customers - "Little Larry," "Buggs," "Beaver" and others - who died and can no longer belly up, place an order and drink in the camaraderie.
The photo section also happens to be the one that many insist is frequented by a friendly ghost. Some say it's a female presence, others say it's a male.
"I saw something once," Doupe said. "It's a presence, really."
The picture walls also includes photos of the official bar dog, Dagwood, and cat, Miss Kitty, both of whom have died. One picture is of Miss Kitty about to knock back her regular shot glass full of milk.
All the camaraderie takes place in one of Plummer's oldest buildings. It's approaching 100 years old in a town that just celebrated its centennial this summer.
The only heat for the roughly 3,000-square-foot bar is a wood burning stove, which keeps it plenty toasty inside. Two large wood cross bars lock the door after closing time.
The building was first McCaslin's General Store, owned by one of the town's founding fathers, Frank McCaslin.
The location has been known as Bob's Place, also a bar; an American Legion post; the Pink Sarang Club, a tiger and jungle themed hangout; and the Main Street Mill Saloon, which churned out drinks like lumber at the nearby mill.
Main Street Mill owner Bill Murphy gave the place a logger theme, complete with a shake roof over the bar and logging memorabilia on the walls.
Doupe kept the logging theme going, adding crosscut saws, peavey hooks, log dogs, choker hooks, caulk boots, wedges and other items from her own collection. Nearly all of the massive, vintage chain saws on display still start right up, she said.
"It's the only logging memorabilia collection in Plummer, and it serves as the town's unofficial museum," Doupe said. "People come in just to see the relics and reminisce about the area's logging heyday."
Wood paneling covering the walls inside came from the nearby mill.
At one time, Hollywood recognized the character of the place.
Those walls inside can be seen in the 1998 movie "Smoke Signals." Two scenes were filmed there, and one scene made it into the final version of the movie, Doupe said.
She said she loves the community where she's lived most her life, including graduating from high school in Plummer.
She said the Plummer-Worley community is a friendly one, and she attributes much of that to the spirit of the tribal members.
While a rough place at times, the hot talk and brawls always pass, she said. Far more often, her bar is a welcoming place to gather, filled with people laughing, drinking, smoking, and having a peaceful good time.
While Doupe has been in command, the bar has hosted wakes, memorials, marriage proposals, wedding receptions, baby showers and birthday parties.
"One reason I came back from Seattle and bought this bar on the Rez where I grew up is that people come in here to relax and enjoy each other's company, not cry in their beers about everything that's wrong with the world," said Doupe.
Recent Headlines
---