No smooth sailing on this trip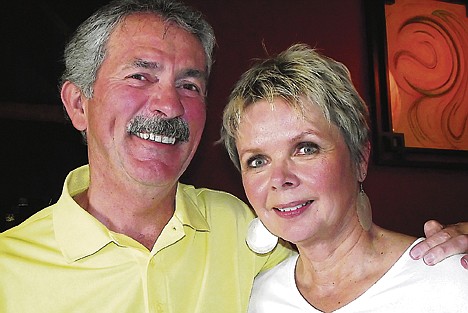 <p>Jim and Cyndie Hammond were on a cruise ship that lost power.</p>
by
Alecia Warren
|
November 12, 2010 8:00 PM
It wasn't quite the worry-free vacation the Hammonds had envisioned.
"It was disappointing, to save up all that money and end up with the kind of cruise that we did," said Jim Hammond on Thursday afternoon, hours after the ill-fated Carnival cruise ship Splendor was tugged into port at San Diego. "But we were safe, and that was comforting."
The state senator and his wife, Cyndie Hammond, were among the 3,300 marooned for three days on a luxury liner without power off the coast of Mexico.
After tug boats heaved the beast into port on Thursday morning and the couple had showered in a Carnival-paid hotel room, their moods were chipper.
"It was certainly a hardship, but everyone collaborated and cooperated," said Cyndie, regional director of Lewis-Clark State College. "It was delightful in that we were so well taken care of."
The Hammonds, who were traveling with friends and family, enjoyed roughly 12 hours of the good life - a nice dinner and sleep - after the ship left on Sunday, Cyndie said.
It was in the morning they saw smoke coming out of the back of the ship, where an engine fire knocked out most of the ship's electricity and hampered its propulsion system.
With the ship about 200 miles south of San Diego at the time, passengers waited without lights, working toilets or hot food while staff attempted to get things running.
"When they found they couldn't repair it, we had drifted 60 miles (off course)," Cyndie said.
That meant waiting roughly a day and a half for tug boats to arrive and drag them to port, she said.
Things weren't all that bad, Cyndie said.
The Coast Guard and U.S. Navy arrived, toting salad and sandwiches to last several days.
The toilets started working after about half a day, too. The Hammonds were lucky their cabin had a window to let in sunshine and fresh air, Cyndie added, though guests with inside staterooms were doomed to smelly darkness.
For the next three days, Carnival provided musical entertainment and bingo, Cyndie said, and the travelers stayed generally upbeat playing dice and cards.
"We weren't miserable, though we had cold showers and we were tired of salad and sandwiches," she said. "We were clean as we could be, and fed with what was available."
The biggest obstacle for most guests was the lack of working elevators, Jim said.
"This thing is 12 stories high, and everybody was going back and forth on the stairwell. It was the only way to get anywhere," he said. "For elderly and those in wheelchairs, it was a challenge to get around."
But the Hammonds, both 60, managed just fine, he said.
"In fact when we were running up the stairs today, I said, 'You know, some people pay money to get this kind of exercise. We're getting it for free,'" he said with a chuckle.
After checking into their hotel Thursday, Jim said, the travelers were eager to charge their cell phones and enjoy some hot meals.
This kind of experience makes a person take nothing for granted, he said.
"Everybody was really anxious for that first cup of coffee," he said. "And ice cubes. It's great to have cola here with ice cubes. What a treat that is."
The Post Falls couple had taken the vacation to celebrate their 27 years of marriage, he said.
They had been saving for the trip for years, he added.
"You've got to make the best of it. We still had fun, played games and visited, though it's not the kind of treat we expected," he said. "We'll go on a cruise again one of these days."
The Hammonds will remain in San Diego until they return home on Sunday, their plane tickets provided by Carnival Cruise Lines.
The roughly $3,000 they spent on the cruise will not be refunded directly, but will go toward another Carnival cruise they wish to take.
Jim said it could be awhile before they take advantage.
"For us, it's not just the money, it's finding the time to be gone for a week," he said. "I think it's not going to happen for awhile."
Recent Headlines
---