Jackson producer, manager vouch for Jackson song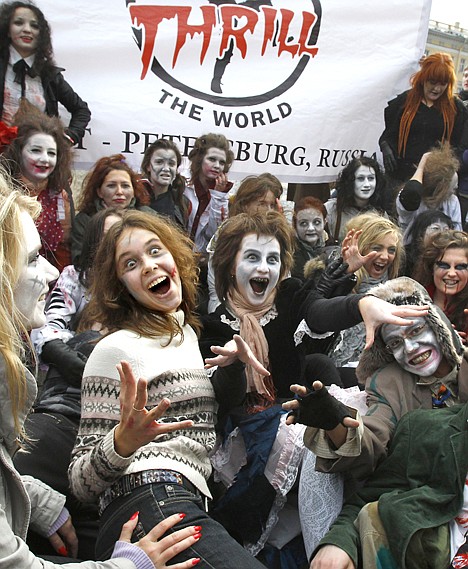 <p>Russian fans of Michael Jackson disguised as zombies perform his song "Thriller" at Dvortsovaya (Palace) Square in St.Petersburg, Russia, Saturday, Oct. 23, 2010. More then hundred participants of the Thrill The World event performed the famous hit of the late legendary King of Pop music.</p>
by
Nekesa Mumbi Moody
|
November 12, 2010 8:00 PM
NASHVILLE, Tenn. - Some of Michael Jackson's family members are unhappy with the release of the posthumous single "Breaking News." But the late legend's longtime producer and manager say it is indeed Jackson's voice on the newly released track.
"When I heard these songs, my heart cried hearing Michael again in good spirits. The vocals sounded very polished, very on key and processed. I have no doubts that these are Michael's vocals," Jackson's longtime producer, Teddy Riley, said Wednesday.
"Breaking News" is the first song off "MICHAEL," due out Dec. 14. It's the first album of unreleased Jackson material since Jackson's death.
Representatives for Epic Records, Jackson's label, say Jackson not only co-wrote the song in 2007 but also co-produced it with Eddie Cascio and James Porte. It made its debut on michaeljackson.com on Monday.
But Jackson's nephews, Taryll, Taj and TJ Jackson, tweeted this week that their uncle's voice isn't the one featured on the song.
"I KNOW my Uncle's voice and something's seriously wrong when you have immediate FAMILY saying it's not him," wrote Taryll Jackson. "Don't you have to wonder why? I have strong, undeniable points. They can't give me answers, yet continue to move forward with lies and deception. Sounding like Michael Jackson and BEING Michael Jackson are two different things."
Michael Jackson's brother Jackie also took to Twitter this week, and while he did not call the song a fraud, he did voice concerns.
"My friend John McClain (co-executor) and I have insisted for many weeks to have certain tracks removed from Michael's new album," wrote Jackson about McClain, who is co-executor of Jackson's estate. "Unfortunately, our concerns were not taken seriously."
However, Riley, who worked with Jackson on the albums "Dangerous," ''HIStory," ''Invincible" and other projects, said he had the family's support on the production of the album.
"I did what Michael would expect of me with the tools I had to work with (vocal tracks of Michael). This is his legacy," he said. "Let it live."
Frank Dileo, who had been Jackson's manager years ago and re-entered his career shortly before his death, also vouched for the song's authenticity.
"I spoke to Michael by telephone at the Cascios' home studio several times while he was recording with them, and he was excited and enthused by the music and the experience," Dileo said in a statement. "While listening to the tracks, especially the ones not heard by the general public, you can hear that he was having a great time!"
The album is being released in conjunction with Jackson's estate, which is managed by McClain and John Branca, who had been Jackson's attorney for years.
Recent Headlines
---