Disney Store opens in Times Square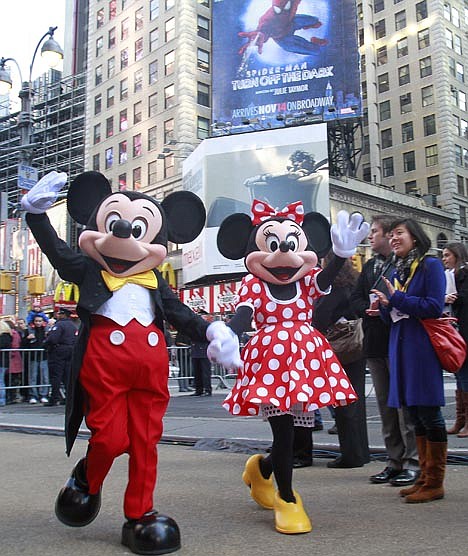 <p>Disney characters Mickey Mouse and Minnie Mouse arrive at the grand opening celebration of the premier Disney Store on Tuesday in Times Square, New York.</p>
by
Anne D'Innocenzio
|
November 12, 2010 8:00 PM
NEW YORK - With fireworks, fanfare and fairy dust, The Walt Disney Co. officially opened its largest store in North America in Manhattan's Times Square Tuesday, touting it as the crown jewel among approximately 360 worldwide.
Disney joins a string of retailers like Aeropostale Inc., Forever 21 and American Eagle Outfitters that recently opened flashy outlets in the tourism hotspot, hoping to cash in as an estimated 1.5 million people pass through Times Square daily.
"This is family shopping at its finest," Faith Hope Consolo, chairman of retail leasing and marketing at Prudential Douglas Elliman, said.
Celebrities and a complement of top Disney executives were on hand for an event that included speeches and an appearance by Brooke Shields, who plays Hannah Montana's mother in Disney's movies featuring the high-school-age pop star.
In the two years since it regained ownership of the chain, Disney has done major renovations; 18 stores already offer what the company calls "the best 30 minutes of child's play" from a personalized theater experience to magical mirrors. The rest - 105 in Europe, 40 in Japan and 220 across North America - are to be converted in five to seven years.
The 20,000-square-foot Times Square emporium is about five times bigger than most Disney stores. Divided by franchise, from Mickey Mouse - still the global entertainment company's most popular character - to an assortment of princesses, it offers similar merchandise to other stores, only more and on a grander scale, said Andy Mooney, chairman of Disney Consumer Products.
Highlights at the new store include a "Cars" display where kids can build their own miniature vehicles - $50 for a freewheel version, $75 for a remote control. In a two-story, 20-foot-tall princess castle, there's a talking mirror that produces an image of Cinderella or another princess with a wave of a wand. And on a 12-foot screen nestled in a small theater area, guests can choose exactly which Disney film clips, videos and classic animation to watch.
Robert Iger, Disney's president and CEO, said in an interview with The Associated Press that he and other top executives consulted two years ago with Apple Inc. CEO Steve Jobs, who recommended developing a message for the stores. That's where "the best 30 minutes" idea came from.
"This gave us a focus," Iger said.
Iger said Disney merchandise has intrinsic value because its characters resonate with children, even though consumers are still cautious about spending.
"There's no question that consumers are shopping harder, and later," he said. "They're looking for value."
In response, Disney is bundling some items. A 10-pack doll set for $99.50 is popular, for example, company officials said.
But Disney has invested in new theme parks and new entertainment businesses as other companies have pulled back during the down economy. Iger said he's still scrutinizing each investment, looking for a solid return.
The Times Square store, two years in the making, is expected to produce 5 percent of the chain's North American revenue. Disney's first Manhattan store opened in 1997 on Fifth Avenue and closed in January.
The new store debuted informally on Thursday and was to be open from 9 a.m. to midnight daily. But managers are testing a 1 a.m. store closing to accommodate the crowds showing up.
Recent Headlines
---