Bush 'sick' no WMDs found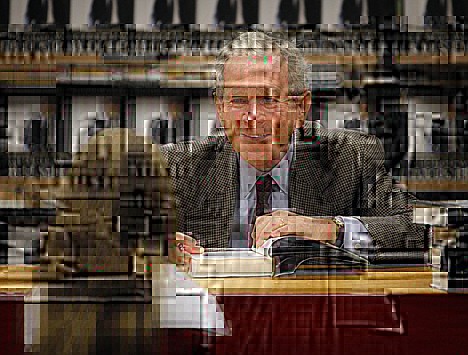 <p>Former President George W. Bush talks with 8-year-old Whitney Grace Dodson as he signs copies of his book, "Decision Points" at a store near his Dallas home, Tuesday.</p>
DALLAS - Autograph-seekers descended on a Dallas shopping center Tuesday as former President George W. Bush officially kicked off the release of his new memoir, receiving praise for his candor at a hometown bookstore even as his renewed defense of waterboarding as an interrogation tactic was greeted with derision overseas.
First in line at the Borders store about a mile from Bush's Dallas home were Terry and Tammy Jones of suburban Justin, who camped out overnight. They said when they told Bush of their wait, he said he would sign their books "with admiration," shaking 53-year-old Terry Jones' hand and kissing his wife's.
"Eighteen hours for two seconds and a kiss on the hand," Tammy Jones, 52, said with a smile.
Terry Jones said he admired Bush because "when he makes a decision, he sticks with it."
But such steadfastness also prompted criticism Tuesday in Europe, where reports about Bush's memoir "Decision Points" focused on waterboarding.
In an interview in The Times of London, Bush said the tactic forced the alleged 9/11 mastermind to provide information that prevented attacks in London's Heathrow Airport and Canary Wharf business district. Prime Minister David Cameron's office subsequently restated the British government's belief that waterboarding is illegal. Kim Howells, a former lawmaker who chaired the House of Commons' intelligence and security committee, expressed doubts about Bush's claim.
In France, the Le Monde newspaper noted an "absence of regret" in Bush's defense of waterboarding.
In a more lighthearted moment, Bush said in an interview that aired Tuesday on "The Oprah Winfrey Show" that writing the memoir "was an easy process."
"A lot of people don't think I can read, much less write," he joked.
As in the book, Bush also recounted to Winfrey the mistakes of his presidency, saying he still feels "sick" about the fact no weapons of mass destruction were found in Iraq. His response to Hurricane Katrina could have been quicker, he said, and he acknowledged he didn't see the financial meltdown coming.
Bush, however, had nothing negative to say about President Barack Obama, whom Winfrey famously supported in 2008.
"I didn't like it when people criticized me," Bush said. "And so you're not going to see me out there chirping away (at Obama). And I want our president to succeed. I love our country."
Largely out of the public view since he left office, Bush is now vigorously promoting his book, with planned appearances across the country this week and as the Miami Book Fair International's featured author this weekend.
Bush even called in to conservative commentator Rush Limbaugh's radio program Tuesday, voicing support for an extension of his administration's tax cuts and denying reports he privately criticized fellow Republican John McCain's choice of Sarah Palin as his vice presidential running mate. But when asked his opinion about Arizona's controversial immigration legislation, Bush told Limbaugh: "you're trying to get me to make news."
"I don't want to make news, I want to sell books of course," Bush said laughing.
His memoir does offer revelations though, including his confirmation that the target of a 2007 Israeli airstrike was a Syrian nuclear reactor and suggestion he quietly approved the action. Bush also reveals Israel first asked the U.S. to bomb the site, but his administration refused.
In Israel, one of the few places Bush remained popular throughout his term, media coverage of the book focused on his warm praise for ex-Prime Minister Ariel Sharon, support for Israel's tough crackdown on Palestinian militants in the last decade and animosity toward the late Palestinian leader, Yasser Arafat.
More than 2,000 copies of "Decision Points" sold by the time Bush left the Dallas store at 11 a.m. Tuesday, said David Drake, a spokesman for the Random House Inc. imprint Crown Publishers. The former president was able to sign copies for 1,300 customers and provided signed bookplates for 500 others, said Drake, who added that the remainder of the crowd he estimated at 2,500 received instructions for getting a bookplate later.
Holly McKnight, a legally blind 36-year-old from Arlington who visited the Dallas event, said she was thrilled the audio book - read by Bush - was available the same day as the print edition.
McKnight said she told Bush, "Thank you for all you do. You are prayed for," as he signed her book.
"Keep it up, it works," he responded.
Adrienne Cantwell, 57, of Coppell, stood in line with her 18-year-old daughter since Monday night. Cantwell said she and her husband both served in the Air Force and their son also has served in the military.
"He might send us to hard places, but he still cared about what happened to us and he supported us," she said of Bush. "He gave us what we needed."
Amber Fletcher, a 23-year-old student at Texas Women's University, said she was eager to read the memoir.
"Everybody plays the blame game and I just want to know his side of the story," said Fletcher, who wore a T-shirt bearing a smiling Bush giving a thumbs up and the phrase "Miss Me Yet." She stopped to have her picture snapped with about five protesters who held signs, including one reading "Torture is illegal," at the corner of the shopping center.
Associated Press writers Carla K. Johnson in Chicago and Josef Federman in Jerusalem contributed to this report.
Recent Headlines
---