No trick, just a real treat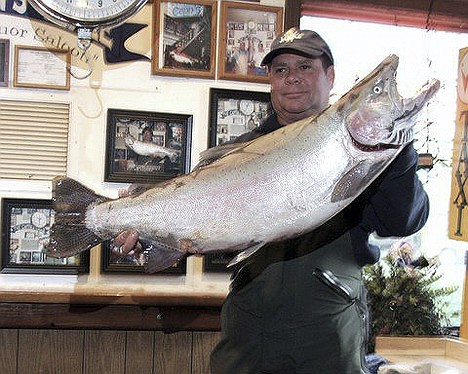 <p>Randy Mikels of Hayden Lake holds the winning rainbow he caught in the Captn's Table Halloween Derby on Lake Pend Oreille.</p>
by
BILL BULEY
Staff Writer
|
November 11, 2010 8:00 PM
BAYVIEW - Here's Randy Mikels secret to catching a 37-inch, 25-pound rainbow trout on Lake Pend Oreille.
"I caught it on a fly that I took a permanent marker and made Saturday evening and tied Sunday morning. It's silly, but that's what happened," he said.
And what happened next is, the Hayden Lake man won the Captn's Table Halloween Derby for the first time in six tries.
"I was kind of numb," he said. "The size of the fish, you get 25 pounds or bigger, it goes into the hall of fame."
Steve Hall of Hayden weighed in a 21-pound rainbow for second and Nathan Jeffries of Sandpoint was third with an 18-pound, 11-ounce rainbow.
The Captn's Table Halloween Derby was held Oct. 29-31 and this year attracted more than 300 anglers who came from New Hampshire, California, Washington and Canada.
They arrived in quest of "that big fish and having the opportunity to see friends that they see once a year.
"This derby has a certain karma about it," wrote Mary Thompson with the Captn's Table.
Conditions this year were considered perfect - overcast, a littlechoppy, a little rain.
"It was great to see such healthy, beautiful rainbows come out of the lake," Thompson wrote.
The Captn's Table Halloween Derby originated at Kilroy on Lake Pend Oreille about 15 years ago when a few guys were sitting at the bar and decided to create a Halloween Fishing Derby.
"They all threw $20 in a glass jar and off they went," Thompson wrote. "Twelve years ago a group of guys came to us and asked if we would host the derby. That is when it transformed into the Captn's Table derby. We have hosted this derby out of Garfield Bay for the past 12 years now and have people from all over the United States participate."
Mikels landed this year's winner about 10:30 a.m. Sunday between Granite and Garfield Bay in the middle of the lake. There was a slight rain and a one-foot chop on the water when a fish struck, ran the line out about 300 feet and jumped.
"We saw it had to be a pretty large fish," he said. "I caught an 18 pounder, 35 1/2 incher in March and I could tell this fish was heavier."
The following fight lasted about 40 minutes as the rainbow continued to jump, run and dive to escape the hook.
When he finally reeled it close enough to net, Mikels was tired. A good tired, though.
"My left arm was sore," he said.
For winning, Mikels received a trophy, and most important, big-time bragging rights as this year's derby champ.
"It's a big time fish," he said. "It's the biggest fish I've caught in a long time. It shows we've got a lot of big ones out here."
Thompson said the largest rainbow that came out of Lake Pend Oreille was a 37-pound Gerard rainbow in 1947.
"So to weigh in this 25-pound, 3-ounce rainbow was very exciting," she said. "It is the largest fish that has been on the Captn's Table scale."
Results of the Captn's Table Halloween Derby held Oct. 29-31 on Lake Pend Oreille
Rainbows
1. Randy Mikels, Hayden, 37 inches, 25 pounds, 3 ounces. 2. Steve Hall, Hayden, 36 inches, 21 pounds. 3. Nathan Jeffries, Sandpoint, 33 inches, 18 pounds, 11 ounces. 4. Kurt Artner, Sandpoint, 32 inches, 17 ounces. 5. Mark Brown, Coeur d'Alene, 28 inches, 13 pounds, 4 ounces.
Mackinaws
1. Don Wimpenny, Post Falls, 31 inches, 11 pounds, 11 ounces. 2. Jessie Peterson, Sagle, 32 inches, 11 pounds, 8 ounces; 3. Jack Peterson, Sagle, 31 inches, 11 pounds, 4 ounces; 4. Britney Longden, Sagle, 20 inches, 9 pounds, 9 ounces. 5. Israel Karasek, Sandpoint, 25 inches, 6 pounds.
Sponsors were Mark's Marine, Black Sheep, Sandpoint Outfitters, Fins and Feathers, Bad Boy Custom Paint and Body, Riverside Auto, Troleeze Solutions and Avista.
Recent Headlines
---