Conan's first night whips rivals in viewership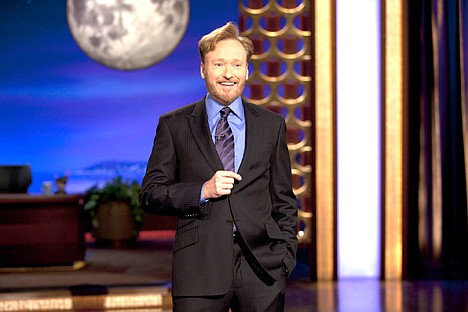 <p>In this photo provided by TBS, Conan O'Brien performs during the debut of hos new TBS show "Conan" on Monday.</p>
|
November 11, 2010 8:00 PM
NEW YORK - Conan O'Brien was welcomed back to television by more than 4.1 million viewers, while his winning numbers had minimal effect on his late-night opponents.
The former host of "The Tonight Show," who left NBC eight months ago, returned on Monday with a new talk show, "Conan," premiering on basic-cable network TBS.
In the 11 p.m. Eastern hour, O'Brien's opening night throttled his direct rivals on Comedy Central. "The Daily Show with Jon Stewart" was seen by 1.3 million viewers, followed by "The Colbert Report" with 1 million.
But the curiosity factor clearly brought new viewers to the scene. Even against the debut of "Conan," the "Daily Show" audience dropped by just 200,000 viewers from its season-to-date average for Monday episodes. Viewership for "Colbert" dropped by only 150,000 from its season-to-date average.
Conan beat Jay Leno, the host who reclaimed the "Tonight Show" chair from him. Starting at 11:35 p.m. Eastern, "Tonight" attracted 3.5 million viewers. But "Tonight," which overlaps with "Conan" by 25 minutes, was down by just 100,000 viewers. Season-to-date, "Tonight" is averaging 3.6 million viewers, according to the Nielsen Co.
Recent Headlines
---