'A dream come true'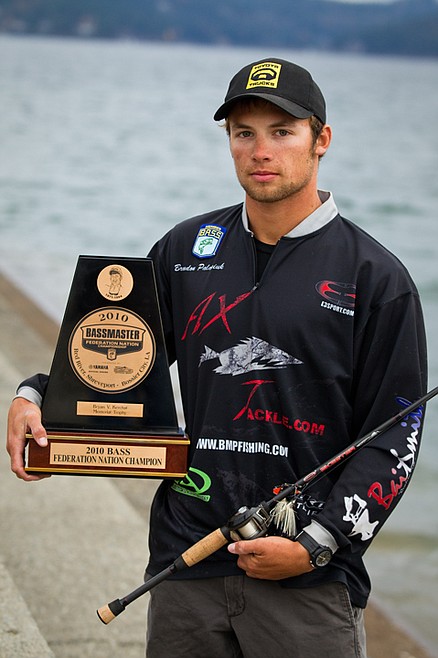 <p>Brandon Palaniuk, 23, recently won the BASS Federation Nation Championship near Shreveport, Louisiana. The title qualifies him for the 2011 Bassmaster Classic.</p>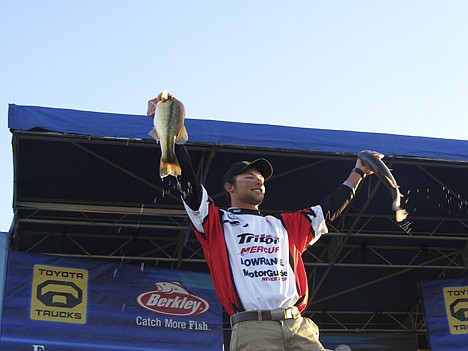 <p>Rathdrum angler Brandon Palaniuk holds up a couple of largemouth bass he caught at the BASS Federation National Championship in Shreveport, La. Palaniuk won the tournament and qualified for the prestigious Bassmaster Classic.</p>
Previous
Next
by
Nick Rotunno
|
November 11, 2010 8:00 PM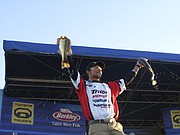 It was a gambit, Brandon Palaniuk thought, a decision that could easily backfire.
The young angler from Rathdrum was on the Red River near Shreveport, La., fishing the BASS Federation Nation Championship, hunting for largemouth bass. He had done his homework, scouted the river for several weeks beforehand, and now he headed for a faraway sweet spot, an area well off the beaten path.
"One of the places I was fishing was a backwater that took me two and a half hours to get into, and there wasn't any current back there," recalled Palaniuk, who turned 23 this week.
Carefully navigating, he steered his boat into the backwater, following a shallow trail through dense hyacinth mats. With only eight hours to fish, time was of the essence. Tarry too long and he'd be late coming in; plan it right, catch a few nice bass, and he just might win the whole tournament.
Eventually the water deepened. Palaniuk cast, retrieved, repeated. He started reeling in fish.
"Once you got in there, it was easy," he said.
The gamble paid off. Palaniuk caught 14 keepers during the three-day tournament - a haul that weighed 29 pounds, 9 ounces - and took first place. He won a brand-new bass boat, but most importantly he earned a berth in the 2011 Bassmaster Classic - the most prestigious fishing tournament in the country.
"It's like the Super Bowl of bass fishing," Palaniuk said.
The Classic is just over three months away, Feb. 18-20 on the Louisiana Delta. The winner will take home $500,000.
When Jeremy Tripp, a 33-year-old fisherman from Coeur d'Alene, heard about Palaniuk's victory in Shreveport, he wasn't surprised. The two have known each other a long time, and from the beginning Tripp sensed the young man's potential, his drive to succeed.
"I started taking (Palaniuk) bass fishing when he was about 11, and I was 20 or 21 at the time," Tripp remembered. "He'd stand all day, fish all day. He was a diehard."
Tonya Lyden, Palaniuk's mother, remembered those early days. Even then, she said, her son was absolutely committed.
"He used to walk to Twin Lakes every night, fishing pole in hand," Lyden recalled. "He has the dedication and the stamina to do whatever he sets his mind to."
Tripp and Palaniuk started fishing local tournaments together, Tripp teaching the young prodigy everything he knew about serious bass angling. Sometimes they'd arrive at a tournament late at night, sleep in the truck for a couple of hours and then hit the water.
Palaniuk was always rearing to go.
"He's a tough competitor," Tripp said. "He's a smart kid, very intelligent. Pretty reserved, has no arrogance. He's definitely going to be a force in the bass fishing world."
After high school Palaniuk struck out on his own. He continued getting better, refining his craft. Lines, lures, colors, depth, presentation, tactics - he mastered all the nuances of bass fishing, those beads of know-how that separate recreational fishermen from top tournament anglers.
He attracted sponsors - AxTackle.com, BaitSmith, Deka Batteries, Wave Away and Parker Toyota - and competed in the BASS Federation. On Lake Coeur d'Alene, his home water, Palaniuk earned a spot on the Idaho state team. Then, on Lake Martinez near Yuma, Ariz., he fished well at the Western Divisional and qualified for the Bass Federation Nation Championship.
The tournament ran Oct. 27-29, three long days of hard fishing.
"I went down (to the Red River) a month before, for practice, before it went off-limits," Palaniuk said. "The guys are some of the top guys in the nation, in the Federation. But when I found the fish that I'd found, I felt confident that I'd at least do well. I knew I'd at least have a shot."
The Red River posed a real challenge. Palaniuk searched, checking the areas he'd scouted beforehand, probing for lunkers. In addition to the backwater, he also fished an underwater jetty with a Lucky Craft crankbait.
That crankbait hooked eight of his 14 fish.
As conditions changed, Palaniuk adjusted. He swapped lures and altered his presentations, keeping a close eye on the weather. That ability to adapt, he said, that confidence to make an instant switch, is all-important.
"You learn most everything on the water," Palaniuk said. "I don't know if I have a natural talent for it, but I have a drive and a passion for it that keeps me going. It's one thing to be able to catch fish, but you've gotta be able to catch the right-sized fish to stay on top."
But staying on top, even for a skilled angler like Palaniuk, won't be easy. Only 50 participants qualify for the Bassmaster Classic - Palaniuk will face the finest bass fishermen in the world. Plus, he'll be floating on tidewater in southern Louisiana, perhaps even navigating the Gulf of Mexico. There's a lot of unknown variables, which is why Palaniuk will travel to the delta shortly after Thanksgiving.
"It'll take a lot of time to learn," he said. "It'll be difficult for me. I've never fished tidal water before."
Tripp isn't worried about the Classic. He understands Palaniuk better than most; the two men still talk regularly, and often go fishing or hunting together.
"I would give him a 60 or 70 percent chance of finishing in the top 20," Tripp predicted. "The one thing I told him: As long as he continually does it because of his passion and love of the sport, I think he'll continue to win. You've gotta fish the sport because you love the sport."
His win at the Nation Championship opened doors for Brandon Palaniuk. He not only qualified for the Classic, the "Super Bowl" of his profession, but also the prestigious Bassmaster Elite Series.
"Pretty fun to watch a dream unfold," his mother said. She was in Shreveport, and she'll be down on the delta cheering for Brandon. "Wouldn't miss that one for the world. Pretty excited - the whole family is."
After the Classic, Palaniuk plans to join the Elite Series, the pinnacle of the sport. He'll chase bass in tournaments across the country, competing against the very best.
"It's the top tour that you can fish," Palaniuk said. "It's a potential to not have to ever work again, except for fishing. It's a dream come true."
Recent Headlines
---