UI task - how to defend Moore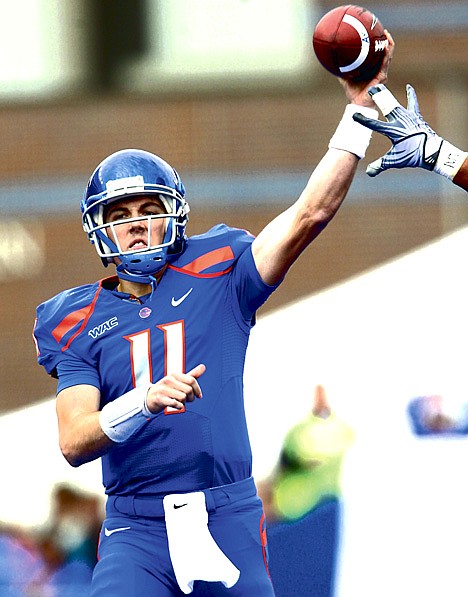 <p>Boise State quarterback Kellen Moore (11) looks for a receiver against Hawaii last Saturday in Boise.</p>
by
MARK NELKE
Sports Editor
|
November 10, 2010 8:00 PM
On his team's radio network, they call him the "Prosser Touchdown Tosser," a nod to his hometown of Prosser, Wash., and his penchant for throwing a lot of TD passes without anything else bad happening.
Boise State lefthander Kellen Moore has passed for 2,372 yards this season, with 21 touchdown passes and only four interceptions. This coming off a season where he completed 39 TD passes with just three interceptions.
Now, still only a junior, he's already the school's career leader with 85 touchdown passes, and his passing efficiency rating of 192.38 - whatever that means - leads the nation.
What's clear is this - he is seldom under any pressure to throw - as Boise State has allowed just three sacks in eight games.
"I tell you what, that kid is playing his tail off," Idaho coach Robb Akey said the other day. "I'm watching the film of him now, his arm is stronger, he's got more zip on the ball, he always ran the offense well, and he's running it real well right now. He's making people pay for a lot of things. It'd be nice to have some pressure on him ... if he's sacked, he can't throw the ball."
Idaho (4-4, 1-3 Western Athletic Conference), which plays host to fourth-ranked Boise State (8-0, 4-0) on Friday, has 20 sacks this season, led by the 7.5 of Aaron Lavarias — good for 17th in the country.
"Lavarias has done a good job for us rushing the quarterback throughout the year," Akey said. "He's got a tremendous motor, he's one of the guys that we're going to count on, but he's not going to be the only one. They've done a great job of protecting him too, so I'm not sitting here saying that's going to be the answer ... we've got to cover well. The (defensive) package needs to come together. Tight coverage, good coverage, and good pressure on and around the quarterback. I do expect Aaron Lavarias to play a role in leading that."
So why can't people get to Kellen Moore — or if they can, why is it usually too late? Are most teams incapable of putting on that kind of pressure, or are they worried about getting beat deep by the big play?
"It's a little bit of both," Akey said. "As much as anything, their line has done a great job, and their backs. For example, there was a throw last week against Hawaii where, they're down there in the red zone, they've got a line game going up front and that big ol' defensive end for Hawaii is coming up in the gap and you see huge separation, and there's his big ol' body and little ol' Kellen, and he's coming down on him. Kellen just stands right there and he's in the process of throwing the ball and all of a sudden, from the side, comes the running back that got his job done and knocked him out of the way and protected him, and he throws a touchdown pass.
"The other thing they do well is, he gets the ball out quick," Akey said. "They do that to get games started; they give him some quick-shot opportunities. And then when they get going, here come the home runs, and they certainly got Hawaii with the play-action home runs going downtown."
Jackson calls BSU prez a "blue and orange snot": Boise State coach Chris Petersen made his players off-limits to the media this week, mostly so they wouldn't say anything to rile up the opposition. Akey allowed his players to speak to the media. On Monday, fifth-year senior running back Deonte Jackson was asked about comments from Boise State president Bob Kustra in July that Vandal fans were "nasty, inebriated."
Jackson's response: "Personally, I tried not to read too much into it," he told the Idaho Statesman newspaper of Boise. "But I wouldn't expect anything different coming from the blue and orange snot. I just took it and use it as fuel in the fire and feed my hunger to want to get after these guys to finish my career off with a win against them and bring pride back to this community, the University of Idaho and Moscow."
Injury update: Tight end Daniel Hardy, Idaho's top receiver, is out for the regular season with a broken arm. ... Linebacker Tre'Shawn Robinson, who was taken to the hospital during last Saturday's game with Nevada and diagnosed with dehydration, should be able to play this week, Akey said. Robinson was released from the hospital late Sunday night. ... Running back Princeton McCarty hasn't played the last three weeks because of a knee injury, and his return is unknown.
Recent Headlines
---