A taste of the expo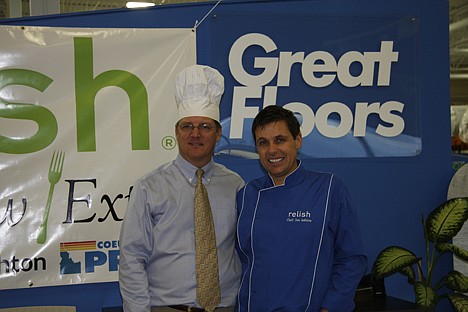 <p>Great Floors manager Jeff Anderson poses with chef Jon Ashton at a cooking show on Tuesday to promote the Relish Cooking Show/Expo on Dec. 2.</p>
|
November 10, 2010 8:00 PM
Relish chef Jon Ashton spent Tuesday promoting the Relish Cooking Show/Expo at local businesses. At 2 p.m., Great Floors, the main expo sponsor, held a brief cooking show to generate interest in the expo.
"It was great having him here for the show today," said Jeff Anderson, Great Floors manager. "It is good exposure for us and I think the show in December will be very entertaining."
Great Floors is donating funds to help pay for, and promote, the event on Dec. 2.
A small audience came for Tuesday's event to watch Ashton make toasted cumin and herb guacamole with seasonal vegetables. While making the dish, Ashton talked about the cooking show as well as healthy eating habits.
"What we do at Relish is take all our old, favorite recipes and add to them," Ashton said.
The chef also touched on various cooking techniques and allowed the audience to participate in preparing the food, even using Anderson as his sous chef for the show.
"We wanted to be involved," Anderson said. "We love the Relish magazine. We're taking a good show and good business, and together I think it will be a great pairing."
The Relish Cooking Show/Expo is Thursday, Dec. 2 at the Greyhound Park and Event Center. Tickets are now on sale. For more information visit www.nicookingshow.com.
Recent Headlines
---