Cold war in Moscow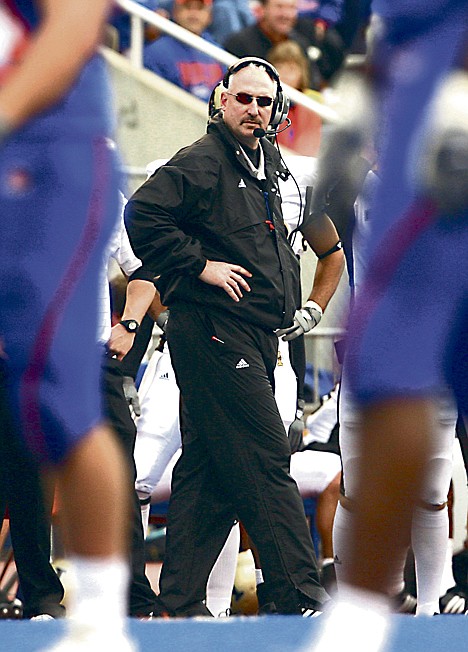 <p>Idaho coach Robb Akey and BSU coach Chris Peterson go to battle Friday at the Kibbie Dome.</p>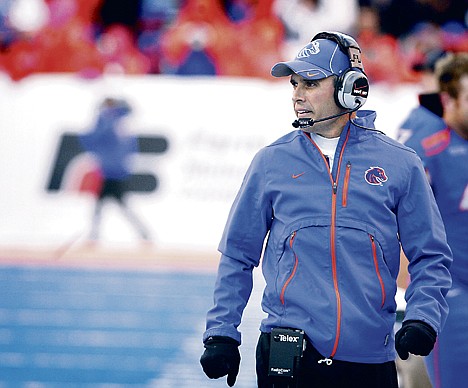 <p>Idaho coach Robb Akey and BSU coach Chris Peterson go to battle Friday at the Kibbie Dome.</p>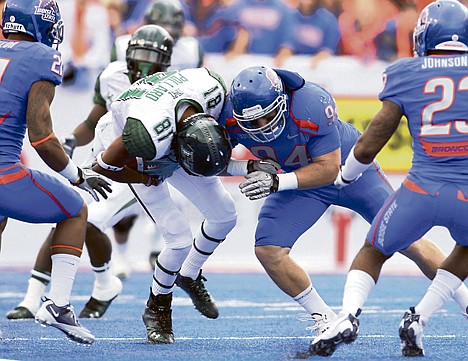 <p>Boise State linebacker Byron Hout (94), a former Lake City standout, puts a hit on Hawaii wide receiver Royce Pollard (81) in the first quarter during a game Saturday at Bronco Stadium in Boise. Hout and BSU will face the Idaho Vandals for the final time as conference rivals on Friday in Moscow.</p>
Previous
Next
by
MARK NELKE
Sports Editor
|
November 9, 2010 8:00 PM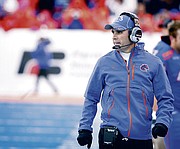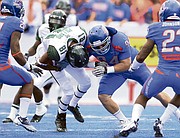 You wouldn't think anything else would be needed to add to the emotion of the Idaho-Boise State rivalry in football.
But with BSU leaving the Western Athletic Conference after this season, and the Vandals not on the Broncos' schedule for at least the next two years, and with the two coaches disagreeing on the ground rules for renewing the rivalry, and the Boise State president complaining about the "nasty, inebriated" fans in Moscow ...
"Certainly the bragging rights that come with this one are going to last more than just 365 days," said Idaho coach Robb Akey, whose Vandals (4-5, 1-3 WAC) play host to No. 4 Boise State (8-0, 4-0) on Friday at 6 p.m. on ESPN2.
If and when the rivalry is renewed - and Akey hopes it happens sooner than later - he would like to see it continue as a home-and-home series. The Broncos say they wouldn't mind playing the Vandals again - as long as Idaho is willing to play the game in Boise every year.
"That would be ridiculous," Akey said. "You play a rival game as a true rival game - their home and our home, every other year, or you don't play it at all. Bottom line."
Countered Boise State coach Chris Petersen: "By far the majority of the Idaho alums are down here. When we go up to Moscow, we don't have any fans. So why not have it where everybody can see the game? I don't think it's only a rivalry if you play it home and home, I don't agree with that. A rivalry's a rivalry; it doesn't matter where you play it."
Asked if Boise State's reasoning is in part due to reluctance to play a nonconference road game in a small (16,000-seat) stadium - the Kibbie Dome is roughly half the size of Bronco Stadium - Petersen said,
"I will say this - this game's always about money. People can say whatever they want to say, but at the end of the day, everybody has a hard time balancing their budgets ... first and foremost, that's always something to look out for."
As far as the idea of always playing the game in Boise, Petersen said, "I think in some ways, depending on how it's done, it could be as beneficial (financially) for Idaho as well."
As for the comments of Boise State president Bob Kustra, "you can't not pay any attention to it because it gets talked about an awful lot," Akey said. "Our fans have had bad experiences in the parking lot down there, and vice versa up here. It's the rival game, and as a rival, people only see things one way, and it's the eye of the beholder. The Vandals are only going to see it one way, and their people are the same way too. We all understand that. ... Bottom line ... maybe the rival game does mean something.
"Are my players going to be more fired up because the president of Boise State said something about the people that go to school here? I don't think so. He's not going to make any plays in the game. ... Our guys want to go play the game. They want to go tackle Kellen Moore and block Byron Hout ... and certainly anytime somebody doesn't say something good about you, that builds to the chip on your shoulder."
Petersen, in a teleconference, also touched on several other topics Monday:
• On junior Byron Hout, the former Lake City High standout who played on the Boise State defensive line the first two seasons before moving to middle linebacker this year, where he has started all eight games: "He may be the biggest surprise on our defense, just how well he's transitioned from D-line to linebacker. He was a good defensive end for us. Byron's just a football player. It doesn't really matter what position we played him at; in my mind, he'd make plays."
Petersen said Hout, who was recruited to BSU as a linebacker, did a "great job" of handling last year's incident in the season opener with Oregon, and he thought Hout played well last year as a backup defensive lineman. "But I think this new move has suited him even better, and plays more to his strength," Petersen said.
• On Bronco linebackers and special teams coach Jeff Choate, the former St. Maries High star and Post Falls High football coach, who tends to get a little animated - OK, maybe a lot animated - on the sidelines: "I will say this - the only thing that I do better than Jeff Choate is, I just mask my emotions better than he does. I feel like he looks. Coach Choate's a fireball and he kind of wears his emotions on his sleeve, which is awesome; he brings tremendous energy to our team ... He's running around and jumping around; I just mask it a little better."
So does Petersen ever wind up in the middle of Choate's running and jumping up and down and celebrating with players?
"I see him coming so I stay out of his way, so he doesn't mistake me, that's for sure," Petersen said.
• On why he chooses not to publicly campaign for Boise State to play in a possible BCS championship game: "We've still got a whole month of football left. At the end of that month, if there's anything to talk about, we'll do it. There's nothing to promote right now ... at this point, our play needs to speak for itself. If people think it's good enough, great, if not, there's nothing we can do about it anyway."
Petersen said when he hears people talking about Boise State on TV, "I turn it off, so I don't even have to hear that, just because I think there is so much noise out there, and it's the same thing over and over and over."
Asked if he prefers a playoff or the current bowl system, Petersen said, "part of me says yeah, I would (want a playoff), but part of me also enjoys the bowl games. I really enjoy that whole environment, and how you have some time off to catch your breath and then regroup and reward the players for playing well. That's been so much a part of college football for so long. If somehow you could work out both of those situations, I think it would be great, but I haven't seen one on paper that looks like you could do them both."
So does either scenario fit Boise State better?
"It depends on how big the playoff system is," Petersen said. "If it's going to be a four-team playoff, a couple of years ago when we were undefeated, we still would have been left out of that. So how big do you make the playoff before it helps us?"
• Boise State has a pregame tradition where the player who had the biggest hit in the previous game gets to lead the team onto the field carrying a sledgehammer. Two years ago in Moscow, Doug Martin carried the hammer all the way to midfield, then slammed it into the Vandals' "I" logo, infuriating the home team and its fans.
"That's not going to happen again," Petersen said.
Recent Headlines
---